FinancialForce Wearables Pioneer?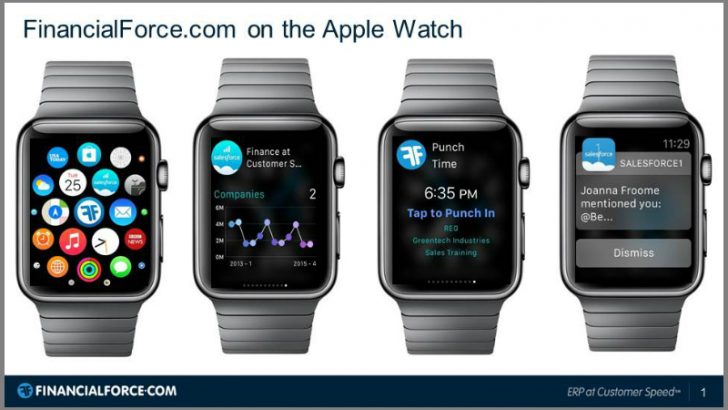 FinancialForce have also used the Salesforce SDK to create its first wearables app. This is not the first wearable app that can be used with FinancialForce, but it is the first that they have created. Initially available on the Apple watch it is currently being testing for Androidwear. As Roberts told us, the advantage of being developed using the  Salesforce Wear Developer Pack means that it should become available on several platforms.
With new technology such as wearables it takes time for people to work out how best to use them. Roberts believes that notifications were the first usable app for watches and using his own he is able to tell when someone has mentioned him at Dreamforce. It is an interesting concept and filtering what notifications occur will be sensible otherwise it could be similar to Twitter overload.
Roberts view is that there are far more Apple watches in use circulation than many realise. They are currently seeing them in their target market and this is almost certainly the reason why they launched on this platform.  One thing that the new App delivers is a punch time tracker. As the App is fully integrated with  FinancialForce Human Capital Management (HCM) and  FinancialForce Professional Services Automation (PSA) it allows users to track the start and end of different activities during their working day. Very important for those industries that do task-based billing.
Always available and linked using Bluetooth with a mobile phone to the cloud a watch provides rapid access that a mobile locked away in a briefcase or pocket may not. If the action becomes a habit, professional services will be able to track their time usage far more accurately than before. HCM Administrators merely enter cost centres for the time to be tracked against (whether chargeable or not) and users can quickly input their start and end points.
While FinancialForce perceive that this will be useful for professional services, there are wider applications. Within Europe the EU has declared that home workers can log their travel time as work time if the company has no regional office. This means that the working week for these workers could be technically far longer than it is today. The watch app will be a quick way for staff to keep track of what they are doing.
Commenting on this latest feature in the press release Roberts said: "Employees are no longer glued to their desks, and as the nature of work evolves it becomes increasingly harder to track when and what an employee is working on.
"This can cause errors in resource allocation, client reporting and billing but with our Punch Time Tracker app for Apple Watch, customers can be in the field, on the road or take an after-hours call with ease, logging time spent in mere seconds. We're excited to see time tracking come to life on Apple Watch but know this is just the beginning of ERP apps on wearables. We are working full speed ahead to innovate how today's enterprises can use wearables to impact workforce performance."
How apps for wearables evolve with integration for FinancialFofce it will be interesting to see where they go next. Roberts does not believe that the take up of Apple watches is that significant yet, but there is likely to be something for the workforce that does take off.  Imagine an access card, that is also a wearable that allows other apps to
(next: #StruckbyLightening)