The final wave
The remaining announcement that improves the reporting and analytics within FinancialForce.com was relating to Salesforce Wave. FinancialForce has announced it is to pilot two Wave Apps: FinancialForce Accounting Wave App and FinancialForce Supply Chain Wave App.
Using the Salesforce Wave Analytics Platform first announced at Dreamforce 14 they provide a vehicle for companies to use analytics on their data, providing insights that would not have been available with more traditional reporting tools. As Roberts summarised neatly "Wave is the analytical cloud of Salesforce, Wave is all about unearthing insights that you may otherwise not see."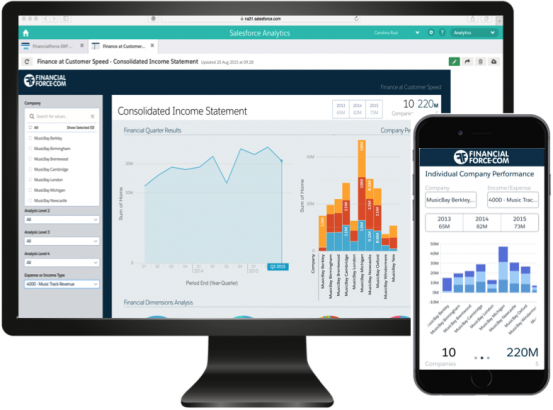 We questioned Roberts about the difference that these solutions can offer in comparison to a third party analytics tools.  Roberts was quick to respond saying "The really nice thing that we are really excited about with wave is that from there we can drill back into FinancialForce because we are on the same cloud. So from there we can go back in and the drill down from Wave can be an action."
It is this ability to drill down from the high level trend analysis or insight produced by the business analytics tool right down into the bottom level of data that gives the Salesforce ecosystem including FinancialForce a clear advantage. For companies who run their applications it gives the capability of delivers insights without having to integrate several data sources.
(next: Another app store from Salesforce?)