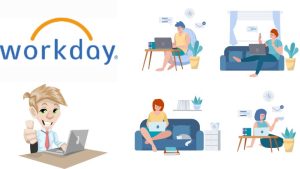 Workday has announced Workday Everywhere. This is not a new UI in the traditional sense. It brings Workday HCM functionality available wherever people work, be that Microsoft Teams, Slack, Jira, Zoom and several other applications.
Workday Everywhere is available now, at no additional charge. It has connectors for Slack and Microsoft Teams with support for Microsoft Viva Connections due later in 2021. While a supporting video mentions Zoom, Jira, and other software, there is no further information about when customers can expect these connectors.
What Workday Everywhere enables is employees to access Workday functionality from within the collaboration solutions. That they can do so without having to switch windows from their chosen application increases adoption and efficiency. The first two connectors, Microsoft Teams and Slack are widely used in the Workday customer community of more than 55 million workers.
This shift of application functionality to within collaboration solutions is a trend that is accelerating. Earlier this year Verto announced Verto365 which embeds Verto within Microsoft Teams. Workday has not gone that far but has integrated its application to the same degree as, if not more than, Smartsheet announced earlier this week.
Jeff Gelfuso, chief design officer, Workday, commented, "Forward-thinking CHROs and CIOs around the world rely on Workday for the right data, insights, and technology to shape their employee experiences. By designing Workday Everywhere with people at the center, we've made it effortless to communicate, access information, and complete tasks in Workday from any digital environment — all without interrupting the flow of work.
"We will continue to invest in delivering great experiences for our customers to help them improve employee engagement, satisfaction, and belonging, as well as business outcomes."
Proactive rather than reactive
This is not just a case of adding a slash command in a Slack channel. The connector allows employees to ask Workday questions and gain access to the relevant information. If required, it will initiate workflows within the collaboration solution. For example, they are able to initiate and add a dependent from within Teams. It will leverage the Workday workflow set up for the Workday Assistant.
Also, if a manager initiates a task within Workday, regardless of where they initiate it, an employee will be prompted by the workflow within their preferred workplace location. Workday Everywhere also leverages machine learning within the Workday platform.
It will ensure that employees are communicated with at the right time and where they actually work. This means the alerting system no longer relies on them being logged into Workday or responding to email prompts. For example, an employee hasn't taken any leave for six months. The Workday Assistant will notify them in effectively a live chat, encouraging them to do so.
This ability to interact with Workday will make the solution more accessible to employees and should help with adoption. It also makes it clearer why Salesforce bought Slack. It gave Salesforce one of several of the leading workplaces of the future. This is an interesting change for applications that no longer need to consider just their own user interface but how they will work within collaboration platforms.
Josh Bersin, global industry analyst and dean, Josh Bersin Academy commented, "Employee experience is now a top priority for CEOs around the world, yet the proliferation of tech platforms makes this difficult. Workday Everywhere is a brilliant strategy that lets employees access Workday from any platform, making life easier for workers, managers, HR, and IT."
Simple and secure for IT
There is always a concern for IT leaders when different vendors bring together different applications. How easy are the connections to maintain? Are they secure? What happens when either vendor upgrades?
Workday claims Workday Everywhere is simple to bring into existing IT ecosystems. The security and data privacy that is a hallmark of the Workday platform is maintained. What is hard to answer is what happens when Slack or Microsoft goes through a major upgrade of their platform? That is, however, a future problem, and one that may not arise.
Josh Lannin, vice president of employee experience technology at Workday commenting in a blog, said, "CIOs are constantly grappling with a complex network of systems that are supposed to empower their people to be productive and get their work done, but the reality is employees are having to switch between multiple applications. At Workday, our goal is to deliver out-of-the-box integrations that help address this by supporting the CIO's platform of choice."
Enterprise Times: What does this mean
This is now becoming a natural progression for many applications. Vendors can no longer just enhance their own UI. Many employees prefer to work in a collaboration platform or even still, email. The next generation UI is outside your application.
Lannin explained the benefits when talking about the upcoming integration with Microsoft Viva. He said, "Leveraging our integration with Microsoft Viva Connections, CIOs can help to reduce the number of unique systems required for people to interact within their daily work, ultimately lessening overall costs of management and support for IT systems while enhancing employee productivity.
"The integration is designed to be straightforward to configure and deploy—eliminating the need to develop multiple custom integrations that are time-consuming to create and costly to maintain. This will help increase an IT organization's ability to streamline its application and integration technology portfolio."