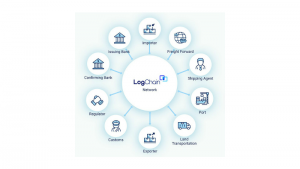 LogChain has completed, as part of its pilot program, a full cycle international blockchain-backed maritime shipment. This executed on its end-to-end, digital and tamper-proof platform and handled the supply-chain by implementing electronic bill of lading (e-BL) and Letter of Credit (LC) digitisation. The shipment involved the freight transfer of beverages from Belgium to Israel and encompassed the full ownership lifecycle and business workflow with digitally-signed documentation.
LogChain CEO and Co-Founder Dudi Avni, commented: "We are very proud to have successfully completed this important international cycle, one of the very few in the world. We are on the brink of a new digitization era in the trade market, disrupting the old, cumbersome processes, minimizing fraud risks – and literally saving billions of dollars, which we've become so used to spending for the mere sake of bureaucracy. As we progress with our unique end-to-end platform, we are working together with leading shipping companies, banks, freight-forwarders and global importers & exporters in order to create a new ecosystem that could enable this much needed revolution."
The challenge and the opportunity
Maritime shipping continues to rely on old, cumbersome and paper-intensive legacy processes. This makes shipping expensive because so many processes are:
are costly
demand much paperwork
require many signatures
have multiple locations
lack transparency and trust
involve long SLAs
possess unwieldy processes for commercial dispute resolution
introduce fraud and other risks.
The shipping industry is expanding and it:
is growing at 3-4% annually
includes >80% of the global trade volumes
has a current value of >$2T.
Such enormity and uniquity almost begs for some advance towards digital payment and documentation technologies. As commented elsewhere by Enterprise Times , there are moves towards more efficient solutions. This is the opportunity LogChain sees (and for PIL/IBM).
What does LogChain deliver?
The LogChain platform runs as a Microsoft Azure cloud solution. It uses Ethereum private consortia. Its blockchain-based platform claim to:
streamlines current, cumbersome business processes
allows for information sharing on a private distributed ledger
provides real-time data access (but only to 'permissioned users')
exploits smart contracts on a blockchain to establish a single, immutable trade record
offers verifications by and for the parties involved.
This, according to LogChain, means its platform can:
cut shipment costs by around 8% for shipment partners
reduce workloads that conventionally would take ~2 weeks to a few minutes
eliminate the need for original documentation to travel around.
A key part of the LogChain approach is the way in which platform orchestrates smart contracts. Freight-forwarders, exporters and the importers can all access what they need across a supply chain fron initial order through to final delivery and release by a shipping company. In effect, LogChain leverages blockchain smart contracts both to speed up transactions and reduce costs. This can happen when it stores and secures every piece of relevant information along with trusted transactions and verification.
Furthermore, LogChain assists with messy Letter of Credit (LoC) issues:
origination (Bill of Lading linkage), amendments and fulfillment requests
role based issuance/modification
workflow status, with tracking
coordination of diverse transactions between multiple geographically-separated parties
automated notifications
secured documentation.
Enterprise Times: what does this mean
The potential to digitise massive trade volumes is undoubted. It is not simple. One element is likely to be some form of secured platform which is accessible to all parties involved. Using blockchain to address trust issues and to improve LoC usage is a solution, like that envisaged by LogChain, being sought by many (for example, Batavia, CommerzBank, TradeShift Pay and others).
Streamlining and digitising shipping transactions will be attractive if it delivers more efficient processes with major cost reductions and improved customer experiences. Yet this is not imminent. As Maersk and others have discovered, competing interests can hamper adoption – however great the theoretical business logic.
e-BL and improved LoC handling are desirable destinations, and especially when combined. But these are going to take time before there is widespread use. Remember this, and the PIL/IBM example, are single shipments made to prove a concept. They are not in production yet.