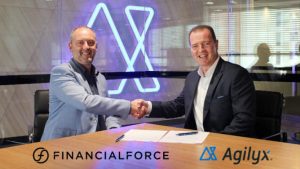 FinancialForce and Agilyx have announced a new partnership for the latter to sell and implement FinancialForce solutions in the Australia/New Zealand region.
This is a significant new partner in a region that FinancialForce only entered in 2015. Agilyx is a major channel partner for Unit4 in North America, Asia, UK as well as Australia and New Zealand. Agilyx will  not end the relationship with Unit4 but clearly believes that there are big opportunities with FinancialForce.
In the public sector the Agilyx relationship will only strengthen with Unit 4 as it was recently selected as a Successful Respondent for the provision of Enterprise Resource Planning (ERP) Software as a Service (SaaS) Services for the Australian Government. This will enable it to pitch Unit4 to the Australian government over the next five years.
There may be two key factors for the decision. The first is that while the Unit4 PSA solution is based on Microsoft Dynamics, FinancialForce uses the Salesforce platform. Salesforce also opened the doors of its first data centre in the region in October last year. That one step will have made it easier for FinancialForce to overcome data sovereignty questions as it looks to expand.
The second is that the FinancialForce solution is customisable and Agilyx has the ability to deliver bespoke applications for larger customers with it. This was recently proven by FinancialForce with a significant win in the region at Grant Thornton. It follows wins at Ansarada, Snowden and earlier at CSA.
Speculation over HR
With Agilyx's expertise in delivering Unit4 solutions, itself the current majority owner of FinancialForce, it opens up another question. FinancialForce cannot currently offer an integrated HR solution in the region. The alliance with ADP uses Workforce Now and is only available in the US market. While ADP may look to expand the solution internationally, it is not yet available for Australian customers looking for an integrated HR solution. Could Agilyx provide this missing link through an integration between the Unit4 HR modules and FinancialForce? Agilyx certainly has the local knowledge and together the combined solution would become a powerful offering.
This is pure speculation but without an announcement from FinancialForce about what it will be doing around HR in ANZ it is a possibility. The only question might be the ownership of both companies. Enterprise Times understands from several independent sources that Advent, the majority owners of Unit4 is currently looking to sell its stake in both Unit4 and FinancialForce, potentially to separate bidders. If they do go separate ways, then integration might become harder.
Important step for FinancialForce
For FinancialForce this is important recognition of their potential in the ANZ market. John Catarinich, Chief Executive Officer of Agilyx Group commented: "The whole team at Agilyx are excited to begin this new journey with FinancialForce. This collaboration will expand Agilyx's product and service offering with more options to best suit the needs of our current and future customers. As pioneers in the field of agile technology solutions, Agilyx is excited to offer customers more options to become more efficient and reduce costs."
Agilyx has delivered some significant ERP projects in the region. It includes the Government of Queensland's Department of Education's OneSchool project serving 60,000 users in 1,300 schools state-wide. In the commercial sector it has implemented solutions at for more than 1000 users at Kinetic IT and also to SAAB.
The seven step ERP implementation methodology that Agilyx applies aligns with FinancialForces own delivery culture. Importantly for a cloud solution it recognises the need for ongoing support and aftersales care, this was a key factor in winning the Kinetic IT contract.
What does this mean
Agilyx could provide a springboard for further success in Australia for FinancialForce. Australia and New Zealand are one the highest adopters of cloud software in the world.
Simon Peterson, FinancialForce ANZ Managing Director commented: "Collaborating with Agilyx presents great opportunity for the joint growth of FinancialForce and Agilyx in Australia and New Zealand. Getting Agilyx involved with FinancialForce will help us offer our customers more products, and better serve them post-implementation."
How important this relationship will be in the future can only be measured in a few months. If Agilyx is seen as a key implementation partner for FinancialForce and also delivering new business then it could be one of the most important announcements to date in the region.