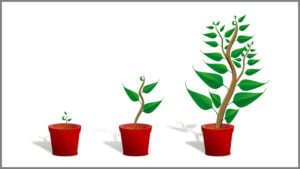 Xero has unveiled another year of staggering growth in its full year 2018 report. In the last year it has broken through several milestones including 1,000,000 subscribers. The company has also grown with more than 2,000 employees as it looks to expand internationally. At the end of the year Xero announced that it has reached 1.386 million subscribers. It also achieved positive EBITDA in 2018 of $26 million compared to a loss of $28.6 million in 2017. All figures are in NZ Dollars.
Other figures look equally impressive with gross margin increasing by 4% to 81% and the compound annual growth rate of revenue at 49% over the last three years, 40% in the last year. Cash flow has also significantly improved from the previous year. Cash flow in 2018 was $41.2 million, up from $(4.4) in 2017.
It continues to grow in both Australia and New Zealand growing subscribers by 28% and revenues by an impressive 33%. In the next year it may even reach a million subscribers for that region alone, it currently has 884,000.
International growth
Internationally Xero continues to grow.  In the UK Xero is the leading cloud accounting solution with 312,000 subscribers, a growth of 47%. The US market has seen a slightly slower trajectory with 132,000 subscribers. In the US Xero is having a harder time with QuickBooks firmly entrenched as the leading accounting solution and it has a maturing cloud offering. While the percentage growth in the international sector is solid the numbers could be higher. This might be a reflection of cloud adoption in those territories but Xero would hope to see those numbers start to climb faster, especially in the USA.
In a blog announcing the results Steve Vamos, the new CEO of Xero wrote: "The focus for us now is to further develop Xero for continued growth, harnessing the power of the platform that Rod and the team have built over the past decade. We will leverage machine learning and artificial intelligence advances to help small businesses manage day-to-day and help accounting partners work more efficiently.
"Several growth drivers are emerging that we are excited about including deeper penetration into existing markets, global expansion, adjacent products for small businesses and partners, transactional activities, the financial web and other data driven solutions."
Its market leading position in Australia has now delivered Xero a platform from which it can grow even faster. With smart acquisitions it can extend its functionality and improve its reach. At QBConnect in London earlier this year Enterprise Times learnt that QuickBooks was looking to expand its reach across Europe. Will Xero consider something similar? Its success in the UK might be a springboard for further international expansion. It now has the money to support such expansion, but it needs to be considered.
What does this mean
Xero's place as market leader in Australia and New Zealand is assured. The recent growth warning by Sage might indicate that it is putting the UK's number one accounting firm under pressure as well, though there is a long way to go before it can claim the number one spot. Both Sage and QuickBooks are also gaining cloud subscribers quickly. 
QuickBooks alone has more than 2.8 million subscribers across the globe, 2.2 million of them in the US. Xero's place in the market is assured. However its needs to continue its growth, especially in the tougher US market to be considered a major player. Its total revenues for the last year were NZD 406.6 million (US$281.6). This is well short of Sage £1.715 million (2017) and Intuit $.5.2 billion (2017). There is no doubt that Xero has disrupted the market, but can it continue to do so? Especially as the larger corporations start to flex their financial strength.