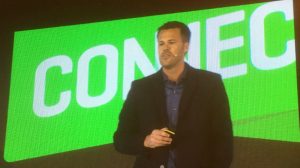 The QuickBooks Connect conference kicked off in London on Tuesday in the midst of a wintry spell that left both attendees and speakers still wrapped up in coats. In the main keynote there were several announcements that the accountants and bookkeepers in the audience warmed to. Several of these will have a positive impact not just on the partners, as QuickBooks likes to describe the accountants, but on their end customer, the small businesses they support.
QuickBooks also issued a press release that highlights the announcements that are being made over the two day conference. The announcements covered the launch of the QuickBooks Assistant chatbot in the UK, this will be demonstrated on the main stage on Wednesday morning.
Also announced at QuickBooks Connect is the integration of QuickBooks Self-Employed and QuickBooks Online Accountant (QBOA). Soon to be available, the integration will help provide smarter connections between self-employed workers and accountants.
Three key enhancements for accountants
On stage Richard Preece, Global Accountant Segment Leader – Intuit, stated that there are three things Intuit is delivering. The first is an improved matchmaking tool allowing small businesses to find the right accountant for them. Preece claimed that there are over a million searches on the tool each year. In the UK alone there are 61 per day.
To exist on the platform Preece confirmed that accountants need to become Pro Advisors for QuickBooks. Once approved (he inferred that there was no cost, but did not expand on other requirements), accountants need to create profiles with details of their firm and expertise, a photo and get clients to add reviews or their services. Initial research has shown that these three things are critical for selection by potential clients.
In the future QBOA will support a lead tracking system that integrates between the find an accountant tool and QBOA. This will enable partners to monitor and track leads through the process – all the way to onboarding.
There are also enhancements to app integration in QBOA. Initially limited to six curated apps, accountants can review them, implement them on clients systems and take advantage of wholesale pricing when they do so. The number of apps will grow. The initial six are: Expensify, SOS Inventory, Float, Tsheets, Excel transactions importer and ServiceM8. The third enhancement is integrating practice management with QBOA.
Accountants just got smarter
The key announcement was around the enhancements to QuickBooks Online Accounting (QBOA). This is the practise management application that accountants who sign up to QuickBooks can use. It allows accountants to manage all their clients, not just those using QuickBooks Online but also, in the near future, QuickBooks Self- Employed. This is significant as it makes it easier to target what is a growing market. Already more than 15% of all people in work are self-employed and that number is set to grow.
In little over six months since it launched QBOA is now used by more than half a million accountants according to Preece. In a straw poll of the audience a little over a third are using it at the moment.  What was impressive though is that Preece revealed that customer satisfaction scores have doubled for those using the software. That is unprecedented for QuickBooks and they are clearly investing further in the platform.
Preece then demonstrated the recently added features. These include the ability to create projects and tasks within the system. Tasks can be allocated to both member of the accounting team and to clients. When clients are using QuickBooks Online (and in the future QuickBooks Self Employed), this will appear on their dashboard. Where they don't, the task can be sent as an email. This support for clients who do not use QuickBooks software was welcomed by the audience members ET spoke to. Not every customer wants to use software, and if they do, it isn;t always QuickBooks. Projects can be made recurring and users can assign them to staff members and add due dates. It is also possible for an accountant to drill down into a task. Preece showed the example of "206 unaccepted transactions". The accountant is able to drill down into the client system to actually see and deal with these.
He also announced a new integration with Slack. This will be available in a few weeks and he announced the opening of a beta program for 25 users. It integrates Slack to practise management and will automatically notify users through Slack of changes in status and assignees. This practise management will get enhanced further in the coming months, adding AI driven insights automatically to tasks.
Has the chatbot come of age?
ET had a sneak preview of the chatbot that UK customers will soon be able to experience themselves. We spoke to Shaun Shirazian, Head of Product UK, Intuit about the new chatbot, named QuickBooks Assistant and demonstrated it. The chatbot is available on both IoS and Android. It uses the Google Speech API to interpret spoken commands from the user.
The QuickBooks Assistant is not the futuristic conversational artificial intelligence that was shown on stage in a brief film last year. However, neither is it a first generation chatbot. According to Shirazian it can interpret different accents and has a wide range of vocabulary. It will even enable a user to drill into their own data once the AI has parsed the content. For example a user could ask how many widgets they have in stock. This takes the chatbot beyond many others in our opinion and starts to open up more possibilities.
Most of the understanding is predetermined though. The example given included tax obligations to expense tracking, cash flow and profitability. It is available now in QuickBooks Self-Employed and is in beta for QuickBooks itself. Shirazian indicated that it would become generally available in "the next month or two".  Any user can activate the chatbot by accessing QB Labs and switching it on.
The chatbot comes with three interfaces, a menu user interface (UI), that presents the most commonly asked questions of the app to users, a text based bot and a voice recognition solution. Adoption in the US, where it was first launched has been high. However, Shirazian revealed that most users use the menu or text rather than the voice interface.
At present people seem unwilling to adopt the full voice UI. This is possibly due to privacy. The menu option is slick and delivers simple options to users. Most people adopt the simplest interface. While the voice UI is easy to use it maybe that the graphical UI is more suited to this environment.
Dominic Allon, Vice President and Managing Director of Intuit Europe commented: "We are delighted to be launching QuickBooks Assistant in the UK. We are committed to helping empower our customers through next-generation technology, enabling them to turn insights into action to drive long-term growth."
What does this mean
QuickBooks has a focus on making life easier for small businesses across the UK and elsewhere. Shirazian summarised this in three key areas
Helping customers making smart decisions
Find smarter connections between small business and accountants
Smarter Money
The third element sees employees and business paid faster and better integration with financial institutions.  QuickBooks also revealed direct data feeds with several major banks are imminent.  Those for HSBC, RBS and Nat West are being piloted by a small group of users and Lloyds, Bank of Scotland, Barclays and Santander will follow in due course.
In the UK, Intuit has a laser focus on improving the life of small business. The enhancements that it demonstrated on stage is proof of that. How it extends and develops its AI will be interesting to follow. It is clear that not every client wants the latest conversational AI as part of their business, in the same way that many are hesitant to more to the cloud. It is, however. making it easier for both accountants and customers to do so. Not just in the action of migration but more importantly in the business benefits that can be achieved once the step is taken.
These latest additions should help convince accountants to promote its software to small businesses. The recent TV advertisements have already re-energised the brand as to looks to replace Sage, the major UK Player and fight off newcomer Xero.