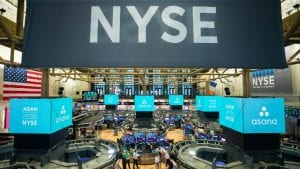 Major events from last week include the acquisition of Emarsys by SAP. iCIMs rebranded in softer tones, and the new brand of UKG was formed from Kronos and Ultimate. Oracle announced a major release of its cloud applications during an Oracle Live event. Smartsheet also held a virtual convention and made several product announcements. Acumatica made a significant push into the UK market, and FinancialForce did the same in continental Europe.
Pick of the Week
Asana finished its first day on the New York Stock exchange at $29.96, up from $27, its launch price. It has since dropped slightly closing at $25.91 on Friday 2nd October, but still above the $21 reference price. The work management platform now has a market cap of $4.01 billion. It means that co-founder and CEO Dustin Moskovitz now has helped found a second multibillion-dollar company, the first was Facebook.
An interview with Barrons revealed that the reason behind the listing, according to Tim Wan, CFO, ASAN was more for marketing purposes than to raise finance. However, there is little doubt that the finance raised will help the company add to its 82,000 paying customers with 1.3 million users.
Acquisitions
BlackLine acquired UK based Rimilia for $150 million. Rimilia is an AI-powered cloud-based platform that enables accounts receivable (AR) automation and digital transformation.
Ivanti announced the acquisition of Mobile Iron for a sum of $872 million, and Pulse Secure, terms for the latter were not disclosed. The acquisition signals the intent of Clearlake Capital and TA Associates to make a significant investment in growing the company.
Thoma Bravo backed Nintex announced its intent to acquire K2 Software Inc. Terms were not disclosed.
Appointment
Agiloft has appointed Kevin Niblock as its new Chief Revenue Officer. Niblock was recently senior vice president (SVP) of Strategy and Operations at Zuora and held the same position at Apttus.
Bill.com announced that Colleen Taylor and Allie Kline have joined the company's board of directors.
Bryter has appointed Joanna Sidhu to help up BRYTER Open, its non-profit organisation it launched in the summer.
Conga appointed Noel Goggin as its new chief executive officer. He will lead the combination of Conga and Apptus taking over from Frank Holland. Goggin was previously CRO and culture leader at Aptos.
Rimini Street has appointed Michael Perica as its new CFO. Perica was most recently CFO at $1.4 billion Energy Systems Global business unit at Enersys (NYSE: ENS).
SAP announced that John Wookey rejoined the company to lead the Intelligent Spend and business Network Group which includes SAP Ariba. During his "sabbatical" he worked both for Oracle and Salesforce.
ServiceNow appointed Nichole Frances to head a new Global Government Relations team. This new role will seek to educate the public sector about the ServiceNow business.
Business
Asite has achieved ISO 27001 certification across all its products, services, offices and operations globally. This is significant in that many software organisations only certify specific elements to this standard and not the whole company.
Datto registered a Form S-1 with the SEC with intent to OPI on the New York Stock Exchange. The initial filing is for $100 million, Bloomberg estimates the total valuation of Datto could be as high as $1 million.
Ephesoft and Fortude announce a new strategic partnership. Ephesoft which powers the Infor Document Management (IDM) Capture will work closer with Fortude, an Infor Global alliance partner on implementations.
Infor has partnered with Zyllem a specialist in last-mile logistics networks in ASEAN, combing the Zyllem distribution SaaS platform with Infor Warehouse Management System (WMS). Noam Berda, founder and CEO at Zyllem commented: "Over the next six months, Infor and Zyllem will connect with major distributors in the market to share their vision of the future logistics and supply chain market. We're glad to have found a partner that shares our vision and is committed to bringing change to a market that is ripe for innovation."
Infor also announced that it has strengthened its channel ecosystem in Japan. It cited nine "new" channel and alliance partners. Some of the partners listed have worked with Infor for some time, though.
There is a new force in HCM. UKG (Ultimate Kronos Group) is the new brand for the combined business of Kronos, PeopleDoc and Ultimate Software.
Pyramid Analytics announced a strategic partnership with Exasol. Omri Kohl, CEO and co-founder of Pyramid Analytics, commented: "Exasol shares our passion for data and analytics, and we're excited to work with them Pyramid is an analytics platform built for the enterprise. We provide our customers with an end-to-end analytics platform they can rely on to deliver trusted insights at scale. With Exasol, customers get unrivalled performance on a database that is perfectly suited for enterprise analytics situations. When customers run Pyramid on an Exasol database, they get vastly superior analytics performance and choice."
Fintech Solutions & Services (Global) Pty Ltd (FinSS Global), an Australia-based technology solutions expert is leveraging the Salt Edge data aggregation technology within its product portfolio.
Seismic has raised $92 million in a Series F funding round led by Permira Funds. It values the leading sales enablement company at around $i.6 billion.
Teamwork has partnered with Sentry. It is also using the solution internally. Dan Mackey, Co-Founder & CTO at Teamwork commented: "Sentry.io is our tool of choice to diagnose and fix our code across six teams. Having it integrate seamlessly with Teamwork allows our developers to triage issues and get bug fixes out to our customers faster."
TrueCommerce has partnered with Jesta IS. The outcome is an integration between Jesta's ERP ecosystem and TrueCommerce's Global Commerce Network and Foundry platform.
Xero announced the release of a new online mental health course for small business advisors, developed in partnership with Beyond Blue.
Customer
Continental Coatings has simplified its operational technology by dropping its Sage 300 Financials solution, to achieve this it upgraded its Batchmaster ERP from 8.50 to 8.70 and rolled out the financials module.
Sterling Industrial, LLC, a MIdWest industrial contractor, has deployed eCMS ERP. Becky Jerls, ERP Manager, Sterling Industrial, LLC commented: "eCMS has helped streamline, automate and simplify the way we collect labor time, process payroll, generate government reports, bill our customers, and manage our job costs."
French fashionwear brand Zadig&Voltaire has switched to Infor CloudSuite Fashion to modernise its business processes. The cloud-based implementation is being carried out by  Infor partner CGI. The project should complete by April 2021.
Jenzabar revealed recent wins of SONIS at the Prison University Project, a 501(c)3 non-profit organization that supports the college program at San Quentin State Prison, Design Institute of San Diego, Mohammed VI Polytechnic University in Morocco, and The American University of Armenia.
Van Marcke, a Belgian plumbing wholesaler, has built a worker safety mobile app using Mendix low-code platform integrations to its SAP S/4Hana database on the SAP Cloud Platform.
Huhtamaki will replace Oracle Hyperion Financial Management with OneStream XF Cloud corporate performance management (CPM) platform. The Finnish base food packaging will leverage OneStream professional services to deploy the solution to 175 staff in the first phase, due to complete in early 2021.
Ocado Group has selected Oracle Fusion Cloud ERP as it looks to expand the company both in the UK and overseas. Also, Skanska Sweden and Finland, has selected Oracle Cloud Applications including Oracle Enterprise Resource Planning (ERP) Cloud, Oracle Human Capital Management (HCM) Cloud, and Oracle Supply Chain Management (SCM) Cloud,
The University of Worcester has successfully implemented the Qlik Academic Program to help students learn about big data and analytics. Qlik has also rolled out the program to more than 400 universities and educational institutions across India.
Qualtrics announced more customer wins. Teladoc selected Qualtrics Customer XM, NetSmart Technologies selected Qualtrics CoreXM and Patreon will implement Qualtrics BrandXM.
Browns Shoes, a leading Canadian shoe retailer, has used SnapLogic's integration platform to enable new processes as the retailer adjusts to a new state of retail post-pandemic.
MC Residential, a real estate and property company, is leveraging Ultimate Compliance solutions for its electronic filings such as its EEO report and Patient Protection and Affordable Care Act (PPACA) reporting. The company has used UltiPro since 2017.
Product
Act-ON Software launched Automated Journey Builder. The new solution will enable Marketers to map out customer journeys, both simple and complex in minutes.
Akerna announced an integration with eCommerce provider Dutchie. It brings together MJ Platform and Dutchie which processes 10 per cent of all legal cannabis sales worldwide.
Boomi revealed its new vision, called "Integrated Experiences". It describes the vision as: "Integrated Experiences enables the entirety of an organization's data to be connected across applications and ecosystems regardless of where it resides – on-premises or in the cloud." It will have three core elements: Data readiness, pervasive connectivity and user engagement.
ConnectWise and CEO Juice announced an integration between CEO Juice for ConnectWise Manage and ECI e-Automate ERP.
DocuSign released DocuSign Analyzer, an AI-powered contract analytics solution designed for incoming agreements. The new solution is an extension for DocuSign Insight and is available now in the US, UK, Canada and Germany.
ECi Software Solutions launched MobileTech, a new mobile app that streamlines the process of managing service calls. It is available to ECI's e-Automate ERP users in Australia.
Jenzabar released the latest version of SONIS, its student information system. This release includes features to help student retention. There is also an integration with Twilio for mass text messaging. It has improved security with support for 2-factor authentication through a partnership with DUO.
Pega introduced Value Finder – a new AI-powered capability helping organizations engage their most underserved customers with messages and offers designed for their specific needs.
ODOO released version 14 of its open-source ERP solution. New features include an updated web builder, a faster business intelligence tool and new menus for inventory and MRP. In light of the pandemic, it has also improved its point of sale software and created ODOO events for organisations to manage online events.
Pipeliner released v3.6.0 of its CRM solution. Enhancements include the support of images in Emails and Notes, the ability to make some sales activities mandatory and a new integration to Google Forms for surveys.
QAD has released the Adaptive Manufacturing Enterprise Maturity Model Diagnostic. This is a complimentary new tool designed to help manufacturing companies gauge their ability to recognize and adapt to disruption.
Salesforce announced Work.Com for Vaccines. The new product will help governments and health organisation to administrate the distribution of COVID-19 vaccines. The solution includes inventory management and administration, appointment scheduling, notifications, outcome monitoring and more.
Research
Bill.com unveiled findings from its study: "CFOs' Appetite for Finance Technology Undiminished" written with CFO Research. It revealed more than 91% of finance teams are investing in technology to help with remote working. 88% are investing in solutions to improve cash flow.
BMC published its 15th Annual Mainframe Survey. With over 1,000 respondents, key findings included:
90% of respondents see the mainframe as a platform for growth and long-term applications.
68% expect MIPS, the mainframe's measure of computing performance, to grow.
63% of respondents say security and compliance were their top mainframe priorities.
More than half of survey respondents increased mainframe platform data and transaction volume by 25% or more, signalling its ongoing importance in the digital business environment.
The Boomi Connections Survey revealed the interpersonal and technological impact of remote work. Findings included that 58% of employees feel more isolated and disconnected from their work and their teams. 49% stating they want to see their offices improve remote collaboration tools and systems.
Cornerstone found that 50% of US employees want time off to study how they will vote in the upcoming presidential, state and local elections. On average a US election ballot includes more than 100 measures. Cornerstone appears to support the right for workers to have that time. Jeff Miller, Chief Learning Officer, Cornerstone commented: "Cornerstone was founded on the principle of educating the world, and everything we do is rooted in learning. We want to empower our employees to use their voice and vote – and we feel it's our responsibility to give them the time, space and opportunity to learn more about the issues and representatives in the upcoming election. The way forward to building a more inclusive culture is to ensure all our employees have a voice in the policies and laws that impact their lives."
ManageEngine published the Remote Work Online Behavior Report. Key findings include:
Risky online behaviours could compromise corporate data and devices
Remote work has its hiccups, but IT teams have been responsive
Chatbots, AI, and automation are becoming increasingly more effective and trusted
Good news and bad news for Oracle. 97% of respondents believe their current Oracle PeopleSoft releases meet all or most of their business needs according to a survey by Rimini Street. However, 56% of all respondents, see their number one issue is the high annual maintenance and support fees charged by Oracle. Second is dissatisfaction with the time taken by Oracle to respond to issues. Rimini Street believes it can assist with both issues to extend the life of organisations using Peoplesoft.