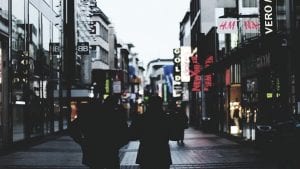 Retail and eCommerce highlights this week include: A new app to help the hospitality sector in the UK with social distancing. Lux Research outlines what companies need to know about AI and IoT's impact on the consumer journey. First-of-its-Kind End-to-End regional shipping solution, ShipperBee, launches integration with Shopify.
Free app launched to help hospitality sector with new table service rules
TableRes will help pubs, restaurants and hotels comply with newly announced rules via their app. The TableRes app is provided free-of-charge to medium and large restaurant chains in the UK. The app manages social distancing by eliminating face to face contact and enabling end to end contactless guest journeys through every type of restaurant.
More than half of Brits have called for contactless technology in restaurants to avoid the COVID-19 risk. This is according to independent research conducted by Censuswide. In addition, the research found that 81% fear handling things that have been touched by many people. This includes paper menus and cards. The results also revealed that most people would be more likely to visit a restaurant if it offered contactless order and pay on a mobile phone.
The TableRes app enables full-service restaurant customers to reserve a table. On arrival view the full menu, order, and then pay at the table, eliminating all contact with staff. With takeout business booming, the TableRes App helps again by allowing customers to find the closest location in a chain. Customers can see the menu, order with the restaurant, pre-pay for delivery, or pick up at the counter or kerbside. All on their smartphone.
Digital transformation for the new consumer journey
Accelerated by COVID-19, emerging digital technologies, especially AI and IoT, are fundamentally changing consumer journey in the consumer product market. A new report from Lux Research, "The Digital Transformation of the Consumer Journey," outlines how companies can apply digital technology to enhance the consumer journey for their benefit.
Traditional digital solutions like digital marketing and eCommerce have laid the groundwork for the disruptive potential of AI and IoT. "Emerging AI and IoT technologies, however, are able to further move the needle in consumer personalization through data collection, thus creating deeper value for CPGs and their supply chains." says Jerrold Wang, Lux Research Analyst and lead author of the report.
The report looks at specific examples of how digital transformation impacts the consumer journey across the consumer product market. This includes categories like food, beverage, and nutrition, clothing and shoes, cosmetics and personal care, sporting goods, and furniture. Among the most commonly used emerging digital technologies are AI technologies for human-machine interaction like computer vision, voice recognition, and natural language processing, smart cameras and sensors, and augmented reality (AR).
Lux Research states companies in the consumer product market risk being left behind if they don't develop AI and IoT strategies immediately. As personalisation has become a consumer expectation, market leaders like L'Oréal and P&G have been adopting digitally enabled products throughout the consumer journey. Not to mention smaller companies launching new solutions on a nearly daily basis.
Launches shipping integration with Shopify
ShipperBee, a first-of-its-kind end-to-end regional delivery system has launched an application for Shopify. The integration will allow Shopify merchants in ShipperBee's service area to access its services. It will also offer a more cost effective and planet-friendly regional shipping alternative to their customers at checkout.
With the integration, Shopify merchants can further diversify their carrier mix. Carrier diversification is taking place at a time of unprecedented online shopping volumes. The approaching holiday peak season allows merchants to deliver the positive experience consumers demand when it comes to ensuring orders are received as quickly and efficiently as possible.
Shopify merchants can cater to more purpose-driven consumers by offering a planet-friendly shipping alternative at checkout. ShipperBee's patented process bypassing the traditional hub-and-spoke system by plotting a direct delivery route. This results in 73.1% less carbon emissions for every parcel shipped.
ShipperBee's simple pricing model saves merchants money on regional shipping. The model removes hidden fees, and volume, fuel and peak season surcharges that traditional carriers add to their monthly invoice. By leveraging a more cost-effective shipping option, merchants can reduce shipping costs. Alternatively, they could keep pricing competitive by incorporating those costs into product costs to offer free shipping and reduce cart abandonment rates.
Okendo announces launch of partner programme
Okendo, a customer marketing platform has announced the launch of their official partner programme. The programme has 100+ Shopify focused design, development and marketing agencies already participating, including The Working Party, MuteSix and WeMakeWebsites. The launch of the Okendo partner programme is a recognition of the important role agencies play in helping Shopify merchants design and implement the necessary technology infrastructure to succeed.
Perks of the partner programme include revenue share on subscription fees, access to Okendo's partner portal for submitting referrals. A dedicated partner manager, partner team training, priority support and early access to new features and integrations.
Click Laboratory's Lumentis Platform levels playing field for SMBs through Infutor partnership
Consumer identity management company Infutor announced Click Laboratory has integrated its on-demand identity resolution solution ID Max with Click Laboratory data marketing platform Lumentis.io. Click Laboratory is a digital marketing agency. The integration taps into Infutor's identity completion and enhancement data on-demand with Lumentis. Click Laboratory was able to increase a mid-market eCommerce brand's paid media campaign Return on Ad Spend (ROAS) by 8.7. It had a yield of 2.5 times in multichannel return from direct mail.
Through Infutor's ID Max API, Lumentis.io can increase the reach of omnichannel campaigns – social, PPC, SEO, email, direct mail. For small and mid-size brands by matching and completing customer profiles with highly relevant data for the small business.
In addition, brands have access to enhanced attributes, e.g., homeownership, household income, marital status, purchasing power. In addition to advanced analytics for modeling and predictive intelligence insights. With a single consumer identity marker like a name, address, phone, mobile or email, ID Max instantly delivers complete identity data as well as attribute enhancements.
ID Max relies on Infutor's TrueSource Identity Graph featuring 260 million consumers and 97.5 million daily updates. From inbound call centre inquiries and online form fills to email, social or CRM data. ID Max provides the consumer identity resolution that marketers need to drive effective inbound and outbound marketing initiatives.