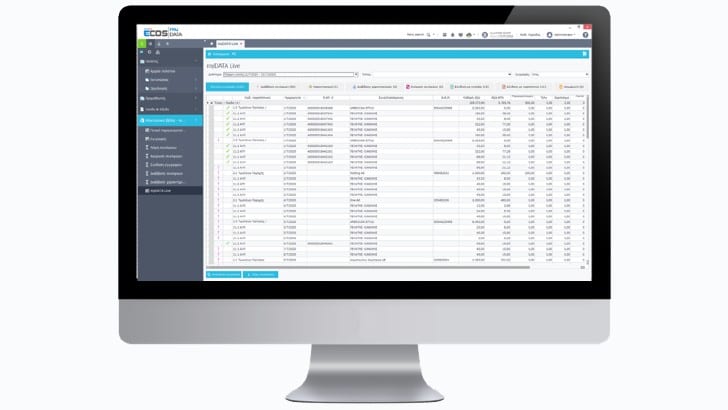 SoftOne has launched a solution that will enable Greek organisations to comply with the new Greek Ministry of Finance (MoF) together and the Independent Authority of Public Revenues (IAPR) digital requirements. Companies established in Greece need to send transactions to the governments myData platform.
This came into force for all Greek companies issuing invoices on 1st October. ECOS myDATA enables full compliance with the regulation and is compatible according to SoftOne with any ERP solution available in the Greek market.
ECOS myDATA is a Cloud service that leverages data already held in any ERP. That data includes revenue, expense and year-end-accruals. ECOS myDATA then transmits the relevant information to myDATA in the correct format. The cloud SaaS solution is hosted on Azure and leverages the SoftOne security and privacy policies. It can connect to ERP solutions using APIs. Though one assumes that some older systems will need to have data extracted and re-imported in CSV format.
ECOS myDATA also has a management console that enables finance professionals to view historical data. It also provides some simple analysis of the imported data both for reporting purposes but also validation before submission.
Enterprise Times: What does this mean
SoftOne is providing this solution at an opportune time for business. Meeting the new legislative requirements could become costly for some organisations using legacy solutions. In delivering a SaaS solution, it makes it easier for staff to maintain social distancing and work from anywhere. Once deployed, organisations can quickly connect the data held in their financial system and use ESOS myDATA to meet their compliance requirements.
SoftOne is staying ahead of legislative changes within its home country with this announcement. It builds on the E-invoicing solution it launched earlier this year.
What isn't clear from the documentation on the SoftOne site is which ERP solutions ECOS myDATA supports using APIs. It is also unclear how other data is extracted from ERP solutions that do not support APIs.