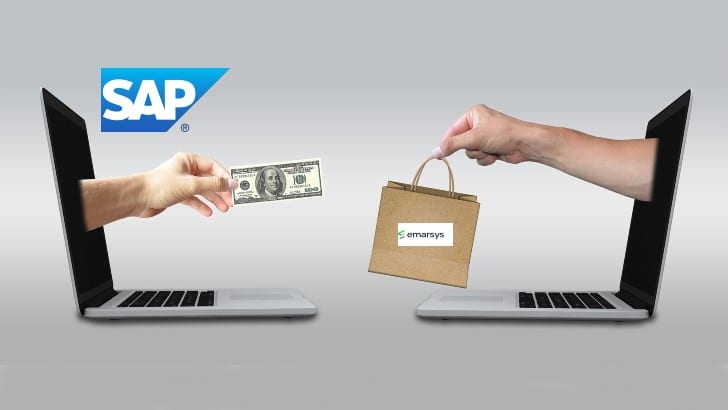 SAP is to acquire leading omnichannel customer engagement platform vendor Emarsys. Founded in 2000 the company was again placed as a leader by Gartner in its 2020 Magic Quadrant for Personalization Engines (Registration Required). It services companies across multiple industries, especially those operating eCommerce solutions as well as travel and retail. This will significantly enhance the SAP Customer Engagement portfolio. It will place SAP onto a Gartner quadrant it has previously been missing from. SAP did not reveal the terms of the deal. The acquisition is expected to close by Q4 2020, subject to regulatory approval.
Christian Klein, CEO of SAP commented: "Adding the Emarsys customer engagement platform to our leading SAP S/4HANA and Experience Management technology from SAP and Qualtrics opens up new possibilities for our customers that are unique in the market. The success of brands worldwide depends today on their ability to offer a compelling customer journey and to cater to the individual expectations of customers. To meet these expectations, front-office data must be integrated with back-office capabilities and with individual customer feedback.
"Once the transaction closes, SAP will enable brands to connect every part of their business to the customer, including experience data. We will deliver a portfolio for a 'commerce anywhere' strategy allowing for hyperpersonalized digital commerce experiences across all channels at any time."
Emarsys brings personalized multi-channel customer engagement to SAP
The Emarsys platform ingests data from multiple channels. It then analyses that data to create personalized journeys for customers across multiple channels including
Mobile
Social
Purchase
CRM
Offline
Website
Ads
3rd party solutions
More than 1,500 companies use Emarsys across the world, these include:
Char-Broil
Charlotte Tilbury
eBags
Gym Shark
Nike Hong Kong
Pretty Little Thing
Samsonite
Sky
Tupperware
Jade Lau, Lead of Nike Direct Digital Commerce, Nike Hong Kong commented: "The beauty of the Emarsys marketing platform is that it always provides an actionable next step for the client to run its automated marketing campaign."
Bob Stutz, president, SAP Customer Experience commented: "Customer engagement technology has evolved tremendously over the past decade, and in that time, Emarsys has emerged as a world-class platform that truly enables personalized, one-to-one digital interactions between brands and customers across all channels. With Emarsys technology, SAP Customer Experience solutions can link commerce signals with the back office and activate the preferred channel of the customer with a relevant and consistently personalized message, allowing customers the freedom to choose their own engagement."
Emarsys welcomes the move
Emarsys has been approached before with an offer, a fact that Ohad Hecht, CEO Emarsys revealed in a Forbes interview. Those offers were turned down, and Hecht has grown the company substantially since becoming CEO in 2016. Hecht commented: "Emarsys has a rich tradition of innovation in digital marketing. Joining forces with SAP, a leading global brand with an ongoing commitment to excellence and innovation in customer experience, is an exciting next step in our evolution. We're confident that, once we have regulatory approval, our customers and partners will quickly benefit from synergies between the Emarsys platform and the SAP Customer Experience portfolio."
This is a significant piece of the CX puzzle for SAP to complete. Founded in Austria and with growth founded on a strong culture, SAP will need to undertake the merger carefully. What is clear is that the opportunity to work within SAP is exciting the Emarsys team. Hagai Hartman, founder and chief innovation officer of Emarsys, commented: "Success in today's market relies on brands delivering personalized experiences powered by a holistic view of each consumer that connects digital engagement data with supply chain data in real-time. Together Emarsys and SAP can create a new paradigm for digital commerce focused on the consumer."
Enterprise Times: What does this mean
This is another significant acquisition by SAP for its customer experience suite after it purchased Qualtrics early in 2019. Emarsys will become part of the SAP Customer Experience business unit. It is not clear whether it will retain its brand and operate independently. With more than 800 employees across 13 offices in Europe, Australia and the US it is a substantial company. Emarsys last raised funding in 2016, a Series B round that raised $22.3 million, slightly smaller than its Series A round that raised $33 million (Source Crunchbase.com).
Joint customers will want to hear what integrations are planned between Emarsys and C/4HANA, S/4HANA and Qualtrics. How quickly SAP can complete these? SAP is likely to reveal more about the acquisition and what it means for customers of both companies at SAP Customer Experience LIVE, taking place online October 14–15.
With the acquisition of Evergage by Salesforce earlier this year that leaves Dynamic Yield as a potential target for other players in this market looking to fill out their solution stack. It will be interesting to see if there is further consolidation in the market.