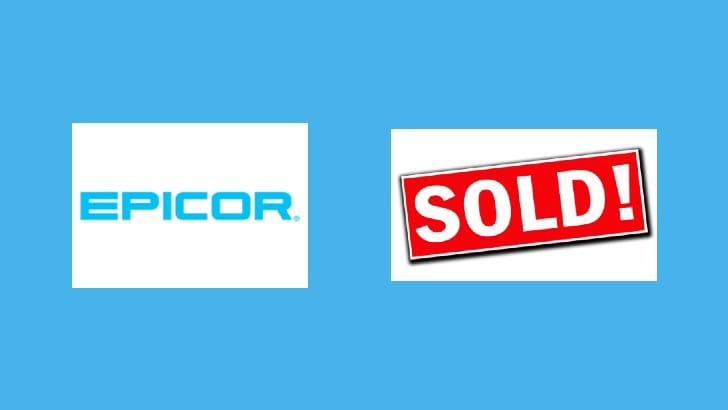 KKR has sold Epicor to Clayton, Dubilier & Rice (CD&R) in a deal believed to be around US $4.7 billion. The deal is slightly below the $5 billion reported in Enterprise Times a couple of weeks ago but is a significant uplift in only four years of ownership. It is a testament to the job that Steve Murphy, CEO and his leadership team have done to evolve the company into a cloud-first vendor. Those changes have seen Epicor achieve 73% of its revenue from recurring revenue and a year to date growth of 60%, a significant acceleration in the recent year.
John Park, Chairman of the Epicor Board and Head of Americas Technology Private Equity at KKR, commented: "Four years ago, we embarked on an ambitious product modernization journey together with Epicor and are incredibly proud of the successes that the company has achieved to date, particularly with its recent cloud releases. We are confident that CD&R will provide valuable support as the company continues these product- and customer-centric investments to accelerate growth in the cloud."
KKR has tried to divest Epicor for some time. It put Epicor up for sale last year but found no suitable buyers. Since then, Epicor's strategy, with a focus on core products including Epicor ERP and Prophet 21 has progressed. Prophet 21 launched in Australia and the UK, and Epicor ERP continued to impress. In July KKR launched a US$ 2.75 transaction in the syndicated loan market to re-finance Epicor. It seems that this helped to cement interest from several firms with KKR eventually selling to CD&R. The deal is expected to close later this year.
Looking forward with CD&R
CD&R is not an obvious choice for a Private Equity firm to acquire the software vendor. Traditionally it has invested in Consumer/Retail, Healthcare, Industrials and Services. However, in January 2020 it made a double appointment. Harsh Agarwal joined from EQT partners with a focus to evaluate and invest in the software and technology markets.
It also appointed software industry veteran Jeff Hawn as an operating partner at the firm. Hawn was previously CEO at Quest Software, Vertafore and Attachmate. This could therefore be CD&Rs first, but not only, investment in the software market. Its experience of working within the industrials vertical may also lead it to see whether Epicor can help any of its other portfolio companies.
Hawn said: "Epicor's reputation for quality and performance, and its impressive portfolio of next-generation cloud products, position the company well to accelerate growth in the coming years. We look forward to partnering with the Epicor management team to further expand Epicor's product portfolio as well as make strategic acquisitions to meet customers' evolving digital transformation needs."
Upon the deal closing, Hawn is to take over the role of Chairman of the Epicor Board from Park. Rick Schnall, CD&R Co-President commented: "We are excited to partner with Epicor and its talented management team to drive the business into a new phase of growth and profitability. Our long-standing industrial end-market experience and growing enterprise software expertise aligns well with Epicor's value creation plan."
On Epicor
Epicor CEO Steve Murphy commented: "This is an exciting day for the entire Epicor family—employees, customers, and partners alike – and validates the company's leadership position across markets we serve. We welcome this new partnership with CD&R, which shares our vision for growing the company, and I thank KKR for a highly successful partnership these past few years. We are excited to work with CD&R to increase investment in our market-leading product portfolio and to enhance our ability to support an ever-increasing range of customer needs."
While Murphy's comments seem fairly regulation, it is Hawn's comments that are worthy of note. It indicates that CD&R is looking to help Epicor invest in further acquisitions. Since Murphy took over as CEO, acquisitions have been few but carefully considered. They have normally complemented the existing technology that the company has.
Recent examples include the acquisition of 1 EDI Source Inc, Majure Data and MechanicNet Group in 2019. The first strengthened its EDI capability. The second added Warehouse Management functionality and third was a complimentary add-on to its aftercare automotive parts software business.
In a comment made to the Financial Times (paywall) Himanshu Pasule, president of Epicor, indicated how it would evolve its acquisition strategy. He said: "We have several companies that we've been looking at, to grow [market] share. We feel that we are at that right size, neither too small nor too big, to be able to drive these acquisitions at a very granular level."
Enterprise Times: What does this mean
Epicor is not a small company. It has more than 14,000 customers worldwide and a comprehensive product solution for product companies, especially manufacturers and distributors. It recently hired Paul Stoddart as CMO. This new ownership may mean that Stoddart will have even more resources at his fingertips, notably for brand marketing. This was something that Stoddart called out in a recent interview.
Once the dust has settled on the acquisition, what difference will it make, if any, to the current strategy? How much will CD&R invest in Epicor? Will it see the company go back to acquisitions? What is the end game? Will Epicor head towards an IPO? Is this another short term play by another private equity firm? Apax Partners bought Epicor in 2011, sold it to KKR in 2016 who has now sold it to CD&R in 2020. Who will CD&R buy next? It seems unlikely that it will stop after only a single acquisition.