Enterprise Times caught up with Paul Stoddart after he had been in his new role as Epicor CMO for around 100 days. A lot has changed in that time with the global pandemic changing the way business and marketing works, possibly forever. Stoddart spent nine years at Microsoft and four years at IBM before joining Epicor. So what brought him to the role?
Why Epicor?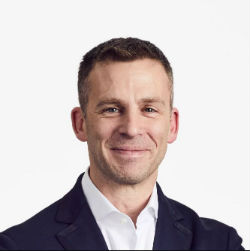 "I was drawn to Epicor for two reasons. The first one is the people. Every organisation says the people are what makes them unique. You believe that, you do your research before you go in, and you want to make sure that there's going to be a good cultural fit. I was pretty sure of that before I came in.
"The reality was, as I met people throughout the interview process, it felt like a really, really close-knit family and people that were truly invested in each other. They are also really invested in the clients that they work with. I've worked in many client-focused organisations, but there was an essence of this that was a notch above that.
"As I've spent my first hundred days here, that's compounded. These are people that are really looking out for each other, really looking out for clients and prioritise accordingly. That's proven out in how we get feedback and how we build our product roadmaps. Ultimately just seeing how the business reacts, as they see the need of a client.
"The second is around products. I'm a product guy at heart. My outside research showed that the products were good. The reality of being on the inside is our products are absolutely excellent. I really like the fact that they're super, super applied to verticals and industries, and sub-verticals within those industries. As we've gone through this unique period, a lot of our clients are essential businesses. I've interacted with some of those clients as part of my onboarding. They've described us as essential to their organisation. So that's a good thing. We've got a great team who's eager to serve customers and apply their expertise with exceptional products."
What was it like joining a new company as CMO during lockdown?
"My whole joining experience has been entirely virtual. From getting my laptop and access to the organisation, through to how I met, greeted and worked with the teams. For every organisation I've been in throughout my career, this has probably been one of the best, if not the most seamless onboarding that I've ever had. The organization put a lot of thought into making sure that I was meeting the right people at the right times in the right ways. Virtual has proved to be a phenomenal experience for me. My team is distributed globally and across the country here in the US and Mexico. So virtually was a really effective way to onboard and to work.
"I was promised this whirlwind tour, and there's nothing quite like meeting people, spending that quality time and just having the time to connect and build relationships with people. You miss that a little bit. But there's no question you can get three or four virtual meetings in the time that you'd normally take a flight somewhere. It's half a dozen of one and six of the other in some ways."
What have you achieved in your first hundred days?
"People think of your first hundred days as 30, 60, 90, which is somewhat true for me. I break it into three parts:
"Seeking to understand which is an important aspect for me. I learned through my career that one of the unique things that people do when they're successful is to take time to seek to understand before jumping headlong in.
"The second stage is about validating findings and bringing actionable insight. Not just regurgitating back, what I'm hearing and seeing but thinking about root cause analysis and some suggested paths forward.
"Stage three is sharing a vision, which allows you to show incremental, meaningful improvements for each of the areas that you look after—really starting to get the ball rolling.
"The situation with COVID has accelerated some of that. We were forced to shift some tried and tested things in the B2B world, like physical events. We've had to have some pretty radical thinking about how do you shift engaging with audiences, be digital and be hybrid. I've had to work with teams a little bit closer than they would expect within the first 30-60 days. We've had to have some pretty creative thinking and pivot in ways that weren't expected. It's accelerated some of the things that we were going to do anyway. "
What's your biggest challenge ahead in the next year?
"The Epicor CMO role is about as encompassing a role as a CMO as you could ever possibly have. It comes down to the fact that marketing is effectively brand, corporate marketing, communications, analysts, PR and influencer, social, digital performance, events, marketing operations and the MarTech stack, industry field marketing, international marketing, product marketing, content and creative. Also, in my role, I look after the business development team as well.
"That's an awful lot of important disciplines that have got to work symbiotically and come together. We have to measure, learn and get actionable insight from those, while having an unrelenting focus on the client. Also, build a best in class capability and culture. All this in a rapidly evolving world in which B2B is now becoming more like B2C daily. The biggest challenge is structuring that organisation in a way to perform at its highest level.
"On a micro point, how do you go from being good to great? We've got an opportunity to do some things better. Brand is a good example of that. Brand is internally focused and externally felt. We've done a really good job on this. We have retention rates in the high 90s. Ultimately, brand-wise, we've been doing the right thing; an unrelenting focus on our end-user and making sure that we're focusing on delivering that internally, so it gets externally felt. We need to share that experience. We've got a product that sings and people who know about it or use it and love us. We just need to let more people know about the secret of our brand. That's going to be one of our biggest short to mid-term challenges."
What's the biggest marketing opportunity at Epicor?
"How do you go from good to great? I just covered off Brand. Candidly, there's a thing about simplification, but with specificity so we're always improving. We're delivering an incredible customer experience at every touchpoint. That's a big uplift for an organisation; recognising that marketing is about delivering a customer experience and relationships, not just outbound or inbound marketing. It's about having a fantastic experience at every possible stage of the relationship with a client. "
This idea that marketing should have involvement is shared by Jon Miller, founder of Engagio (recently acquired by DemandBase).
Stoddart expounded upon this view, adding: "I believe and love the fact that there is an end to end experience and that it is a lifelong relationship. It changes the way you measure and think about, marketing, Ultimately, if you're thinking about it as a lifelong relationship, you do things and behave and think in different ways, and you'll put investments in different areas. As a philosophy, marketing should be thinking completely end to end and trying to understand what the customer journey is and how to optimise it."
On the impact of the pandemic?
How is marketing evolving since the pandemic lockdown?
On business
"From a business perspective with our customers, there's a heightened importance of staying connected; both with us and with their end-user base. There is a distinct advantage of the mobility that cloud solutions offer. There's definitely a changing dynamic in the conversation that's going on. People are trying to understand where they are today and where they need to be in the future.
"As a marketeer, that means that we have to bridge several different conversations. It goes back to: how do you make sure you're getting the right information in front of the right person at the right time? Things that were once important now all of a sudden are critical and vice versa? From a business perspective, we see an acceleration of a digital transformation conversation."
On marketing
"From more of a marketing perspective, and maybe Epicor specifically, B2B marketing has always relied on traditional channels. Physical events? Right now, they're out of the question. How do you pivot? COVID has made us stop and think. Not everything you do for a physical event can be put online or made digital. Another challenge is, how do you balance the fact that people are now getting digital event fatigue and overload? There's a lot for marketers to think about.
"When these big things happen in the world, there's a natural tendency to have a big reaction and potentially for people to run before they can walk. What's needed is less haste and more speed. We've been trying to keep this balance of how do you deliver really high quality, really high-value content materials, to people who need them both internally to sell things, but also to our clients and customers. We also have to build with the future in mind. I coin it as preparing to be more spontaneous.
"COVID, in some ways, has forced, certainly us, to be in more of a state of constant learning. What I don't think has changed, is the desire to serve and support customers to the best of our ability. That is at the core of what we're trying to do. We just have to do it in different ways."
Will Epicor insights be back next year?
"We love and value Insights. We love the personal connection with our customers, and they like having it with us. Are we planning for it? Absolutely. And we're keeping our fingers crossed that we can have that ability to interact in ways people want. People want that personal connection. That said, I would be remiss if I didn't say the health and well-being of our customers and our employees is paramount. You just have to lean in and do what's right. I'm not in the game of prediction, I'm not Professor Trelawney from Hogwarts, unfortunately. I don't know what it's going to be so it could be in person or virtual."
Stoddart also believes that events generally will evolve and become hybrid. There may still be a physical event, but people will also be allowed to attend virtually, to stream it. Stoddart also believe that the content vendors should repurpose the content and use it in more and better ways.,
Stoddart on the art and science of marketing?
"I love the fact that you ask that because it is an art and a science. Regarding the science of marketing, we're in an exciting stage of evolution. Tools are getting better, data is getting cleaner, and there's more of it. Customers are evolving. Effectively there's a willingness and acceptance for things to be done in different ways. It's always going to be a lifelong journey on the science side of it.
"The art side of it is why I was so pleased with your question. I truly believe creative content writing, messaging, storytelling, even the execution of it, thinking about how you go through like a design process, that's a craft. It has to be learned, it has to be practised, it has to be cherished, and it has to be invested in. Nothing can substitute a curious mind.
"It is an art and a science. People who think marketing and bringing all these disciplines together is easy are underestimating what it means to deliver on a great marketing function."