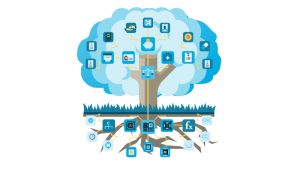 Cypherium, an enterprise-focused blockchain platform which prioritises scalability and decentralisation, is collaborating with Google Cloud  Platform (GCP) to offer enterprise-appropriate blockchain solutions to Google Cloud customers. The partnership will enable GCP users to explore the speed and throughput capabilities of Cypherium's platform.
Sky Guo, Co-Founder and CEO said: "We're delighted to be collaborating with Google Cloud to provide enterprises with a full-stack solution to harness the potential of this paradigm-shifting technology. The growing demand in the market for DLT solutions in the financial industry and beyond drives our commitment to this collaboration.
"Cloud customers can rest assured that the blockchain solutions they implement using Cypherium Enterprise are clad in robust security, and capable of delivering rapid transaction speeds for its smart contracts and achieving fast data processing from its Java virtual machine."
Cypherium platform
According to Cypherium its platform is capable of processing thousands of transactions per second and of delivering significant business benefits, including:
cheaper, more lightweight deployment
enhanced security
traceability
efficiency
reduced costs.
With Cypherium, enterprises can access a distributed ledger technology:
capable of scaling
able to provide the numerous privacy and security benefits of blockchain technology.
A comparison with previous models may help. Mining in traditional proof-of-work protocols – like Bitcoin – takes on two related yet distinct functions:
mining involves electing a leader who is responsible for generating the newest block
this must be followed by transaction verification – to ensure the data exists within the block body.
However, according to Cypherium, there is nothing inherently beneficial about using a single process to complete both of these actions. Instead, Cypherium's technology separates these two processes into two distinct blockchains – in order to improve the efficiency of both:
an election chain chooses proof-of-work leaders to write new blocks
a transaction chain uses HotStuff consensus to verify the transaction data within those blocks.
Building off Bitcoin-NG and ByzCoin protocols, the Cypherium blockchain optimises for both on-chain scalability and permissionless mineability through this hybrid approach to consensus. In effect, Cypherium achieves scalability by electing the voting committee to separate PoW from the transaction verification process – with bandwidth limited only by the capacity of the individual nodes and latency limited only by the propagation time of the network.
Cypherium is not only about GCP
Joining an elite group of companies worldwide as an official Google Cloud technology partner, Cypherium will provide corporate clients who require an enterprise blockchain solution with:
high throughput
confidentiality
cross-chain capabilities.
The objective is to scale to satisfy the demands of real-world business needs. The Google Cloud collaboration comes as Cyperium has inked other scaling initiatives, including collaborations with:
Amazon Web Services
IBM Cloud.
Enterprise Times: what does this mean
Cypherium's governance is composed of multiple layers. The protocol-level governance and application-level governance are separate. With such separation, the protocol layer:
is decentralized
has the capacity to support centralised application layers suitable for situations that might require such measures (the example Cypherium gives is supporting central-bank-issued digital currencies).
While Cypherium makes bold claims for high transaction performance (as to many other – for example, Hedera, EduHash, Bitconch, GoChain,  Constellation, #Metahash, Trustchain, Todo-Algorand, and more) it provides no figures or evidence. The adoption of Cypherium by GCP, IBM Cloud and AWS suggests that these major players believe. Before enterprises adopt the Cypherium, Enterprise Times hopes Cypherium will deliver more about of its claimed performance.