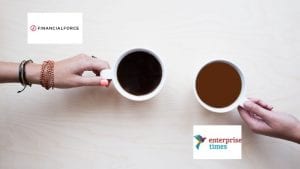 Enterprise Times spoke with Scott Brown, the new CEO of FinancialForce. Brown joined the company in November 2020. He has therefore had enough time to get his feet under the table. Enterprise Times asked Brown for his elevator pitch for FinancialForce.
Brown replied: "Do you want to see your customer in full colour? Then if you do, you have to tightly integrate your front office with your back office. Salesforce and FinancialForce make that a reality. The Holy Grail, for most people, is a customer level P&L. We're really the only provider that can help get you there."
Is FinancialForce heading towards an IPO?
Five months into the role ET asked Brown what he thinks the long-term potential he is aiming to realise at FinancialForce and what timescale?
"Ultimately, I want FinancialForce to be one of the best enterprise SaaS providers in the industry, period. Measured by NPS, measured by value delivered, measured by customer experience. I think that's probably a five-year journey, but ultimately, I don't measure it relative to the financial measures internally. I measure it by how the customer feels about us. The value we deliver, their NPS, how their experience has been with us and, ultimately, how we've helped them to serve their customer better.
You didn't mention any specific revenue figures? Is that because the numbers naturally fall out from that anyway?
"They do. You do a great job on that and trust me, you'll be a great business. The financial results will absolutely follow."
Can you share any numbers about revenue, customers, employees and growth rate?
"I joined FinancialForce, day one of Q4, so I've had one full quarter. Q4 for us was one of the best quarters in the company's history. We had 68 new customers in the quarter. One of the best growth rates we've had, and we didn't impact a single FinancialForce person throughout all of the COVID-19 crisis, which we're very proud of. "
FinancialForce in recent times hasn't shared much in terms of revenues, is that going to change over the next couple of years?
"At some point, we'll start being more external about that as we move towards an IPO event. When we S1 we will do it with the numbers of the company. But because we're private, and out of respect for the three investors that we have, we're not sharing that publicly at this time."
Learning about FinancialForce
What's the key thing you learnt about FinancialForce that you didn't learn during your due diligence?
"The biggest thing that was a surprise to me, was just how incredible our development team and engine is. In all my years in the business, this is the lowest defect rate of a SaaS product I've ever seen.
"Secondly, our Spring release had two times more code delivered than the previous release. The production of innovation coming out of that team is off the charts, better than anything I ever imagined. The overhaul that they've done of our UX, to move it from the traditional Salesforce Cockpit to Lightning or LEX has been incredible and the use of Einstein, the use of AI.
"I knew the product because I had been a customer twice, and I had a lot of respect for the functionality and capability. But I had no idea how strong the development organisation and team was. Dan Brown, our chief product officer, and that team is world-class."
On Partnerships
Brown recently appoint Aaron Koenderman as VP of Global Partner Strategy. The internal appointment is unusual for an incoming CEO. However, Brown noted, "I said from day one that I had a bias for stability." As he stated in the Enterprise Times coverage of Koenderman's appointment, he intends to make FinancialForce partner-centric. He believes that this is a journey, and this is just the first stage. No doubt Koenserman will be looking for more partners like Cattle Dog Digital, which recently implemented FinancialForce within its operation.
One of the most important partnerships for FinancialForce has always been Salesforce. How is that evolving?
"Our executive-level relationships at the top have always been good since we started in 2009. What I would say we didn't do a great job of, was developing strong relationships at the field level. So the AEs, the SEs, the first and second-line sales leadership. We're putting a huge focus on educating them on going jointly to market with them. I'm pursuing deals together with them.
"We're fortunate because Salesforce has been very collaborative through that process, both to help us educate their teams and go to market together with solutions. They're funding several things that we're doing from a marketing perspective."
On changes
While the emphasis on partnerships is one change Brown has already made, what are your other priorities?
Bias for stability
"From day one, the first thing I said was a bias for stability. From my perspective, number one, we just need to have a very stable executive team that our customers and our employees can count on being here long term, and we've done that. Since I've been here, beyond our CFO's planned succession, we haven't had a single executive staff member move on, and we've had very good stability throughout the entire organisation. Our turnover rate is at an all-time low."
Culture
"When I came, one of the things that I really felt about FinancialForce was it had a very strong alignment to my personal values. I grew up in Wisconsin. There's this really strong sense within the company that it is all about the customer. It's a very low ego environment. We work very flat as an organisation, and our leadership orientation is very much towards servant leadership.
"The thing that we hadn't done was really written down those cultural values. I had a person come in and interview 45 different people at FinancialForce, and we're starting to codify those cultural values. People love being here, and they love the culture, but it's even easier for us to make good decisions every day about our values if we write them down."
Go to market
"On the go-to-market, the first thing was increased investment. You're gonna see a lot more people on the street, AEs, SEs, folks that are supporting from a marketing perspective. We're building a velocity sales motion inside the business to help scale what we're doing. Then we are doing things to support our field teams. I've been very hands-on in meeting with customers. I was on a customer briefing this morning at 7 am with one of our large enterprise IT customers."
On 2021
What you hope to achieve by the end of 2021?
"My job, first of all, is to help the company to build more capability to scale. When I look at where we want to go in the future, we need to scale up everything we do: More self-service capabilities for our customers, faster implementation timelines, better how-to guides, the partner ecosystem, expanding our reach in our sales and marketing teams.
"I want to continue to expand the TAM as well. It's all about expansion and scale and growth. My job is to create the environment we have for all those things to happen over the years ahead."
You mention acquisitions, what about funding for that?
"I've already raised new funding for the business. We have people knocking on our door every day offering up additional equity and additional debt financing because we're in a great position. We don't need additional funding to continue on the growth trajectory we're on. We're able to self-fund that. But we've already raised some additional funding since I joined as CEO. I did that at the end of the calendar year."
There was no announcement around the funding but Brown confirmed it was from the existing investors. That would presumably include TCV, Salesforce Ventures and possibly long term investor Advent.
On challenges
What's the main challenge that FinancialForce faces in 2021?
"It's going to be keeping up with growth because we're on a strong growth track. When I look at the company we want to become, we're gonna have to scale everything that we do up by two to three X of what we do today. That means that we have to retool the company for that scale. A lot of effort around productivity and efficiency.
"We're getting a lot of new customers, and we want to make sure we can serve those customers well. We're going to see a tremendous amount of scale in the business. I have to make sure the company is ready for that."
What's your challenge for 2021?
"I started with FinancialForce during the pandemic, so I've only met three people face to face from FinancialForce. For me, my biggest challenge is making up for lost time by visiting our sites, spending time with our teams and by developing that personal connection. I'm an extrovert, I get my energy from being with people.
"Once we get through the pandemic and can safely meet customers, partners, or employees, we need to plan for a spike in T&E in the fall and re-establish that human connection. I'm planning to bring all the leaders of FinancialForce together in the fall timeframe because I believe that that's an important part of us as a company and serving our customers well."
Do you have a message for customers that you haven't be able to meet to date?
"I'm looking forward to meeting them. I've met so many customers over Zoom, that's not my normal modality of working. I'm excited to go and spend time with them face to face. I would say the new normal will be a hybrid model in our interactions with them. We're going to need to do more with technology together in order for all of us to be successful."
That book question
What's the latest business book you read?
Brown answered: "The latest book I just read was "The Splendid and the Vile, by Eric Larsen (Aus/UK/US). It's not really a business book. It was a book about Churchill's first year as prime minister during World War Two. I talked about it during my all-hands [company meeting] as a really important lesson in resiliency. I thought it was an incredible way for us as a team to talk about how we deal with these challenges during COVID. [It's about] role model of Churchill and his inner circle and the resolve they had in the face of dire odds against their success. I'm a big war history buff, so I'll concede that right upfront.
"This book, at this time, was an especially poignant read for me, and inspirational for making it through this time. I highly recommended it. I'd read his previous books like The Devil in the White City (UK) and others, but this one, in particular, was really good. This is not your traditional War history book, where it's all about the battles and the fronts and strategies. It's about the people, and it's about what they were up against every day and how they dealt with those challenges. I thought it was superbly written."