I receive hundreds of emails a day. I receive emails from many different people who work for the same company and I need a way to sort these out and easily move the new emails into the respective company folders, that I have previously created, so that I can keep on top of incoming mail more easily. Creating a rule is great, but when you don't know who the person is from that company then its not so easy.
Or is it? Here, I shall show you how to create a rule that encompasses any person from the same company that you may or may not have ever received an email in the past to be moved to their company folder in Outlook.
In the same way as I showed you in my Creating a Rule tip you start by selecting the Rule Tool from the Home tab. This time you do not need to be in an email form anyone, just in your inbox in Outlook.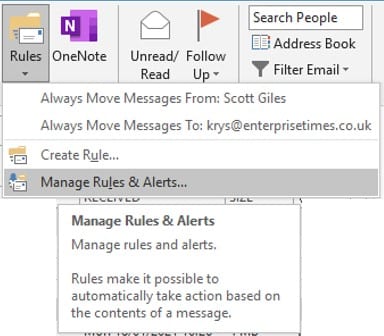 This dialog box appears.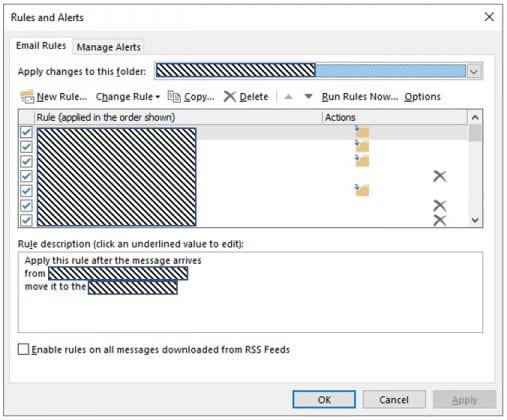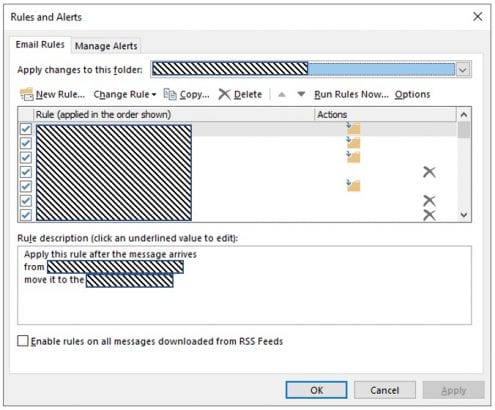 Make sure to select your correct email address if you have more than one in the first line – Apply changes to this folder:

Select the New Rule… button.
Select Apply rule on message I receive. As in this dialog box.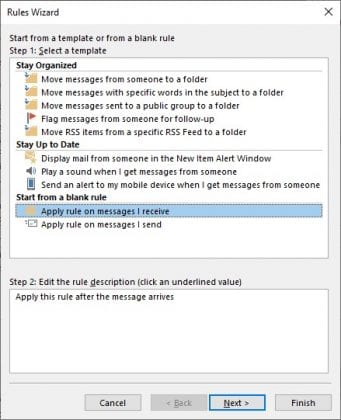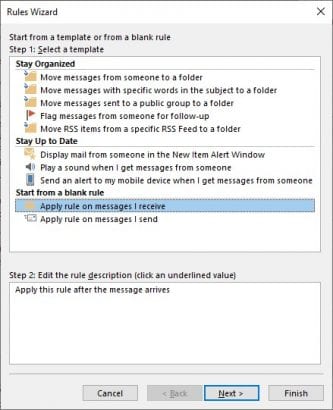 Select Next.
Select with specific words in the sender's address.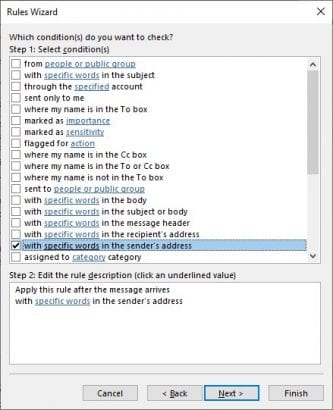 Click on the specific words in the lower section.
Type the name of the company and select the Add button.
Select OK button.
Select Next.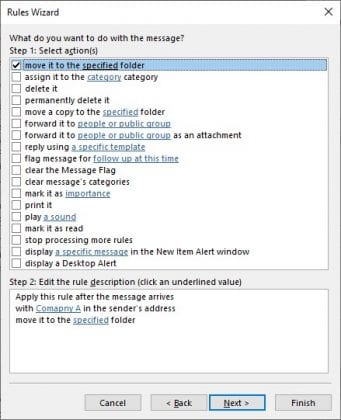 Select as I have done the first box. Move it to the specific folder. You can select more options if you wish, such as a particular sound when these emails come in.
Click on each specified selection in the lower section to show which folder or item you require.
Select next when you have filled in all your choices.
This dialog box allows you to have exceptions to your rule. You do not have to select any if you don't wish to.
This is the last dialog box before you finish. Here you can give this rule a meaningful name.
In Step 2. I suggest that you select to run this rule on messages already in the inbox as you may have received an email from this company that you have missed.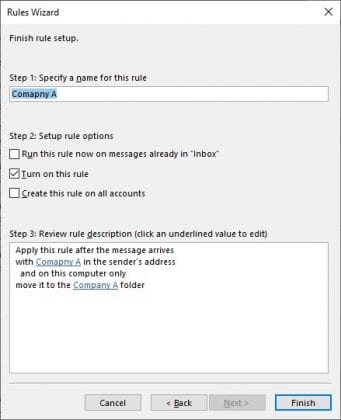 Select Finish button and wait for the screen to update with your emails from this company altogether in one folder.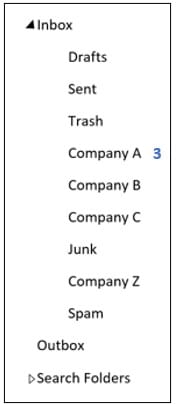 You can create as many of these specified Rules as you need. Now you have time to drink that coffee or tea standing by your monitor. Because everything from one company is in one place. And all you did is open Outlook. Fantastic!
Note:  Rules run in the sequence you see them in the rules list. i.e. the last one you created is at the top of the list so will be executed first. Please take care and thought of what the rules are set up to execute. If you want something to move to another folder before it was handled in a different way buy a subsequent rule, you need to review these rules and possibly write a new one or simply move the position in execution.