Enterprise Times (ET) spoke to Ulf Zetterberg, CEO of Seal Software about the progress and growth the company has made over the last year. The conversation also moved to what will happen in 2019 for Seal Software.
The last year has seen some significant events in the CLM marketplace for the vendor. Docusign and Seal Software unveiled a strategic partnership with Docusign reselling Seal Software technology. SpringCM was then bought by Docusign for $220 million. Later in the year Seal Software unveiled a series of products targeted at the Financial Services industries that aims to accelerate the analysis of documents.
Accelerated growth in 2018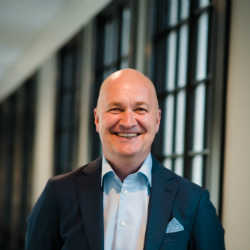 Seal is growing. It now has around 270 employees. According to Zetterberg that is almost double from last year. There were two reasons for that; the acquisition of Apogee Legal and the expansion of the Centre of Excellence in Cairo that opened in 2017. Cairo has been very successful and now there is more than 60 people based there. ET asked Zetterberg how the company has grown over the last year:
"We are picky about how we share customer revenue publicly because we have third party interest. We have doubled the number of customers from about 18 months ago. The company also measures how many contracts we process for customers and have over 70 million currently processed and managed in our customer base."
While Zetterberg did not confirm the latest revenue, he did confirm that the figure of $15.7 million, listed when Seal Software made the Deloitte Technology Fast 500 for the third year running in 2017, was accurate. It was a GAAP revenue figure and has approximately doubled in the last year according to Zetterberg. Zetterberg continued:
"Since we focused on enterprise, we have seven of the 10 largest Financial Services institutions as customers now. Three of the top ten UK FTSE100 and six of the top twenty enterprises on the Forbes 500 list are customers. The relationship with Docusign has helped us a lot to get access to a larger customer base and grow our acquisitions in the last six months."
Success in 2018
Zetterberg identified three key accomplishments during the last year.
"We bought Apogee legal, it was a close partner with 30 plus people. It gave us more domain knowledge into the legal space but also helped us write more customer facing analytics, such as LIBOR or GDPR as use cases.
"The Docusign partnership.
"We opened Cairo as our first near shoring facility. It has nearly 60 staff, from nothing in 18 months. It is supporting the company in R&D to customer support to professional services and even some back office. It has allowed us to scale faster with good economy."
Of Docusign and SpringCM
The relationship with Docusign saw Seal products embedded within the Docusign Agreements platform in July. It started rolling out to customers in the last quarter of 2018. Docusign then announced its acquisition of SpringCM in August. ET asked Zetterberg how that has impacted the relationship.
"It's a very good question. It has helped the relationship because it made Docusign's System of Agreement strategy and story more complete. They were lacking a traditional repository and they have a deeper relationship with Salesforce. I would say that there is very little overlap in terms of functionality. It propelled Docusign's overall story which helps us both."
In terms of other partnerships Seal has a deep relationship with SAP Ariba and is doing well in the procurement space. The Salesforce relationship has also benefitted from the Docusign deal and its SpringCM acquisition as it has brought Seal to a wider audience especially on the Salesforce platform according to Zetterberg.
More growth in 2019?
2019 is a year of consolidation in some ways for Zetterberg, but not one without growth. ET asked him what he hoped to achieve.
"We had very fast growth on headcount in 18. In 2019 our go to market is pretty much the same. We want to make sure we consolidate and make sure that everyone is on board. Due the acquisition and Cairo we added over 100 people. We now have over 270. The internal goal for me and the management team is that we are all clicking and that we are also staying close to our customers.
"We see the market maturing more. We do less education and evangelism. There is more knowledge when we walk into meetings. Customers are more demanding, which we like. They no longer see AI as the holy grail, they see it as part of the business process. How can you augment existing process to drive more value out of it?"
When ET spoke with Zetterberg in 2017 he spoke about expansion to Asia in 2018. This has not yet happened. ET asked Zetterberg about what the state of that internationalisation is:
"We had ambitions to look at Asia Pacific in 18 we just didn't have any fuel left in the tank to do that after the acquisitions and Docusign. We continued to focus on Europe and America in 18. In 19 due in part to Docusign and other factors we will have to take a serious look at building out a presence in Asia Pacific probably towards the middle or back end of 19."
Why the caution?
ET asked Zetterberg whether there were any macroeconomic trends that is influencing his decision. He responded "When stock market goes like a yoyo and the whole thing about trade wars, it makes all of us nervous. It makes customers more wary about what type of investments you can do. Towards the back end of 19 and 20 you want to be cautious I don't think you want to get ahead of your skis and investments and see how the economy lands.
"To see if there is a slow down or it leads into a recession economy. It's part of the reason why we want organic growth this year, we want to control our own destiny by being smart on the investments. We will carefully watch what is happening with the economy over the next 18 to 24 months."
Zetterberg also ruled any acquisitions in the short term. While the company is still funded from its last round, the acquisition and Cairo will have depleted the funds.  Is Seal looking for another funding round to fuel growth in the future?
"We may look to more investment mid to later this year. It depends upon how aggressive we want to be on growth and investments. We have money left we don't need to raise in the near future."
What key product updates are on the roadmap for 2019?
Seal has consistently improved its product over the last year. The latest update saw the release of the Seal Financial Services suite. This included seven apps. Zetterberg intends to add to that number in 2019. He revealed that some of the large SI's are helping to develop those products with Seal including Accenture and EY. What else are they working on?
"We want to simplify the learning for customers. You need less examples to build up the deep learning. Distributed learning is key.
"We see the whole thing about the integrity of data as important. The whole thing around Facebook and all the breaches.  To help customers to understand the black box. We want to make sure that the customers has full control and integrity in that. They know what comes in through one way and understand how that drives the value on the back end."
What message do you want to share with your customers?
"There is a lot of hype and is still a misinterpretation about what AI is. We see it as an amazing automation tool. There are things that are perfect for an AI platform to automate. Lots of companies have too much data so how do you recognise what is material and what is not as important.
"All contracts are not equal. How do you spend the time on what you need so you can take intelligent actions. We want to tell our customers don't get into the hype, try to be very pragmatic. Look at your current business processes, see where you have gaps where you have people dealing with data. Those processes are perfect for things like Seal to automate and drive efficiencies."
Read any good books lately?
CEO's often find the time to read, learning from others and applying the lessons in their own organisations. When ET last spoke with Zetterberg he listened to MIT podcasts. ET asked whether he had read any good business books recently.
"Life 3.0 from fellow countryman Mark Tegermark . It is an interesting viewpoint of Ai and the human element. He talks about both the positive and negative scenarios of AI. He draws a very scary future and also a very positive future.
"The other book I really enjoyed was The culture code by Daniel Coyle.  There was nothing new in it but he simplifies what it means with great team work. He sets out a couple of simple things about. Is talent something you are born with or is it something you can develop? How do you have a culture that is like a safe environment to allow people to let their guard down and therefore you can help them grow and develop their talent and that drives good teamwork? It was good common sense, pragmatic and I like that."
Enterprise Times: What does this mean
Seal Software is in a strong place. It has strong organic growth and with Zetterberg in charge he brings a level of pragmatism and common sense that is not always seen in technology startups that chase the unicorn. That Seal is working with SI's on its next set of products is a very good indication that it will do well over the next few months and years. It will be interesting to see how much they raise and from whom in their next funding round.