Not the lyrics to a Stevie Wonder song but the outcome of recent news from Seal Software. At Momentum 2018 DocuSign announced it has taken the Seal solution and embedded it onto its own platform. In a subsequent announcement, Seal revealed that Toba Capital, an existing investor, had delivered another round of $30 million in funding. After the event, Enterprise Times asked Ulf Zetterberg, CEO of Seal Software about both announcements.
DocuSign reveals agreements platform at Momentum
DocuSign is the market leader in signature platforms. It has decided to extend its offering through the introduction of an agreements platform supported by a range of technologies. Rather than acquire Seal Software it is white labelling its solution and integrating it as part of a new offering.
DocuSign will distribute Seal Software technologies under the product name of DocuSign Total Search. This will provide search analytics powered by Seal AI to surface insights around agreements. The solution will become generally available later this year. DocuSign will also market DocuSign Compliance packs, also powered by Seal, to extract concepts derived from key regulations.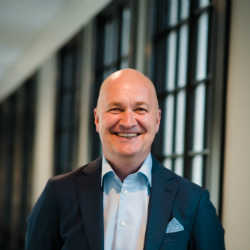 On the slightly vague general release date Zetterberg commented: "The work is done. Momentum 2018 was our launch and we will be rolling out the solutions from now on. However, as the press release states, the integrated platform extensions from Seal will be available later this year, bring powerful new capabilities to the 'manage' stage of modern Systems of Agreement."
However, the two companies are already working with some customers on the platform according to Zetterberg. He added: "Today, there are several joint customers who are implementing the integration module and we will be working with DocuSign to develop those case studies over the coming months."
For DocuSign this is part of a wider initiative and one they see a significant target market for. Dan Springer, CEO of DocuSign commented: "We're on a mission to make the world more agree-able by transforming the foundational element of business: the agreement process. With e-signature, we took the paper out of paperwork—something that has garnered us more than 400,000 paying customers and hundreds of millions of users worldwide today. We now see an expanded opportunity to do the same for the entire agreement process."
What does this mean for Seal
This is a huge deal for Seal. It enables them to leverage the selling capability of DocuSign and extend its reach far beyond its current geographical boundaries. In addition to the product there are also services to help implement the solutions.  We asked Zetterberg who would be providing these. He answered: "Services will come from DocuSign and Seal, as well as additional partners like PwC, Accenture, Apogee Legal, Baker McKenzie and others."
The Seal partner network and, one assumes, the above SI's will cover the territories where Seal has no presence. Seal has also started to train DocuSign staff on the new product. According to Zetterberg, DocuSign will promote their agreements platform and there will be some joint marketing efforts. Seal will also continue to market its products as well.
For Zetterberg the advantages of the agreement are clear: "DocuSign has over 400,000 customers, and a large percentage of those customers are enterprise scale, who are looking at solving the System of Agreement issues. Seal is core part of the 'Manage' part of the DocuSign SofA platform. For Seal, this brings contract analytics to many more customers and prospective users. "
On whether Seal will contemplate another, similar partnership, Zetterberg answered: "Presently, our focus is on making this partnership highly successful."
That answer does not rule out another agreement, nor does it state that the agreement is exclusive. If the partnership works well then Seal will be able to significantly grow its customer base. If it is very successful, one wonders whether DocuSign will look to acquire Seal in the future. For the moment though Seal has secured its immediate future with further investment from Toba Capital.
Toba delivers $30 million
This was a planned growth round according to Zetterberg. It was also just one of the options that Seal had on the table. Asked about the options Zetterberg answered: "Seal's board and leadership will always consider all feasible options. In this case, a VC investment was considered the most appropriate."
The ownership of the company will naturally shift slightly as Toba takes a bigger share. That the make up of the board isn't changing is an indication that Toba are both happy with the strategy and direction of the company. It also indicates that Toba has not received a controlling share.
Vinny Smith, founder of Toba Capital commented: "We have believed in Seal's massive potential since we first invested in the company more than four years ago, and we are convinced now more than ever that Seal has the right ingredients in place to become a major enterprise software player. With a world-class executive team, blue-chip customers and industry leading partners like DocuSign, there is no doubt that Seal will continue its impressive growth trajectory."
Seal will use the fund to fuel growth. It already has more than 200 employees and is growing at a rate of 85% year over year. The deal with DocuSign could see that number climb even higher. ET asked Zetterberg what the company will spend the money on.
Zetterberg replied: "Seal continues to expand. In the last 18 months alone, the company has grown employee base by around 60%. Opening offices in Cairo, Munich and Columbus, Ohio. We have added sales teams across the US, but also in the Nordics, Germany and Switzerland, and we will continue to expand geographically.
"Our product innovation remains at the vanguard of the industry and our dev teams in Sweden and Egypt continue to create outstanding ML and AI technologies. Investment will continue to build on those aspects, namely, geographical expansion, brand building and marketing, development."
What does this mean
Both of these announcements will have a significant impact on Seal Software. The funding, from an existing investor, demonstrates that they are heading in the right direction and that both companies are happy with each other. Changing investors at this time creates potential friction at a time when Seal need to be focused.
The relationship with DocuSign is even more significant as it should help accelerate Seal's growth. Toba will almost certainly have been aware of the deal and that will have made the decision to reinvest even easier. The discussion was probably centred more on the valuation of Seal based on the DocuSign deal than anything else. Once the product is launched onto the market later this year by DocuSign there will be an indication of its worth. There is also the question of whether DocuSign may look to acquire Seal at some point in the future. The risk for Seal is if the majority of its revenue starts coming through this relationship.
It was this position that Adaptive Insights found itself in. They had a similar agreement with NetSuite for its financial planning software prior to NetSuite's acquisition by Oracle. NetSuite then moved to integrate with Oracle Financial planning cloud (formerly Hyperion). While this changed the relationship with NetSuite in terms of direct business, Adaptive has since signed deals with a number of NetSuite partners. It has also been acquired by Workday just before it completed its IPO, and continues to grow its customer base.