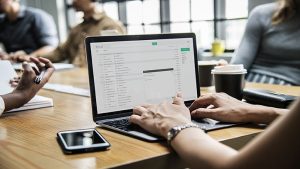 Rootstock has announced the appointment of Per Norling as General Manager, International to accelerate its international growth.
The appointment comes after the recent win with Mipox in Japan and also recent wins in Europe. Enterprise Times spoke to Norling at Salesforce World Tour in London on the day of his announcement.
Norling previously headed up Rootstock Nordics, its master VAR based in Norway but will now become an employee of the firm from July. The change comes as Rootstock completes a new round of funding following its acquisition of Kenandy earlier this year. Norling already has a small team and is looking to expand further, though he confirmed that he will first build a partner network.
Pat Garrehy, CEO, Rootstock commented: "Per is an accomplished executive and an expert in the manufacturing and supply chain industries. The opportunity for cloud ERP is immense and we are pleased to have Per leading our international teams to capitalize on this potential worldwide. He brings a unique perspective and successful track record managing operations for global ERP companies. We are excited to have Per join the Rootstock executive team."
Partner First approach
The network is expanding fast. In EMEA Rootstock has already signed up the largest Finnish Salesforce partner, Fluido. It has signed Optingo to cover Poland and the DACH region. In the UK and Netherland coServe is an active partner. He is also hoping to sign a partner in France soon.
Norling is excited by the prospect of growth potential for Rootstock commenting: "The growth feeling is the same I had with Baan in the 90s , … at least 50%."
Norling was managing director Nordic and COO EMEA for Baan Company NV in the 90's. He managed the entire EMEA region. It is no coincidence that he is in the Rootstock team. Jan Baan is on the board of advisors. Norling went on to say "The Baan network is being lit up. They are coming back and saying, hey can we be part of this."
That may be concerning news for Infor if they are. Some of their partners are ex Baan and with the pull of the Salesforce platform Rootstock could accelerate their growth even faster than Norling hopes for.
Expansion is also happening in Asia. Norling had just returned from a tour that included Japan and Thailand. Rootstock already has a partner in Japan and is looking to sign more. It is not just new partners that is exciting Norling. He added: "Our Pipeline is, 125%  over last year, a healthy sign of manufacturers moving to the cloud."
What does this mean
Rootstock is not only getting business from existing Salesforce customers such as Mipox. It is also partnering with Workday on new deals. One of those is Vasco data systems. This should see Rootstock become a significant Salesforce partner across several regions over the coming year. That it operates in the large enterprise space will also please Salesforce.
It can now, with Workday and Rootstock in partnership, compete in what might have been traditionally SAP and Oracle customers. If that is the case though Norling may need to aim higher with his relationships and start to draw in some SI's as well.
Norling summarised his view by saying: "Manufacturers and distributors are languishing on legacy ERP applications, some of which were implemented before Y2K but are now ready to move into the cloud en masse. Rootstock's cloud ERP on the Salesforce Platform is an ideal way for global manufacturers and distributors to begin their digital transformation. I am excited to be leading this expansion with Rootstock."