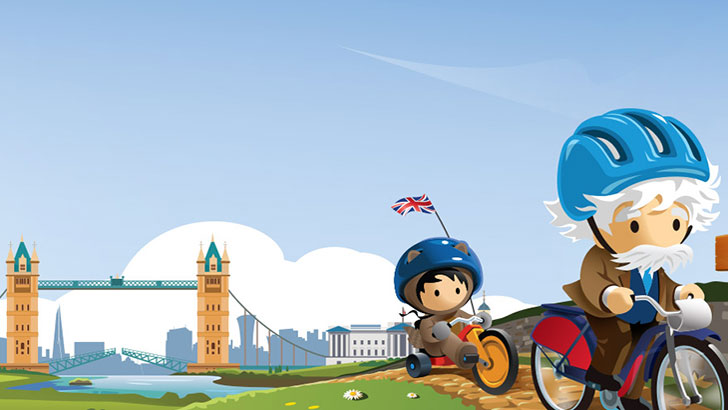 Simon Mulcahy, Global Chief Marketing Officer kicked off Salesforce World Tour London delivering a typical Salesforce opening keynote. Culture is incredibly important to Salesforce. Its core values are trust, equality, customer satisfaction and innovation.
Core to his message was that while Salesforce is a flag bearer for CSR it expects its ecosystem to follow. Since its founding Salesforce has given:
2.6 million volunteer hours
in excess of $200 million in grants to non-profits
more than 34,000 products to non-profits and education establishments.
More than 5,000 companies have already joined the pledge. Mulcahy hopes that it will reach at least 6,000 by the end of the year. In a straw poll of the audience, he asked them to stand up if they had already made the pledge, few stood up. It will be interesting to see the reaction in 2019.
He also highlighted a non-profit organisation, Astriid, that Salesforce has also supported. Astriid was founded by David Shutts, OBE.  It is about connecting people with terminal illness and significant skills, with organisations who can take on flexible workers. Steve Shutts, Chairman of Astriid, and David Shutts brother gave an outline of the importance of the charity and those it helps.
Over 100,000 people are diagnosed with a terminal illness in the UK. These individuals are often skilled, from project managers, to CEO. They may also have an array of technology skills, much needed by organisations. Incredibly more than 57% lose their jobs when they are diagnosed. This is mainly due to companies not able to adapt to the flexibility that these individuals need.
Shutts called on the audience to sign up their companies. To take advantage of these skilled individuals who are often desperate to work. It is not just for the money, but also because they want to work in a team and have pride in what they do. Companies and individuals can also donate to the charity to help its work in the field. As companies adopt the gig economy, it seems surprising that so many valuable staff are left without roles.
More announcements for the UK
Mulcahy also spoke about the announcements that Salesforce had made earlier in the week. This includes the opening of a new UK data centre and an innovation lab in Salesforce Tower, London. He also revealed that Salesforce Accelerate would be available for UK start-ups for the first time. Accelerate is a four month program that aims to speed their entry to the AppExchange. It is open to any organisation, but they must also take the 1% pledge. Applications for the first cohort are now open and organisations need to apply by June 30th. This first cohort will have a focus on Fintech and Insurtech companies.
Salesforce is looking to grow its ecosystem of software vendors. With a large number of such start-ups in London, its is the ideal place to launch the program in Europe for the first time. In a later press Q&A Mulcahy answered a question around the importance of UK by saying: "International is our most important market, within that EU is most important, within that UK is prime."
He fell short of saying the UK is the most important market. However, the London World Tour is the largest outside the UK.
The event has more than 12,000 registered people and is crammed into a single day. Though there was a partner day on the previous day. Salesforce may soon need to make it a two day event as people cannot attend all the sessions that they want to and go around the exhibition hall and attend the keynotes. Sessions already start early in the day.
What does this mean
Salesforce is the first cloud company to hit more than $10 billion in revenue. The London event is probably one of the largest technology events in the UK and the event space was extremely busy. Partners that Enterprise Times spoke to were happy with the attendance and had gained several leads. This year Salesforce had some UK specific announcements and partners were confident of a good year ahead.
Salesforce has several options. It may decide to combine the Amsterdam event (less successful than London according to vendors) with the London event. With interest in the Salesforce ecosystem still running high, will they risk expanding the event further. With Brexit due to come into effect next year, they may hesitate to do so. However, it seems only a matter of time before they will have to make the event longer and even bigger.