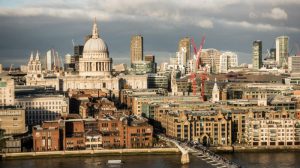 Ahead of Salesforce World Tour in London this week, Salesforce has made several announcements that impact the UK. As part of a series of developments for its London office space it has opened an innovation centre in the Salesforce Tower in London.
Later this year it will also add an Ohana floor. This is a space dedicated to promoting the community of customers, partners and Salesforce employees. It has also revealed that it will open a second data centre in the UK in 2019, timely for Brexit. Salesforce has also issued an update on its approach to GDPR. It has named a new data protection officer and issued product information and guidance for customers.
Salesforce – supporting innovation in the UK
Salesforce continues to support innovation in the UK. The annual Dreampitch event at Salesforce World Tour will see three entrepreneurs pitch for £100,000 investment from Salesforce Ventures. The three judges, James Caan, Jacqueline de Rojas and Dale Murray as well as the World Tour audience will listen to the pitches and consider which start up should receive funding.
While Dreampitch is an annual event, Salesforce is also looking to foster innovation within UK companies of any size with the opening of the Salesforce Innovation Centre in Salesforce Tower London. The opening ceremony was attended by Margot James, Minister for Digital and the Creative Industries. She commented: "We are determined to make the UK the best place to start and grow a digital business, so it is fantastic that Salesforce has chosen London for its first European Innovation Centre. The investment will allow businesses across the country to increase their productivity and strengthen our position as a global leader in technology and innovation."
The new area allows customers to learn about how different technologies offered by Salesforce can help to deliver digital transformation in companies. Technologies showcased and available for customers to innovate with include: cloud, social, mobile, AI and connected products with IoT. The areas is completed with the latest IT and audio visual presentation equipment. This is not just intended for startups, larger companies have welcomed the news
Simon Sproule, VP and CMO, Aston Martin commented: "As our customers' expectations continue to evolve they expect us to communicate in ways that are more personal, relevant and engaging. Using Salesforce as our technology partner, we are able to deliver an ownership experience that matches their expectations from a brand recognised for bespoke and hand-crafted luxury automobiles. I'm looking forward to working together, in the new Salesforce Innovation Centre, to take our customer engagement to a whole new level."
Salesforce brings Ohana spirit to London
In addition, Salesforce will later this year open a floor dedicated to the wider Salesforce community. The Ohana floor will be a space where they will hold events for employees, partners and customers. It will become a hospitality floor with a kitchen barista bar along with a social and networking space. Salesforce will also open up the space to nonprofits to host community events on weeknights and weekends.
Whether this is a commercial space for which partners will be charged to host events isn't clear. As it is located in the heart of the city of London it is an ideal location for many Salesforce partners to bring both customers and prospects though. As more companies look to leverage their office space in central London, left empty by flexible working or reductions, this is an intelligent use of space that promotes both Salesforce and helps those partners that either cannot afford office space in central London or do not have the footprint.
Green Data centre
Salesforce is one of the leading technology companies when it comes to green credentials. It reached net zero green house emissions last year, around 13 years ahead of its own schedule. It is therefore little surprise that the power generation for the new data centre is also carbon neutral. All power will be provided from 100 percent renewable energy although it has not yet announced what the source is. As a result of its commitments Salesforce is now able to offer carbon neutral cloud to its customers.
Ready G-DAY – May 25th
GDPR will come into force on May 25th. Salesforce has issued an update on its progress for both its internal processes and for the services it delivers to its customers. It has appointed Lindsey Finch, Salesforce's SVP of Global Privacy and Product Legal as its data protection officer. French has worked at Salesforce for more than ten years. She recently gave an interview which summarized her experience and thoughts on data privacy.
On what she is hearing from customers she said: "The top theme I'm hearing is that our customers are using the GDPR as an opportunity to focus on their privacy practices and putting their customers—oftentimes end-consumers—at the center of their businesses. The GDPR is a complex law, but putting the individuals to whom the personal data relates at the forefront, and focusing on their expectations and preferences, is a great starting point for compliance with the GDPR and other privacy laws."
Salesforce is also helping customers proactively, in February it created a GDPR website with several resources for customers. These include help documentation and access to a trailhead dedicated to the subject. There is at least one seminar on GDPR at Salesforce World Tour London.
Like other vendors it has introduced many features to support GDPR. The difference is that many of those features have been in releases that have been out for some time. It has introduced granular consent into Marketing Cloud. In the most recent release of Sales Cloud, Spring 18 it also added "Individual Object".
Sensibly the new feature is available for both Salesforce Classic users and Salesforce Lightning. This allows companies to reference an individual's privacy preference across applicable Salesforce record including custom object records.
What does this mean
With Salesforce World Tour nearly here it is surprising that Salesforce has made this announcement ahead of the event. The World Tour event will see up to 12,000 registered attendees making the trip across London to Excel. They will hear and see the latest innovations and partner products available in the ecosystem. They should learn more about what Salesforce has done over the last year.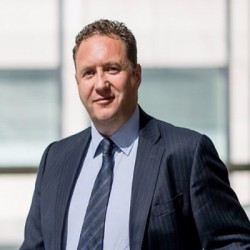 While the World Tour events are a single event, Salesforce can maintain momentum using the new innovation lab and Ohana floor. Andrew Lawson, Executive Vice President and General Manager, UK, Salesforce commented: "The opening of our first European Innovation Centre at Salesforce Tower London and our increased data centre capacity in the UK underscores both our partnership with UK businesses and our growth in this market. These facilities will help our trailblazing customers and partners to drive innovation and connect with their customers in a whole new way."
With Brexit looming in March 2019 opening a new data centre is Salesforce preparing for a new UK region. Depending upon legislation, companies and government bodies may want and need to keep data within the UK. It is a smart move by Salesforce and should mitigate any risk to sales volumes over the next few months.