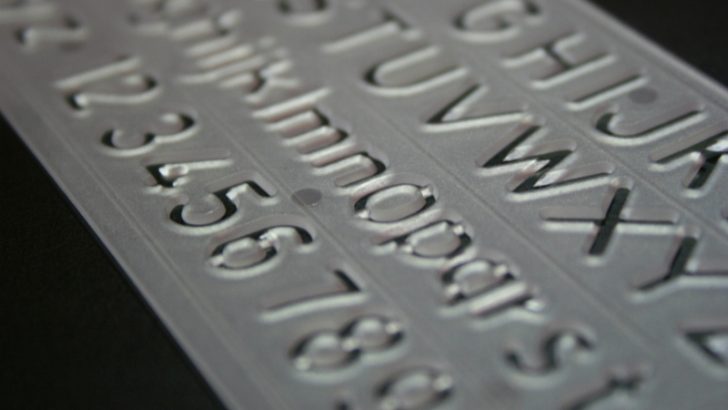 When I sit in a presentation, I take note of how it is presented and what it looks like. Has the speaker for instance created something new that I find both interesting and want to copy for my own presentations. I do find though that some companies do not make their presenters keep to a house style. With their logo in the same place in the correct colours and the correct size. All are extremely important. Therefore I urge you to create a template for your company to use. Here are the steps to follow for just that purpose.
Create the master first.
Some people do not know that the Slide Master is their friend. Visit my earlier tip on that subject.
Open PowerPoint.

Create the master first.
Select View Tab
Select Slide Master tool.

This will take you to where all the different layout masters are held shown on the left of the screen.
Use the slider to show the very first layout as this is the overall master for all the layouts bellow it. Whatever you decide to change or apply or add here, will automatically be in the other layouts bellow.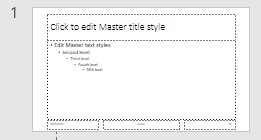 Make your selection for font, font size, colour, bullet points and their colour. Logos should be placed her too so that they are in exactly the same place in every slide you later create. There is nothing more distracting and a constant which moves position on the screen. Make any other selection you need to appear on every slide and save this by exiting out of Slide Master View using the close tool.
This tool is a useful one to have on your Quick Access Toolbar. See my earlier tip on the Quick Access Toolbar.
Selecting the Close Master View returns you to the main screen to show your slides.
If you need a logo to be shown on every slide and every presentation from now on, create it now in the title layout. If your title slides are different each time leave it all blank and save this now as a template.
Saving as a Template
As this document has not been saved before, you can use the save tool. If you have saved it already as a presentation you need to use the save as function found in the File tab. This will take you to the usual save as dialog box.
At this stage it does not matter which directory or folder you choose to place this template into because as soon as you select to save it as a template Microsoft selects the templates folder for you.
Look at the address line in the Save as dialog box to see where this is going to be placed for you.
This part is very important.
CLOSE THE DOCUMENT!
This is because many people get carried away and start to create their new presentation forgetting that they are still inside the template.
Using your template
Open PowerPoint again.
Select New from the File tab, not your quick access tool bar.
This screen is opened to you.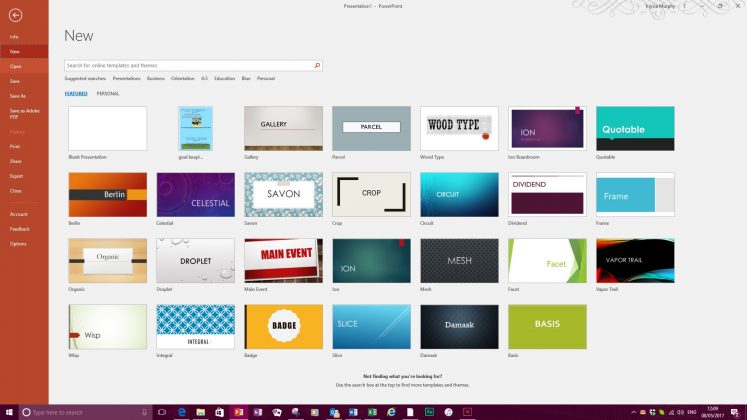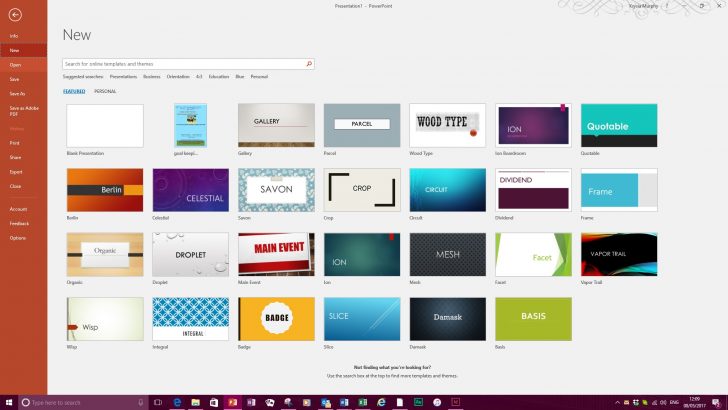 Locate the PERSONAL button just above the blank presentation template. DO NOT go to the Personal templates found in the list that stretches across the screen above. These are two entirely different areas. The first will show all your own creation templates the second what Microsoft has created for your use.

Select the PERSONAL button. You will see your template there.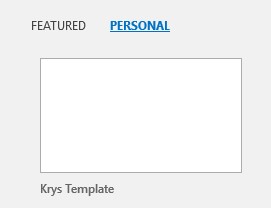 Double click on the template and it will create for you a document with all the items you created earlier in the template so that you can design your presentations in the knowledge all the relevant constant details are there and you don't have to hunt them down or check sizes etc.
When you come to use this template again, you will notice when you select New for the File tab that your template is shown in this first screen, right next to the Blank presentation template. There is no need to select the PERSONAL button again.