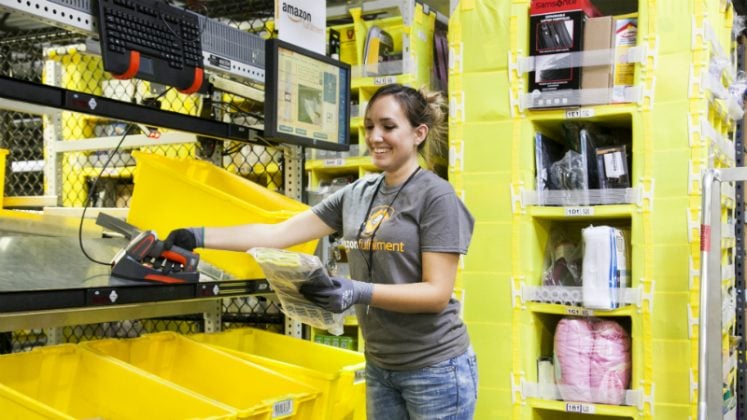 Workday has announced that Amazon has begun implementation of its Workday platform. The agreement to use Workday was signed in October 2016. The announcement that they are starting to roll out the solution has positive implications for both companies.
Workday will replace Oracle PeopleSoft at Amazon. Recently Oracle announced it was going head to head with Amazon in the IaaS and PaaS cloud market. It is no surprise that Amazon doesn't want to line Oracle's coffers further. The choice of Workday is less of a surprise after Workday announced that they would use AWS for their public cloud installations going forward. It is likely that part of this deal ensures that they use each others technology for several years into the future.
Amazon facing rapid growth
Amazon announced earlier this year that it will add 100,000 jobs to the 150,000 employees it already has in the USA.  This will bring its total global workforce to more than 400,000. With Amazon also increasing its employees around the world that number could grow substantially.
The agreement with Workday sees the implementation of Workday Human Capital Management (HCM) and includes payroll, at least in the US. If Amazon are implementing Workday in other regions, then it is likely that the payroll will be a mix of Workday and ADP, Workday's global payroll partner.
Beth Galetti, vice president, HR, Amazon commented: "Workday is an HR cloud leader that provides an innovative, customer-focused HCM system that will support Amazon as we continue to hire employees around the world."
Workday starting to blossom
This is another major contract win for Workday. What is impressive is that the revenues from this deal are already starting to flow. That is testament to the work that Workday has done in the last couple of years to decrease the implementation time for its solutions.
This deal is not the same size as that for the 2 million employees at Walmart but it is significant. Amazon also has the potential to grow far faster towards that number of employees in the future. Adding 50% to its employee numbers in the USA is a significant increase.
Oracle is struggling to protect its legacy install base of PeopleSoft. This announcement is evidence of that despite other commercial issues between Oracle and Amazon. The only downside is that Workday has not yet convinced these companies to select their financial solution as well. If that happens then Oracle could lose many of its PeopleSoft estate to the finance and HRM cloud platform.
Phil Wilmington, co-president, Workday commented: "The addition of Amazon to our customer community underscores the preference global market leaders have for Workday, because they trust our system to deliver the workforce insights required to drive strategic decisions and global growth."
Conclusion
This is another significant win for Workday and sees another 100,000+ employee company added to their books.  How quickly Workday adds more names will be followed closely by analysts. The Workday share price closed at 86.05, up 0.8% on February 7th. It is now significantly higher than its close of 48.97 on February 9th 2016. If the announcements keep rolling out it may soon reach its previous high point of 109.92 in Feb 2014.
Workday is now showing that it is now able to deploy solutions faster. This enables it to more quickly realise revenue from its cloud solutions. This may mean a hit on professional services revenues in the short term but should increase its forecast for subscription revenue growth in the future.