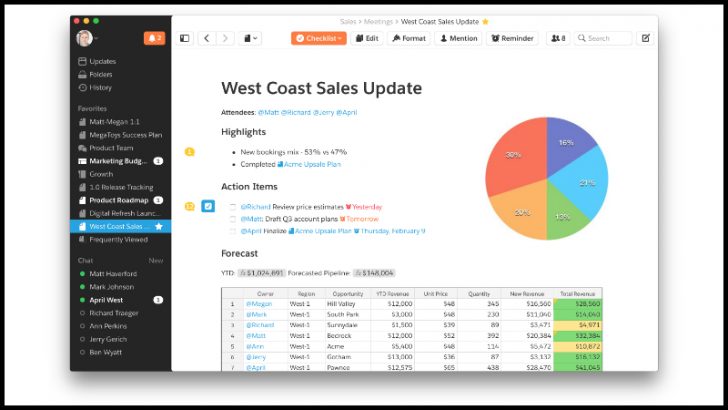 Salesforce has announced the next version of Quip. They have delivered several enhancements that ties it closer to Salesforce and improves the productivity and collaboration components of the software. The new features include a new design, project management features and Salesforce integrations.
Listening to its users
Talking to some ex Facebook employees last year at Dreamforce about Quip there were some negative feelings about its look and feel. Quip has now started to address these. This is a positive step and users will welcome them. The new release includes updating the sidebar menu. This is now available all the time with intuitive menus that update entries relevant to the location in a document. They also ensure that the most commonly used features are always to hand.
Quip is showing users that it is still developing the product while also delivering its integration with Salesforce. While these changes seem minor, if the feedback is positive and the reference ability improves it will have been worth the effort.
There are new checklists which group reminders together allowing them to be updated and tasks cleared by relevant users. Project team leaders can easily identify tasks to be assigned and users can confirm completion in the same document as they are completed. This doesn't integrate back into a full Professional Service Automation (PSA) solution yet. This means that companies like FinancialForce and Kimble should look to take advantage and integrate it into their project management functionality
Project Management features added
Quip is foremost a collaboration tool and there are several improvements that reflect that. The power of Quip is that it lets all members of a team simultaneously update documents. It ensures that project documents are constantly up to date and removes the risk of historic versions being used.
The key new feature is that a user can tag themselves or a fellow user with a date within the document. This acts as a proactive reminder for users when they need to something. It also prompts users where there are sections in a report that need updating by or on a specific data.
The strength of Quip is that those reminders can be within a presentation, a spreadsheet or document section. This allows individual cells to be tagged and images that need updating on specific dates. It uses an intuitive and workflow driven process to manage this with the target user selected from the project team list. It also uses a more natural language approach for entering the dates. They can be typed in as part of the reminder saying "update this next Friday" or "update this tomorrow".
Will the professional service automation solutions start to integrate Quip into their products?. Workato already has an integration tool between FinancialForce and Quip. This may become redundant if FinancialForce themselves decide to leverage Quip. With the newly announced integration there may not be much work to do.
Salesforce integration has arrived
This is the key feature that users have waited for since the announcement that Salesforce bought Quip. From February 13 Quip will appear on the Salesforce AppExchange. Users can use their Salesforce sign-on to access the collaboration tool. The integration is also two way with a Quip component that can access Quip from within Salesforce. Perhaps surprisingly the Quip tool is available in both the Classic and Lightning UIs. One of the Salesforce drivers at Dreamforce was for apps to be Lightning ready and there must be a point where Classic is retired, clearly not yet though.
The integration enables Quip users to place Salesforce content into their document.  That data is a live feed, updating information as it changes.  This will rapidly speed up reporting for many business functions, such as Sales  and Finance.
Can Quip displace Microsoft office
Microsoft Offices is the de facto productivity tool across the globe, but for how much longer? At Dreamforce last year Quip, as one of the recent acquisitions was mentioned in Marc Benioff's keynote. It became clear that Quip has the capability of replacing Microsoft Office in some companies as the main productivity tool. Most companies barely scratch the surface of the power of Office. Quip enables the majority of users to collaborate more effectively from within a single system.
Bret Taylor, CEO of Quip, a Salesforce company commented: "We're proud to debut a new, smarter Quip that anticipates a team's needs like never before. By bringing the power of dynamic business data into living documents, we're introducing the next generation of team productivity and collaboration."
Conclusion
The new version is available today for existing users. Pricing for new users starts at $30 per month for a team of five although this pricing is only available on the Quip.com site. Whether the Salesforce integration adds an extra cost is unknown. There is more information in a blog by Diana Kimball, product manager, Quip.
Whether it can supplant the dominance of Microsoft Office it is too early to tell. Companies such as Facebook already use the software and others may look to try it. If the improvements to support project management are integrated into the PSA applications available on Salesforce then they might just become the biggest advocate in the future. It will be surprising if at least one of them doesn't take advantage of Quip and deepen the integration. The integration of checklists into PSA, the efficient creation of reports  is an advantage that few other solutions can deliver quickly.
What Salesforce is doing, is not replicating Office aims to deliver a productivity tool that takes it to a level above the Microsoft solution. What the next version of Office delivers in response will be interesting. The challenge for Microsoft is that many of its users are resistant to change.