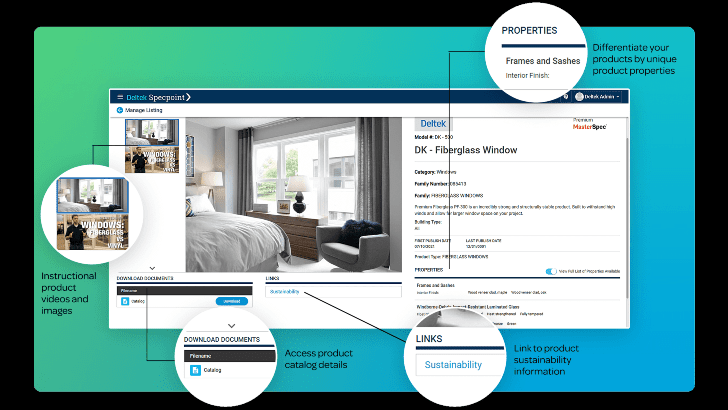 Deltek launched Deltek Specpoint at its annual conference Deltek Insight this week. The specification software was first unveiled earlier this year ahead of the American Institute of Architects (AIA) conference. Specpoint will provide a home for AIA Masterspec.
Specpoint enables architects, engineers, and specifiers to create and modify construction specifications within a single solution. Embedded within the solution are actual products, including their specification from building product manufacturers. This enables users to create specifications using the details from the actual products that are used rather than finding that their specifications are non-standard and therefore expensive. There are now more than 50,000 product listings available within MasterSpec.
Warren Linscott, Chief Product Officer at Deltek commented, "The AIA MasterSpec® is the industry standard for specifications and we're excited to take specification management into the digital age with this new technology, making spec writing easier, more collaborative and more accurate.
"Specpoint will remove silos between designers and building product manufacturers, moves away from digitally static Word documents and leverages intelligent design and automation to improve the way specifications are delivered and leveraged in the built environment."
Deltek has also partnered with ConstructConnect, like Deltek, a Roper Technologies company and vendor behind the largest construction network for bids and projects.
Matt Strazza, President & CEO at ConstructConnect said, "Today's construction industry is turning toward technology to tackle a greater need for improved collaboration and communication among all stakeholders. In an ever-evolving, fast-paced landscape, partnering with Deltek to offer Specpoint, home of AIA MasterSpec®, will further empower the building product manufacturing segment to easily reach design professionals with the right product information during the specification process. We're excited to be a part of it."
What is Deltek Specpoint
Deltek called out five advantages that Deltek Specpoint delivers to architects, engineers and specifiers. They are:
Users can select from a comprehensive selection of products from access control credentials through to site water distribution piping. The product libraries are accurate and up to date with the latest product specification. Thus ensuring the right product is selected for the right task.
Product information includes information about the locality. Masterspec also includes information relating to LEED v4.1 BD+C and ID+C rating systems across Divisions 03 and 04. It enables users to select the right product ensuring accuracy and quality for their specification.
As a cloud solution, Specpoint is collaborative and enables users to work in teams, both within and between different firms. BPMs can work together to create specifications that are data-driven and more accurate.
Specpoint includes Intelligent Design Automation. This means that unnecessary manual work is automated. Users can create and deliver specifications faster and with more accuracy. However, Deltek did not reveal what this automation includes
For Building Product Manufacturers, it is the best place to have their products listed. It makes it easier for architects to specify their products. BPMs that want to add products should read this blog which offers insights into how they should list them, and what details to include.
Note that BPMs that list their products with links back to Product MasterSpec will need to update their links to Specpoint. The ProductMasterSpec.com listings will no longer work after October 31st, 2021.
Enterprise Times; What does this mean
Deltek Specpoint is here and launched. It is the go-to product for AEC firms and a natural add on to the Deltek portfolio. With this solution in place, there is also a natural stickiness to Deltek's other solutions. However, the ties between them are currently unclear.
The partnership with AIA means that the Deltek brand will become even more recognised in the space though. This is a good thing for the software company and one from which it will hope to gain an advantage.