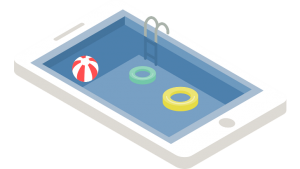 Infor has announced its third hospitality win in as many months. The latest is that Koncept Hotels has deployed the Infor Hospitality solution. Currently operating a single hotel, Koncept Hotels operates its business using the latest technology in hospitality and aims to attract the tech savvy traveller.
The concept is similar in nature to CitizenM hotels with which more people will be familiar. The first Koncept hotel is located in Cologne and it plans to open two more hotels in other locations across Europe in the next year.
Koncept selected Infor HMS as the digital interface for hotel guests to interact with. They are able to book rooms, check in and check out using smart devices or an automated keycard system. The platform will also deliver recommendations around the stay and will enable guests to select special services.
Reduced costs and better data analysis
Having deployed the application Koncept no longer needs as many staff to manage and run the hotel. For example it removes the need of the requirement for a 24/7 reception. This lowers its costs significantly. With more data captured around guests in a single data store it is better able to analyse that data and improve performance. This should also enable quicker expansion to new locations as technology potentially removes some of the staff training requirements.
Martin Stockburger, Managing Director Koncept Hotel Management GmbH commented: "It is fair to say Infor is the Rolls Royce of technology in the hotel industry and has outperformed established players on the market by far. Infor assigned numerous hospitality experts to our project who really know the market and the solutions to deliver an uncomplicated, reliable, and comprehensive offering.
"The project team's support is professional and response times are fast. The customer experience has proven outstanding. With Infor, we have found the right digital partner to support us in driving our expansion plans."
What does this mean
Infor is making great strides in Hospitality. In recent months it has announced GJP Hotels & resorts, Accor hotels and Pavilion Hotels and Resorts. It also acquired Vivonet to further strengthen its application portfolio. This latest win sees it winning business from a brand new hotel chain using the latest technology. In the above wins Infor has demonstrated that Infor HMS is suitable for a small ambitious hotel chain through to a larger multi national such as Accor.
Stefan Bezold, Executive Sales Director DACH & CEE for Infor Hospitality commented: "Guest interaction across all digital channels and touchpoints will play an increasingly important role in the hotel industry of the future. With Infor HMS, we enable hotels to accelerate their digital transformation so they can offer their tech-savvy guests the service they expect. Koncept Hotels is a prime example for a next generation hotel and we are pleased to support their strategy with our solution."
The Infor investment in Hospitality seems to be paying off. What it needs to be do is win more larger businesses that are looking to modernise their IT systems and compete with the newer concept hotels.