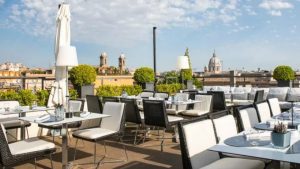 The Pavilions Hotels & Resorts (The Pavilions) has deployed Infor Hospitality Management System (HMS) for its hotel operations, and Infor SunSystems for its financial operations in its Bali, Phuket, Madrid, and Amsterdam properties. The Hong-Kong based company owns and operates luxury hotels, resorts and manages experiential travel across Asia and Europe.
Siobhan McHenry, Group Director, The Pavilions Hotels & Resorts said: "As we continue to grow as a business, it is paramount that our systems keep pace and help us achieve global reach. Through our deployment of Infor HMS and Infor SunSystems, we anticipate significant time savings and reductions in errors, which in turn will make us more agile and nimble.
"We wanted to deploy a true cloud-ready application that has a single source of truth and unifies our systems globally. Our relationship with the team at Infor was also key to our selection – they have been an excellent partner throughout the implementation process."
About The Pavilions Hotels & Resorts
The Pavilions Hotels & Resorts has its headquarters in Hong Kong. The Pavilions Hotels & Resorts is a fast growing boutique hotel group specialising in the Asia region. It has made more than six acquisitions within the past twelve-months.
The brand's boutique size and design philosophy seeks to offer secluded spaces with service, even in the busiest of cities. It proclaims that each hotel is distinctly individual and unique, yet underpinned by common core values. of building meaningful connections in unrivalled locations, which include Roma, Bali Pokhara, Lisbon, Madrid, Mongolia, Niseko, Phuket and Amsterdam.
The Pavilions deployment of Infor
The Pavilions deployed Infor HMS and SunSystems in order to:
streamline processes
establish a unified system across the brand's global properties
enhance efficiencies and agility.
The Pavilions plans to deploy these solutions at more properties as these come on board.
Infor designed its Hospitality Management Solution (HMS) specifically to address the needs of hotel companies. The solution combines enterprise power and streamlined workflow in a multi-property environment. This becomes the basis for sustaining long-term growth of the hotelier.
With Infor SunSystems, The Pavilions will manage all of its financial transactions and reporting via one global platform. The intention is that this will assist executives at the Pavilions make better decisions.
Eric Wong, Vice President, Hospitality, Infor Asia Pacific said: "Diversifying systems and information across different centers and regions can be a huge challenge for any organization. Businesses need to be flexible and a solid technological infrastructure is crucial in a scenario of constant change.
"We are proud to work with The Pavilions Hotels & Resorts to leverage the full potential of Infor SunSystems and Infor HRM to generate future business growth."
What does this mean
To adopt a single global system for all your hotels, even if it is a worldwide cloud, is a brave move. The nightmare of most hoteliers is a front-desk failure, which is all too apparent to customers ('guests'). Hence, for multi-property operators, the past preference for an architecture where one failure does not bring down all properties.
If this Infor cloud implementation were to fail it might take all, not one. The increasing reliability of cloud solutions, however, mitigates this – and most of The Pavilions' hotels are in locations with good support.