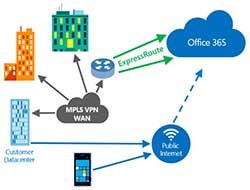 Equinix has announced that it will be deploying Microsoft Azure ExpressRoute in Q3, 2015 via the Equinix Cloud Exchange. The offer is targeted specifically at users of Microsoft Office 365 and is intended to provide them with a low latency, private, managed connection between their offices and Microsoft's Azure data centres where Office 365 is hosted.
Equinix already an Azure ExpressRoute partner
This deal comes just over a year after Equinix announced its first deployment of Microsoft Azure ExpressRoute in April 2014. At the launch Chris Sharp, vice president, Cloud Innovation at Equinix said: "We are witnessing a significant shift in how enterprises operate as they adopt hybrid cloud, and they are looking to effectively address performance and security concerns often associated with the cloud, while still benefiting from the flexibility it provides.
"By expanding our partnership with Microsoft, we are able to offer our customers a secure, flexible and reliable connection to the Microsoft Azure cloud in 16 strategic markets around the world."
According to the previous announcement Microsoft gained access to over 975 networks and the Equinix global platform which included 450 cloud, 600 IT service partners and 4,500 customers. Since that initial deployment, there has been little data from Equinix as to how many customers are using Microsoft Azure ExpressRoute.
Equinix extending its Azure ExpressRoute relationship
This latest announcement is intended to resolve the problem of latency when using cloud applications. Many companies are discovering that as they move to a wider use of Software as a Service (SaaS) they are suffering from poor connection speeds which results in a poor user experience. Equinix are pitching this latest announcement at those companies.
According to Sharp: "By offering direct access to Office 365 via Azure ExpressRoute on Cloud Exchange, we are helping our enterprise customers get the most out of their cloud investments.  Private access to Office 365 results in lower latency and higher performing connections, thus providing business grade performance and the end-user experiences that enterprises are demanding with their adoption of Software-as-a-Service (SaaS) applications."
In his blog post, Sharp references a Microsoft blog written by Julie White, general manager for the Office 365 team as evidence that this extension of Azure ExpressRoute is being driven by customer demand.
"This is something our customers have been asking for since ExpressRoute launched last year. Currently, ExpressRoute provides customers with dedicated network connectivity through a private connection from their network to Microsoft Azure, and we're excited to extend the same option for connectivity to Office 365."