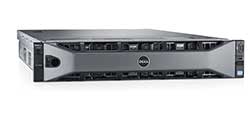 Dell has announced new software for its DR series of deduplication appliances. The release includes a raft of new features such as encryption and Network Data Management Protocol support. Dell also claims that it will improve performance of existing systems and make the DR Series devices more scalable.
Deduplication the key to reducing storage bloat
One of the solutions to the explosion of data and the shrinking backup window has been deduplication. The problem for storage administrators is calculating how much space they will reclaim based on different manufacturers numbers. Space saved also equates to faster backups and more importantly a significant reduction in storage cost.
On its deduplication page, Dell claims a saving of around 93% on storage space. However the amount of space saved depends on the type of data being stored. Images compress better than other types of media. If there is a lot of data analysis taking place with users storing their own analysis sets, there is a lot of space to be reclaimed there.
Text documents offer the most potential for reduction so if there are a lot of document libraries being used in collaboration products, the savings can be much more. The problem is that most IT departments have no clue about what type of data they are dealing with and where the savings can be found.
New features and capabilities
According to the press release, Dell is announcing four key features and capabilities in this new release:
Performance and scalability upgrades – 6TB drives will increase the maximum capacity of the DR6000 to 252 terabytes (TB) of usable capacity. It will also boost the DR6000's ingest performance up to 25TB per hour. Adding Rapid NFS and Rapid CIFS – the industry's first source-side deduplication capabilities for NFS and CIFS backup – to the DR4100 it's ingest performance will increase to 17TB per hour.
Encryption at rest – Dell's DR Series appliances now include encryption at rest capabilities. For existing DR Series customers who download the latest software release, data already stored on their DR systems also can be encrypted, ensuring that all of their data is secured in a non-disruptive manner.
VTL support – Virtual Tape Libraries are now supported as a backup target improving the speed of backups and reducing the risk, cost, and complexity issues commonly associated with legacy tape backup processes. Additionally, DR Series appliances now also support VTL backups using Microsoft Data Protection Manager (DPM).
NDMP support – The latest update also delivers network data management protocol (NDMP) support. Organizations currently backing up network attached storage (NAS) systems can now send data directly from their storage device to a Dell DR Series target appliance using the standard NDMP protocol.
Conclusion
The support for 6TB drives, increased ingestion speeds, VTL and NDMP support are all good steps. The most important feature the addition of encryption at rest. This is a big ticket item for many companies who realise that all data must be encrypted no matter where it is held.