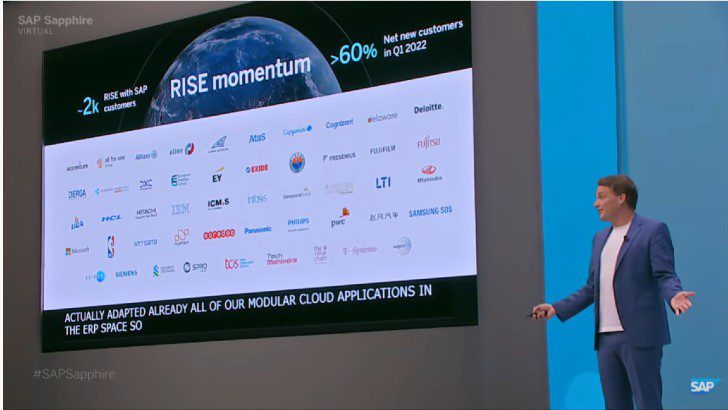 One often forgets, or never knew, that Christian Klein CEO and member of the Executive Board of SAP SE, started his career as an intern at SAP. He has led SAP through the pandemic. The company has emerged riding a wave of success from RISE with SAP that has seen the company finally emerge into the era of Cloud computing. Around 2,000 customers have leveraged RISE with SAP, and in Q1 2022 more than 60% of those were net new customers. Although SAP did not reveal the actual number.
His keynote at the first Sapphire, with a physical element since the pandemic began, delivered a mix of thought leadership, and announcements about initiatives across ESG, Product and the partner ecosystem. His first call to action, which is seen across many software companies was the situation in Ukraine, offering to match donations made at Sapphire by attendees.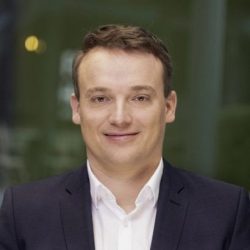 Klein stated: "For 50 years, we have revolutionised together, the way businesses are run. In the next 50 years together, we will continue to deliver market-making innovations. While the world around us has changed so significantly, our purpose is more relevant than ever to help the world run better in times of geopolitical tensions, disruptive industry transformation, supply chain disruption and to improve people's lives in times of war and climate change."
The challenges SAP aims to solve
Klein highlighted three challenges customers have highlighted to him over the last year. The speed of changes faced by enterprises. Klein noted: "The lifespan of Fortune 500 companies will shrink by 50% this decade." Digital transformation is an answer, and yet culture is often the largest barrier faced. Klein noted that people are risk and change-averse. The proof point Klein added is that: "So far, only 25% of all enterprises have seen concrete outcomes of their investments into digital transformation." The second challenge Klein stated is the disruption to enterprise supply chains. With Covid and other events, supply chains are proving fragile. They lack transparency, resilience and excellence. The final challenge is around sustainability. Klein stated: "You can't act on sustainability without transparency. We have to run our enterprises more sustainably to fight climate change. And According to McKinsey, up to 70% of profit can be at risk when a company is not running sustainably. Let's face it, sustainability has become a business imperative. The green line is as important as the top and the bottom line. Your customers, employees and investors, they will follow the enterprises who run sustainably."
"The green line is as important as the top and the bottom line."
"But today, we are lacking the very basics. We are lacking the transparency to take action. I always believed in, you can't manage what you can't measure. Today, our team is ready to show you how we turn these challenges with our innovation into significant business opportunities for your company. But we don't do this alone. We do this together with our amazing ecosystem of more than 23,000 partners."
New products that address the challenges
Klein handed over to Julia White to explain the first two of a suite of new mobile applications. The first is SAP Warehouse Operator. Initially available on IOS White explained: "The app optimises the main warehousing tasks: picking, packing and putting away. It uses AI for efficient barcode scanning and uses indoor location functionality for simplified warehouse navigation. With S/4HANA cloud integration, your warehouse and processes systems are all connected." Whilst this app ensures that the correct part is selected for delivery the second app helps with the delivery itself. SAP Direct Distribution is also available on the Apple App Store. White explained that the app empowers the driver experience adding: "This app gives drivers the ability to execute on a paperless delivery on their daily route using camera location and management and offline capabilities of iOS." Besides these two new iOS apps (it isn't clear when they will be available on Android) SAP also announced the SAP Digital Manufacturing Cloud. The solution integrates MES and analytics to measure, track and report on KPIs across manufacturing processes. SAP also revealed updates to existing SAP solutions to address the sustainability challenge. SAP Cloud for Sustainable Enterprises brings together all the sustainability solutions into a single offering. It brings together information from across different SAP applications to help firms reduce emissions, minimise waste, improve social equality, and to report on and steer ESG performance. It also added enhancements to its SAP Product Footprint Management solution. This helps customers reduce product carbon footprints at scale, analysing data about transport and travel with a real-time link to SAP S/4HANA Cloud.
Signavio provide the missing piece for RISE with SAP
RISE with SAP was the catalyst that has enabled SAP to move more and more clients to cloud-based solutions. SAP has delivered RISE with SAP to clients such as Lenovo and Accenture, both appearing on the main stage. Partners are also buying into RISE with SAP in a big way. The recent launch of RISE with SAP and SOAR with Accenture sees SIs working closer than ever with SAP. It has taken a while for the SI's to shift from customisation of products to transformation consultancy. With RISE with SAP they are leveraging their customer relationships, industry expertise and products to deliver transformations that are making a difference. What has made this easier is the acquisition of Signavio. Klein commented: "It's a natural expansion of our portfolio and when we came up with the idea about RISE with SAP, there was a missing piece, the very beginning. We are now using Signavio when we are building the business case, and so the acquisition made total sense for us." White added:" In customer experiences, too, I think Signavio is a little bit of a hidden gem for RISE with SAP. There's so much focus on the ERP, it's super important. But when the customers use Signavio, and see the insights it gives, like an X-ray into your business processes, it's amazing. I do think that's a little bit of a hidden gem we need to talk more about, but it's a great technology, with a lot of potential."
Enterprise Times: What does this mean
There is more to come from Sapphire and SAP, it also revealed its latest updates to low code environments with SAP AppGyver, now natively integrating with the SAP Service Cloud solution. This was a confident and powerful keynote from Klein and his team. It delivered the right message at the right time to the audience. Whilst there may be questions about its midmarket solutions, RISE with SAP is providing much better competition than before and the results are showing that.