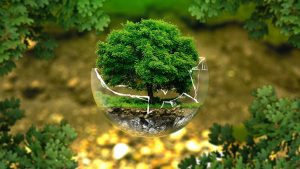 The vital role of carbon credit trading in supporting green initiatives is accelerating. Companies worldwide are queuing up to buy offsets from groups that plant and protect trees, install renewable energy infrastructure, or perform other activities that clean the atmosphere.
Carbon credit trading has a key part in helping companies across a broad range of sectors meet ambitious goals for reducing greenhouse gases. The market is set to grow significantly, with demand for carbon credits predicted to increase by a factor of 15 or more by 2030. Furthermore, by a factor of up to 100 by 2050. Overall, the market for carbon credits could be worth upward of $50 billion in 2030. However, it is also important to ensure transparency around carbon credits and the schemes that run them despite their benefits.
A solution for industries that can't immediately reduce emissions
The vast majority of companies have already embarked on their journey to reduce emissions to meet worldwide net-zero targets. However, some firms in specific sectors, such as cement production, cannot eliminate emissions completely using today's technology. Those that currently depend on oil sales, natural gas heating, or coal-fired furnaces can use carbon credit trading as a way to address this problem and begin making progress towards net-zero.
Carbon credits fund vital earth-saving activities and funnel finance to areas that most need it to reduce emissions. However, they are not a quick fix. Businesses must take a holistic approach to develop a broad strategy to guide their climate journey and deliver it across all elements of their business.
The benefits of carbon offsetting for businesses
There are some significant benefits to businesses alongside the clear environmental solution it provides to firms needing to offset emissions.
Namely, businesses can use the carbon offsets they make to win more customers. By offsetting carbon, businesses demonstrate their green credentials and improve public relations, marketing, and brand leadership. Offsetting demonstrates a business's commitment to its environmental responsibility. At the same time, this will satisfy new investors wishing to invest in an environmentally conscious organisation.
Equally, it's not just a firm's customers that care about carbon emissions; employees do too.
75% of Millennials want their employer's values to match their own.
62% want to be known for making a positive difference in the world.
Millennials now make up the largest segment of the workforce and are redefining the workplace.
Gold standards and transparency in carbon credit markets
With each carbon offset, one ton of carbon is supposed to be avoided or removed from the atmosphere. However, occasionally that target isn't reached. Therefore, transparency is needed to ensure people know about the underlying history and development of a carbon offsetting programme.
There are widely accepted standards, such as Gold Standard and Verra. These standards certify various projects' adherence to the requirements of their respective methodologies. In addition to recent schemes such as The Voluntary Carbon Markets Integrity Initiative (VCMI), which aims to ensure carbon offsets are underpinned by real actions.
However, buyers of carbon credits generally do not have transparency on the progress of the carbon reduction they have paid for. Voluntary trading in carbon credits is generally done over the counter. This means there is also limited transparency on actual market data, such as transaction volumes and price levels.
As a result of this need for transparency, buyers are demanding that impact and quality assurance are strengthened.
To help companies and investors get such assurance robustly and efficiently, Climate Impact X (CIX) will launch a new global carbon exchange, an online marketplace. The new platform will utilise online marketplace technology and global access in the purchase of trusted carbon credits. NovaFori will be partnering with CIX to deliver the technology to drive this market
The technology will significantly enhance the transparency, integrity and quality of carbon credits. Transforming the market by improving trust, driving scale and providing depth in carbon credit pricing to facilitate market liquidity.  All with the aim of delivering far more tangible, substantial and lasting environmental impact.
What does the future hold for carbon credit trading?
It is clear that carbon credit trading is having a positive impact on the environment, and there is enormous potential for growth in the sector. However, more must be done to ensure that buyers of carbon credits are given the transparency they need. At the same time, they must trust that the underlying project they buy carbon credits against is meeting its specific goals.
By providing a marketplace with standardised, tradable products and contracts, CIX will increase liquidity and the scale of transactions. With that, the quality of credits will increase and the integrity of the market will be ensured.
---
NovaFori is a cutting-edge technology company based in London and Malaga, with a decade of experience in combining business analysis, marketplace design, development and data science. Its technology supports B2B and B2C clients in Europe, North America and Asia, with over $11 billion GMV transacted through our platforms since inception.
NovaFori's auction and trading platform, powered by data science, is deployed across multiple industries, including commodities, financial services, logistics and procurement. The technology platform is flexible, scalable and modular, designed with a B2C user experience and complex product attributes of the B2B world in mind.