Enterprise Times spoke with Ed Chung, CEO of TechnologyOne. TechnologyOne is an Australian headquartered company listed on the Australian stock exchange. It aims to become the dominant provider with broad and very deep software for several key vertical markets, local government, higher education, health and community services and government. It also has solutions for asset-intensive industries such as ports, airports, water authorities, electricity distribution. Most of these deployments were done when they were government-owned.
Although it has been in the UK for several years, it has recently been boosted by two wins in the local government sectors at Blackpool Council and Conwy Council. Its recent acquisition of Scientia means it has also added education clients in the UK and North America. Chung believes that "No one has anywhere near as broad or as deep functionality for those markets that we serve. If you think about the local government, probably 80% of the systems they can use are provided by TechOne and the same for higher education. "
Enterprise Times asked Chung what his vision for Technology One is?
"Our vision is to be the dominant provider in higher education and local government globally."
On partnerships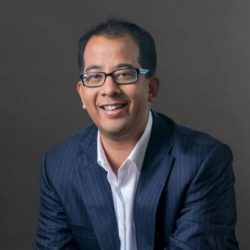 Does Technology One have channel or implementation partnerships?
"Well, we're quite a bit more unusual in that we believe in this thing called the Power of One, which means that we do nearly everything ourselves. Build the software, market, sell, implement the software, run it on our SaaS platform and support it. It's unique in the enterprise software world. There are a few key reasons for that.
"If you think about the old school ERP providers, maybe like SAP and Oracle, even Workday, they use implementation partners, like Accenture, or the big four accounting firms. If we're really frank, software implementations, big ERP implementations, are pretty difficult. When something goes wrong, you get the implementation partner pointing to the vendor and the vendor pointing to the implementation partner. It's the poor customer that gets left holding the can."
On that implementation side, does that include change management? Or do you partner with SIs?
"We don't do those things. It's not in our sweet spot. Many years ago, we tried them, and we failed epically. We realised you got to keep to your knitting. No, we don't have formal relationships with those firms, but we know of them, and quite often, our customers do.
"We work with them on those change elements, on customer side data migration, and some other technical elements. Typically, they come from either the big four or some sectors have niche organisations that we deal with. We work with our customers' chosen provider to make all the implementation a success."
Explained the Power of One
"The Power of One is beautiful from an accountability point of view, which means that we never leave a customer stranded, and we'll always get them live, and we'll always look after them. It's beautiful from what I call it an IP engine point of view.
"If it's hard to implement, our consultants tell us, and we make our software better for the next implementation. If it's hard to demonstrate, our pre-sales people tell us, and we make it better for the next implementation. Of course, our customers using it have a direct line to our R&D team. If it's difficult or not good, it gets better and better and better."
Chung added that several things contribute to the success of Technology One after 34 years in operations: "The investment of (AUS) $750 million of R&D development and the 1,200 customers with a 99% retention rate is unheard of in the enterprise space. The Power of One is also used by Workday. 
"We claimed it first, we've been around longer, but they still use implementation partners."
Does that mean you have your own data centres?
"We use the likes of AWS, the likes of Azure, those world's best platforms to build our SaaS platform on top of."
The challenge with no ecosystem?
Does the lack of partners inhibit scaling the business?
"Yes, it is a natural handbrake on scale, there's no doubt about that. But the flip sides are all those things I've discussed around customer retention, etc. One core part of Tech One, which also makes us different, is that we are driving the cost of implementation down.
"A traditional SI will charge seven dollars for every dollar of SaaS fees in implementation fees. It's in their interest to because that's how they make money. But for Tech One today, for every dollar, it's $1.50. So it's already a fraction of the total cost of ownership of implementing using a traditional implementation partner. "
"We're not stopping there. In the UK, we're using one council as a pilot to go for every dollar of SaaS fees, it's 0.8. Because in the end, the customer needs to pay less and go live faster. Eventually, the customer needs to be able to implement themselves.
"If we can make our software easy to implement, then you don't need an implementation partner. If we can drive down the services ratio from $1 of SaaS fees to 50 cents, 30 cents, 20 cents, then that's all for the benefit of our customers. We don't want to be in the SI game, making money through implementation and consulting services. That's slightly different from what the majority of ERP providers do as well."
On strategic partnerships
Do you have any strategic technical partnerships?
"Yes, AWS. We have very deep R&D partnerships with AWS. We push them, push their cloud, and roll out a whole lot of their new functionality in our SaaS platform. We've got developing relationships with Azure, GCP and a few other probably more niche AI providers."
On achievements
What have you achieved this year?
"We have achieved so much. We've moved over 60% of our customers to SaaS. Last month, we announced to our remaining on-premise customers an end of on-premise milestone. We gave our customers plenty of runway until 1st October 2024. Over the next three years, we will gradually reduce our on-premise services as people move to the SaaS platform. That's a major milestone for any company that's come from on-premise to SaaS.
"The second one is that in Australia, there's a level of government certification for cybersecurity standards called IRAP. We're the first, and only, ERP SaaS provider to be IRAP protected, which is a very high bar of cybersecurity protection here in Australia. Of course, because we have only one global SaaS platform, that standard is available to all customers in all parts of the world."
As a listed company about to finish its year-end, Chung could not elaborate on figures and seemed to be looking forward to delivering the annual update in November.
What do you hope to achieve in 2022?
"2022 is the continuation of moving our customers to the SaaS platform. We've got our fourth-generation product, called CI anywhere. Many customers are using CI anywhere, but by the end of 2022, all of our products will be finished in that new generation. We move to our next generation, which is DXP, digital experience apps. They are focused on our customers' customers or the very end users of our products. If you're a student in university, you'll be engaging through our DXP.
"If you're a ratepayer or a citizen of a local government, you'll be engaging through our DSP. The fourth one is the UK. We've broken even in the UK this year, really got the momentum going. We localised our student management product, and of course, we acquired Scientia. You'll see a substantial uplift and growth in the UK in 2022."
ERP is changing for Local Government and Education
What's your view on how the public sector and education will evolve over the coming months and years? Does DXP tie into that?
"If you think ERP, everyone thinks of the big deep functionality, with a back-office or power user-focused products, and we're very good at it. What we realised is you do everything today in your private life on your phone. You pay your bills, register for things, buy tickets, and do shopping, and that's what students and ratepayers expect.
"To be honest, universities and local governments are far behind in digital experiences for their customers. They're spending millions and millions of dollars trying to do it themselves or bend tools like Salesforce.com and others to give that experience. Then they're trying to integrate to products like Tech One.
"We're extending the reach of our ERP to be focused on what we call the front office, for the end-users or our customers' customers, the ratepayers and the students. We've set an ambitious agenda. It is a long term strategy.
"We kicked off what we call our Local government DXP and our higher education or student DXP. The LG DXP has got its first early adopters here in APAC on stage one. It will probably go live in this quarter for our first three or four customers. The feedback has been fantastic. That will make us deeper for local government. It will also provide that real community and customer engagement that local governments are looking for.
"In higher education, we have the same approach. We are right at the beginning of the research stage, with about eight universities in the Asia Pacific market. We think this will be game-changing for us, game-changing for the ERP space, in higher education and local government."
On challenges
What are your challenges?
"For us, it's scaling and execution. Our strategy has been very clear and consistent over the last 34 years. We're an enterprise provider. We focus on only six vertical markets. It'll be down to two as we expand globally. We have the deepest functionality for those vertical markets. We will reconfigure our software so that those implementations are faster and lower risk. And we will continue to drive that implementation cost down.
"We have the power of one, which means we own all the customer experience. We own the customer outcomes, and we are 100% accountable? Of course, there's that potential handbrake on growth as you put it, but if we can drive the implementation cost down and customers can implement features, functions, products and modules themselves, that will remove the handbrake. That strategy is being clear and consistent."
The book question
What was the latest book you read, and what was your take out for business?
"The last book I read was The Hard Thing About Hard Things by Ben Horowitz (Amazon Aus/UK/US)? A fantastic book. He is the famous founder of Loudcloud. And now obviously running, a16c, one of the best VC firms in Silicon Valley. It's written by someone who was a founder CEO from the school of hard knocks.
"When I read it, I go, well, I'm living his life. You never know what it's like until you get there. All those sayings about it's lonely at the top and, and everything else you hear. It's true. When you read his book, you just go, wow! You couldn't say it better. It's frank, fearless, funny, and it's got everything. I recommend it. It's a great read."