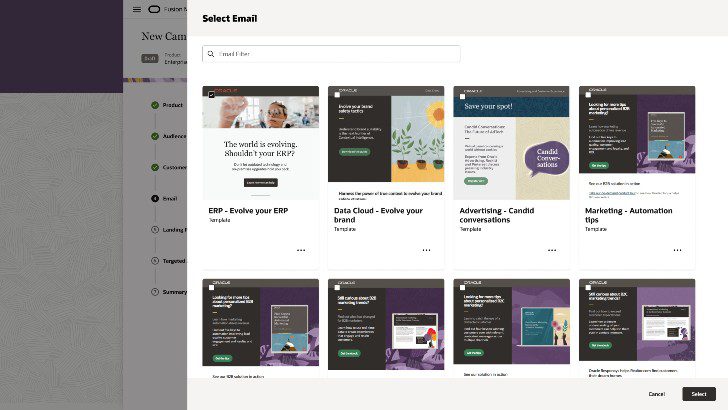 Oracle has announced what is probably the most aptly named of all the Fusion products, Fusion Marketing. Fusion Marketing is part of its Oracle Advertising and CX Suite, Oracle Fusion Marketing. It aims to automate lead generation and qualification from marketing campaigns across multiple channels.
Once it identifies that a lead is an opportunity, it will automatically generate a qualified sales opportunity in "any" CRM solution. Enterprise Times spoke to Steve Earl, Vice President of Product Marketing at Oracle, about the announcement.
Fusion Marketing creates a workflow that connects every element from marketing through the sales cycle. It automatically qualifies leads to create opportunities using machine learning. As campaigns generate interest from target organisations, Fusion Marketing will assess the quality of those contacts, where possible, identify who is touching content and what content they are touching. This builds up a pattern of interest within the target firm that helps identify the opportunity's strength.
Rob Tarkoff, executive vice president and general manager, Oracle Advertising and Customer Experience, commented: "It is time for our industry to think differently about marketing and sales automation so that we can transform CRM into a system that actually works for both the marketer and the salesperson. This is not about forecasts and rollups or a reporting tool to see how the sales force is performing, but instead about turning CRM into a system that helps sellers sell.
"A huge part of that change is bringing marketing and sales teams together and eliminating the low-value, time-consuming tasks that become a distraction from building customer relationships and closing deals. That is why we have invested so much time engineering a system that will help marketers fully automate lead generation and qualification and get highly qualified leads to the sales team faster." 
Can you buy Fusion Marketing stand alone?
No, Fusion Marketing sits on top of Eloqua, providing the connective tissue between content and marketing, automation, and CRM and advertising. Earl added, "This is the workflow engine across all of those pieces. It isn't recreating a campaign Canvas, for example, that's in Eloqua, but it's a wizard that sits on top of all those pieces and just makes that process more guided and simpler for the market."
Each workflow can consist of several different steps. One sample workflow could include:
Product – Define the product the campaign is aiming to promote.
Audience – Define the target audience.
Customer Stories – Select the different customer stories that reference the target audience and chosen product. Fusion Marketing will select the best story for each recipient based on product and industry. It will ensure that the same story is surfaced within emails, in ad creative and on microsites.
Email – Define, select and amend the email template that the campaign will use.
Landing Page– Select the right landing page for the Ad or email campaign.
Target Campaign – Define the targeting campaign, its budgets and timeline.
The results of Fusion Marketing
Once the campaign is completed, Fusion Marketing will analyse the responses and summarise both ad impressions and email actions in a lead generation funnel report. The report includes:
Volume of emails sent
Number of emails opens
Number of email clicks
Ad impressions, Ad Clicks
Page visits
Story views
Opportunities and value
The solution will also provide insights into who from each target organisation interacted with the campaign giving each person an engagement score. These scores are then aggregated and passed to CRM to create opportunities within each target account.
Lead qualification to CRM?
One of the key strengths of Fusion Marketing is how it qualifies leads. However, for companies that use Oracle Sales, it takes the lead qualification and integration even further, helping to ensure that the next best action for the salesperson is highlighted against each opportunity created. The salesperson can drill down into activities to see who saw what.
The lead qualification can be enhanced if customers leverage Data Fox. Data Fox is business intelligence software that listens to target companies. When combined with Fusion Marketing and Oracle Sales it creates even more powerful insights.
That Oracle is claiming integration to any CRM component seems bold. Enterprise Times asked Earl to explain the comment. He replied,  "We already have integrations with Salesforce and Microsoft Dynamics, for example. Fusion Marketing is the conductor that makes sure that happens. Those integrations exist between our product Eloqua and Salesforce, for example.
"The reality is there's more than one CRM in the market out there, and our customers that we work with, use us and use a competitor. We're making sure that Fusion Marketing plays well with other CRM systems. There are advantages of using Oracle Sales, but it doesn't mean you have to have Oracle Sales to take advantage of Fusion Marketing. Those integrations are out of the box for the key ones."
Enterprise Times: What does this mean
Oracle Fusion Marketing is the app that will enable organisations to fuse their marketing and sales operations in a way that has not been possible before.  It will connect the lead generation of marketing to create the right qualified opportunities for the sales teams to target.
Earle summarised the key points as: "Fusion marketing is all about engineering all these pieces to work together. We do that so that marketers and sellers can do their job. This doesn't replace marketing and selling; it actually helps them do their job. It takes the mundane work of stitching all these pieces together, away from marketing and selling, and make sure they can focus on what they do so well.
"We are empowering marketers and sellers to do what they do best. We're improving the productivity of the marketing teams in putting together a campaign across channels, so it's consistent, and it's really quick. It's streamlined, and it's guided.
"The performance of those campaigns is improved because of the connected nature of the campaign across channels, the consistency of the message, and the quality of what's being delivered to sales. So the opportunity quality is increased because of this."
In a presentation later today, Larry Ellison, founder and CTO of Oracle, will talk about the future vision of Oracle CX. How it will take marketing and sales even further on the automation and AI journey.
Oracle appears to understand that some companies use Salesforce and other CRM solutions. However, Fusion Marketing is not an independent application and is part of the Eloqua platform. It is not truly open but will feed data onto other CRM solutions, no doubt prioritised by customer demand.
This release does show that although Oracle Sales and Eloqua sit on two different platforms. Oracle is now bringing everything together in a single solution. It will be interesting to see whether Fusion Marketing also become inclusive of after-sales marketing in the future.