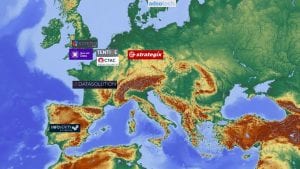 Winshuttle has signed up eight new or enhanced channel partner relationships in EMEA for its EnterWorks product suite. The announcement came on the same day that, in an email to customers, Precisely revealed that it had completed the acquisition of Winshuttle. It is now moving forward with the integration process. It commented that: "While this takes place, we are committed to ensuring you receive the same level of service you have come to depend on and expect."
Winshuttle grows partners presence in Europe
This is a significant addition to the partner network for Winshuttle as it continues to grow its international organisation. With the deal with Precisely now complete, it will be interesting to see how many also partner with the larger Precisely platform. The eight are:
The above offer Master Data Management (MDM) and Product Information Management (PIM) services using Enterworks. They also offer other IT consultancy services, including data quality. However, none appear as yet to be Precisely channel partners. This is a potential opportunity for the larger organisation, though some of these will make a tough decision to drop either a Precisely competitor or Winshuttle.
These partners bring the number of Winshuttle partners in EMEA to 34. Mark Hallam, EMEA VP at Winshuttle, said: "Growing our network of local partners within Europe will enable customers to not only take advantage of the advanced MDM/PIM technology but also create opportunities to compete more effectively on a global scale.
"European countries are being held back by an under investment in their digital and data landscape and as a result, the pandemic highlighted how ill-prepared enterprises were unable to reinvent themselves to survive. To turn the tide, EU companies need to adopt digital strategies to take better control of their data, gain agility and improve the overall customer experience."
Not all new
Not all of these relationships are new. Infoverity started working with Winshuttle in 2018. With the rise of digitisation as a key strategy for organisations, there is an increased need for digitization. Brian Grant, director, EMEA at Infoverity, commented, "With the market changing during the past year, the need for master data is increasing irrespective of industry. There is more onus on manufacturers, for example, to invest in consumer offerings, expand sales channels and fulfilment methods for customers in the retail space – a data-driven approach is central to this."
One relatively new partner is Strategix which signed up on March 2021. Jan Hanussek, the Founder and CEO of Strategix CFT GmbH, commented, "We are happy to cooperate with Winshuttle EnterWorks and be able to promote and implement their innovative technology. The widening scope of information and increasing speed of changes means that PIM and MDM systems used in our market are ready for a generation change.
"Many of our existing and potential customers are either lacking some critical product information or struggling with keeping the information up-to-date. EnterWorks will help us, not only to close these gaps but offer a solution in addition to agile functionality as well."
As an SAP partner focused on Retail and Manufacturing, will it now look to partner with Precisely?
Enterprise Times: What does this mean?
The announcement was published on the same day as Precisely revealed it had completed the company's acquisition.  The timing is a little strange. It underlines the importance of data management as part of digital transformation. While the Winshuttle brand may soon be subsumed into Precisely, EnterWorks is likely to continue for some time.
Digital Transformation is the number one priority for organisations across the globe, according to Statista, with global spending reaching US$2.3tn by 2024. Europe is currently lagging behind APAC and the US in market share as companies struggle with data within legacy solutions. It is a landscape where the Winshuttle MDM and Precisely data quality solutions can make a significant difference.
Can Precisely add what are in some cases significant companies into its broader partner ecosystem? If it does so that the acquisition may start with significant success.