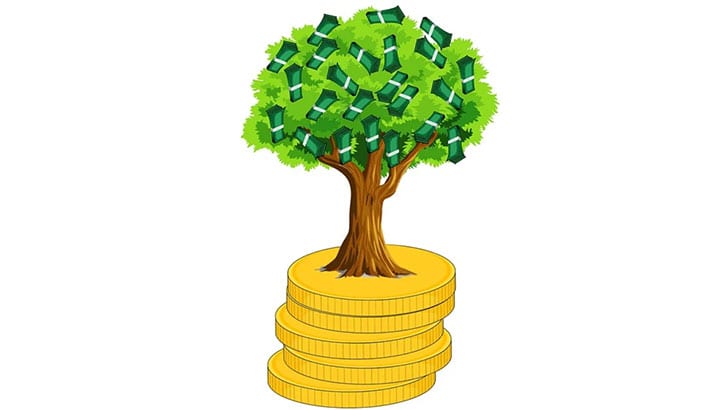 Crunchbase has seen cybersecurity investments soar over the last year. It is reporting that in 2020 over US$7.8 billion was invested into the industry. It means that investment in cybersecurity companies has increased ninefold since 2011. That number could well be exceeded in 2021 as investments to date have already topped $3.8B.
2020 also saw the creation of six cybersecurity unicorns. 2021 has already broken that number with nine new unicorns, according to the report. That number does not include Vectra.AI, who last week was valued at more than $1.2B after another successful funding round. With nine months of the year yet to go, expect to see a veritable herd of cybersecurity unicorns.
A surge in companies soaking up the cash
It seems that every week there are new incidents of malware, data thefts, and software supply chain breaches. For every incident, there is a new company offering its solutions to fix the problem. All of them are chasing funding, and the big investors are only too willing to hand over the cash.
According to Crunchbase, over 1,500 cybersecurity companies received funding between 2017 and 2020. Some companies have had multiple funding rounds in that period, with over 2,802 deals worth a collective $25.68B. That works out at almost 1.9 deals every single day. More importantly, the graph also shows that deals are getting larger.
In 2017, the average deal was just over $6.9M. By 2020 that had risen to $11.9M, a 73% increase per deal.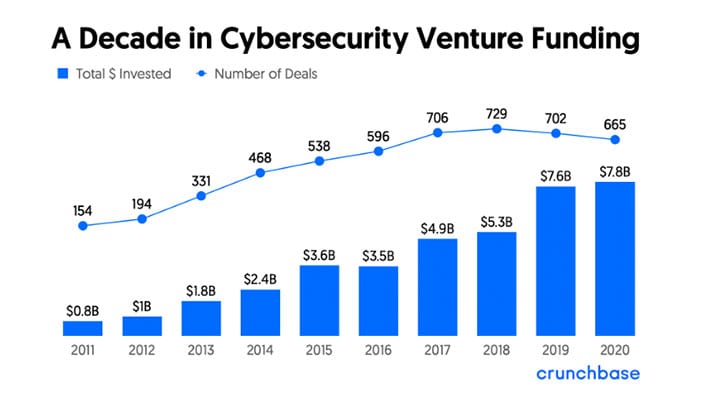 Where is the money being spent?
In 2020 the top three countries for cybersecurity venture funding were:
US: $5.9B, 76%
Israel: $1B, 13%
UK: $230M, 3%
The US numbers are particularly important. Crunchbase claims cybersecurity investment outperformed the rest of the US venture market. It is also seeing more money going towards late-stage deals (61%). It shows that the US is a mature market.
In Israel, the numbers are very different. 28% of the total investment in the country went to cybersecurity. 53% of this was for angel, seed or early stage. This is not surprising as the country is a hotspot for entrepreneurs in the field.
Who is splashing the cash?
The top ten investors are all US-based, and the list includes Accel, Y Combinator, Intel Capital and Sequoia Capital. Surprisingly there is no room on that list for Cisco Ventures, Bain Capital or Sapphire Ventures. All three have been active investors in cybersecurity companies of late but not as active as others.
How are companies exiting?
Of the 72 exits in 2020, 70 were by acquisition, and just two went IPO (Plurilock and TELOS). In 2021 there have been two IPOs already (Darktrace and KnowBe4). There will likely be more IPOs in 2021 as the markets recover and investors look for new growth opportunities.
Crunchbase reports that the bigger market is in mergers and acquisitions (M&A). Around a third of all acquisitions in 2020 were by larger cybersecurity companies looking to expand their offerings. One such acquirer was Palo Alto Networks who acquired Crypsis Group, Expanse and Bridgecrew. The rest were acquired by organisations looking to get into cybersecurity, including private equity companies such as Thoma Bravo and Insight Partners.
Enterprise Times: What does this mean?
The surge in attacks as the world pivoted to remote working due to the pandemic saw a surge of cyberattacks. The result was that cybersecurity companies saw significant increases in turnover and demand from customers. It is likely that the surge will continue at least through 2021. Last week, JupiterOne said it doubled its turnover in 2020 and expected to do the same in 2021. Darktrace also took advantage of the demand from investors and raised $230M in its IPO, valuing it at over $2.3B.
While cybersecurity companies will be expecting to continue the rate of funding, they have a long way to go to catch the money being spent elsewhere in 2020. Robotics ($8.6B), Real Estate ($9.1B), Fintech ($26.8B) and Biotech ($45.1B) outperformed cybersecurity. The question for 2021 is, can cybersecurity overtake both robotics and real estate?