Colin Johnson is the Co-Founder and CEO of Aprika. Enterprise Times talked to him shortly after Aprika hired Trevor Doornbos to kick off a new phase of growth. Johnson and Chris Woolcott, Director of application development set up Aprika in 2010 as a Salesforce consultancy. It now evolved into a software vendor with its core solution Mission Control.
What is Mission Control?
Johnson replied: "Mission Control is a PSA solution that's been built natively on the Salesforce platform, fully-featured allowing you to to manage end to end business operations within a professional services organisation. From capacity, utilisation efficiency and profitability."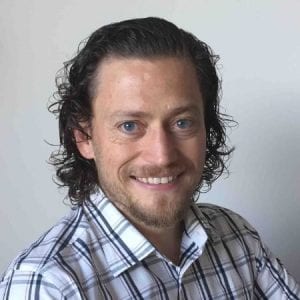 Where did the company name come from?
"Aprika actually has some relevance to my family. Mission Control came from my eight-year-old son at the time. He's now 17. We were searching for a year for a name for the product, went through a few different suggestions. We were just sitting at the dinner table for one night and he blurted that out, based on the conversation we were having. It was, yes, that's it. Ever since he's claimed his share in the business in his role as marketing manager."
On Aprika
Could you give me a brief update on the numbers that you can share?
"We've got approximately 300 customers, but we tend to focus more on the users as most people would in our space, we've got just over 5000. We've got customers in about 25 countries around the world, heavily biased to the English speaking countries where Salesforce has a strong presence. So, America, Canada, a lot of Europe and APAC as well."
While Mission Control is being used by companies headquartered in other countries it currently only supports English. Johnson continued:
"From a revenue perspective, ARR is sitting around AU$2 million. Like most people, about eight months ago, we thought we were throwing our objectives out the window. In March our opinion was to buckle down and really focus on customer success, rather than net new revenue. If we could come out the other side in a stable position similar that would have probably been a pretty good outcome.
"I'm pleased to say that we've more than achieved that. We've actually achieved about 40% growth in the last 12 months. Customer churn has been amazing. Almost zero customer churn in the last eight months. People are doubling down on their digital transformation. We've seen that come through in our net new pipeline as well. From a staffing perspective, we are not far off having doubled our headcount, in the last 12 months as well."
The company has an office in the US but has always worked remotely according to Johnson. The pandemic had little impact on their operations.
On Integrations
What are your key technology partnerships?
"Primarily Salesforce, we have strong relationships with other native applications. An immediate one that springs to mind would be Breadwinner, which is an integration application that allows you to integrate data from Salesforce and Mission Control through to financial packages, such as Xero, QuickBooks, and NetSuite. Then Conga Composer, we have a lot of out of the box document generation built into the product. If people want to take that a step further, a lot of people use Conga as well."
Do you have any other integrations planned?
"We do have various integrations sitting on our roadmap. Quip is one, from a perspective of our customers collaborating with their customers.
"A new feature that came out in August this year, a virtual meeting manager, allows you to keep track of the meeting dates and who's in attendance. What the agenda is. What's being discussed. Any resulting tasks that need to be followed up. A lot of our customers are now working with remotely dispersed teams. So giving them that virtual meeting space inside Mission Control was important We've been encouraged with the uptake on it. We've got some additional ideas on what we want to do with that. We're seeing requests to integrate that with Zoom, Teams and Slack."
On Mission Control
In terms of product architecture, how would you describe the PSA?
"It's definitely built around the project focus. The project plan was always the core of the product. Whilst the project is the core of it all, it allows you to track the capacity of the team, the efficiency of the team, the utilisation and the profitability as well."
What does your release schedule look like?
"We've always followed the Salesforce approach. We have three major releases per year. We generally release those in April, August and December, so it's outside of the Salesforce release cycle. The benefit is we are releasing onto a stable version of the Salesforce platform at the time of pushing our releases out."
What's on the roadmap for 2021 for mission control?
"A lot. We generally have about a two-year roadmap planned out of what we want to do with the product. There's a number of things that will be enhanced, and we will expand the breadth of what the product is offering.
"Two of the main things we are architecting right now for the April release are lessons learned log, a retrospective concept, and a read-only element of the project detail for our customers to give access to their customers."
Other products
Aprika has three products. If Mission Control is your main product, what is happening with the other two products, Mercury SMS and Intellimail.
"Intellimail just does one thing. It allows you to distribute Salesforce reports and dashboards to non-users. Mission Control probably takes 85% of our focus. Mercury would take about 10, and then Intellimail about 5%. Our roadmap and our development focus are generally split that way. They're all very mature products. We've just gone through a release cycle of Mercury SMS. It now supports Lightning Experience reports and dashboards as well as Salesforce classic."
On the future
What do you hope to achieve in the next 12 months?
"More of the same. I would expect us to grow the team by around 50 to 100%. We're certainly on target to be growing the customer base at a similar rate as well, and continuing to build out the features in the product."
And are you aiming to go to break into new countries, or just expand your current footprint in those countries?
"A bit of both. For now, we would certainly be looking to expand our footprint in our existing countries. Not necessarily in the next 12 months, but multi-language will certainly be on our roadmap at some point to where we do start breaking into newer territories that we don't have a huge presence in."
On the market
Aprika sells Mission Control direct, taking leads mainly from the AppExchange. It also has a network of around 75 partners that resell and implementation its solution across Europe, North America and APAC.
How do you describe your target market?
"SMB and mid-market, certainly. Mission Control is definitely a full PSA tool, but it can also manage the software development cycles of a SaaS application. For example, we manage all of the roadmap evolution within Mission Control. What we'll find, is that their software development team will be using it to manage their roadmap and the development cycles. Their implementation teams will be using it to manage the professional services aspect, and also their customer success teams use it as well."
Do you have an integration to JIRA  or any other developer tools?
"A lot of our customers will come from JIRA to use Mission Control. We do have some customers that I'm aware of that have integrated Mission Control in JIRA through middleware connectors. We do have an integration, on our roadmap through to Bitbucket."
On Fundraising
With fundraising, you made the decision not to do it, which is brave. How did that decision come about?
"Chris, and I founded the company, ten and a half years ago. We didn't have any intentions of taking funding. Mission Control came about for our internal purposes. We were doing Salesforce implementations, we were super busy with a lot of projects going on, and we needed something to keep on top of all of that. I had put together a spreadsheet about 17-18 years ago, so I grabbed that and put that into our system as a few custom objects.
"Over the initial 12 months, we kept adding new features to it. We're like, that looks pretty good, we should get this onto the app exchange. Then over the next five, odd years, we were consulting, and, developing the product. We reached a point about four years ago, where we had gained enough momentum with the product and we closed the doors on consulting, and focused on the product development.
"Over the journey, we've spoken to many people that have taken funding. I don't think any of them told us that if they had their time over, they would do it again. We have a clear vision and wanted to be in control of our destiny, where we were taking the product roadmap and the culture that we were building within the business.
"At this stage, we don't have any plans to take funding. We are in a really strong cash positive position where we can do everything. We're fully expecting to double the team within the next 12 to 18 months. That's going to all come from organic growth as opposed to needing to get that second round or third round of funding."
The competition
Who do you compete against generally?
"I see us competing at two ends of the market. We compete with full PSA systems like FinancialForce PSA, Kimble, Cloud Coach and Mavenlink. We also compete in the project management space. We're generally focused on the Salesforce ecosystem, so people Like Taskray, Inspire planner and Milestones PM plus. The benefit with Mission Control, is it packs a big punch, but it's very competitively priced. It allows us to compete with those big PSA tools.
"One of our main focuses has always been to build the product to work out of the box. We've built the product in a way that it allows us to keep a small team, very intuitive, very easy to implement. 90- 95% of our customers will self-onboard. We've been able to keep it very competitive; there's not this huge setup fee. So there's that aspect that appeals to the PSA side. But given the price point, it puts us in a good position at the project management and rather than the PSA, end as well."
On challenges
What are your challenges?
"Time, and just scaling the team. We've got strong growth plans ahead of us and it is bringing the right resources into the business. Fortunately, we've got a great team around us, and there's a great culture in the business. They're all heavily invested in the success of our customers and making sure that we find the right people that are going to expand and add value to that existing culture, rather than detract from it."
Any personal challenges looking at resolutions for next year, maybe?
"The main thing that I'm working with the sales team is moving from a founder lead sales system through to having brought Trevor on. We've got a sales presence in the US already, but expanding on that team and just like letting go of that a bit is probably my biggest challenge."
The book question
What's the latest business book you read?
"I'm currently reading Mark Roberge's 'The Sales Acceleration Formula: Using Data, Technology, and Inbound Selling to go from $0 to $100 Million.'" (Amazon AUS, UK, US).