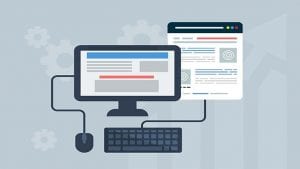 Every website owner dreams of high traffic numbers. Yet, the reality is often closer to a bad dream. Fluctuating visitor numbers can be really disheartening when you've spent ages working on your website.
But rather than accept defeat, the trick is to get to the root cause of why your website isn't getting much traction.
Whether your website is a one-time wonder or never really took off, here are 5 tips to put things right.
Provide Quality Content
Quality content is like a magnet to internet traffic, because if the user can get everything they need from your site, they don't have to head elsewhere. Your content spans all of the images, text, videos, links, buttons and any other features your site is made up of.
Review all of the content that's on your site, and be ruthless in removing or changing anything that's letting you down. Avoid content that is directly copied from elsewhere, as this is not only obvious to your visitors but terrible for your SEO too. It could also land you in trouble if it's copyrighted! Google Analytics is powerful (and free!) tool which enables you to measure the effectiveness of your content marketing strategy. If you're not familiar with Google Analytics or how to utilise it to maximise your content performance, here's a beginners guide you may find useful.
Improve the User Experience
Make sure your users can move around your website quickly and easily. The likes of messy menu designs, migraine-inducing colour schemes or even walls of text that aren't broken up with headers need to go. In truth, there could be any number of aspects of your website's design that are contributing to a poor user experience, and it's difficult to know how to resolve these issues if you aren't an expert in web design.
But if you want users to stay on your page (let alone return) you need to weed these issues out. If you're not sure where to begin, a simple solution is to hire a reputable web designer. They'll have the tools and experience to ensure your website is visually appealing and functional, keeping user experience at the heart of everything they do. Nibbler is a free tool you can use to give you a basic overview, though it's always worth consulting a web designer or developer for their opinion too.
Market Your Website for Free
It doesn't matter how good your website is, people aren't going to find it if you aren't employing as many tools as possible to make it visible.
If you're on a budget, consider the likes of social media marketing and SEO. SEO, short for 'Search Engine Optimisation' is the process of optimising your website's content so that it is more likely to rank highly in search engines such as Google. If you're unfamiliar with SEO, check out this article for more information on how it works and how you can utilise it to maximise the traffic to your website.
The great thing about SEO is that it places your content in front of users seeking your services, so it's much more budget-friendly than other paid marketing strategies like PPC. Short for 'Pay per click', PPC  is a form of marketing in which advertisers pay each time a user clicks on their online ad, with the purpose of driving user traffic to a website. Here's a handy summary on how it works.
Social media marketing is another free tool to maximise your website. Put simply, it's the use of social media channels to connect with your audience, increase sales, and drive traffic to your website. It involves creating and publishing engaging content that should relate to your audience.
Marketing shouldn't be a one-time effort either, especially with so much competition. Look for every opportunity to link people back to your website. If other websites also link to your page (backlinks), this will do wonders for your domain authority too.
RELATED: Web Design tips to convert visitors into customers
Fix Any Glitches
Is there anything more frustrating than clicking a page on a website only to find it doesn't exist? Or a pop up that is impossible to exit from? Glitches are highly frustrating to your audience, and this approach is hardly likely to tempt them back in the future.
Glitches can also happen by trying to rush publishing your website before it's ready. This is something that can catch start-ups out in particular. As a business, it's understandable that you want to get your name online. But remember first impressions matter. If your site isn't ready, it's worth spending just a bit more time on perfecting it, rather than launching a sub-par website that could cost you customers. Ensure that you test your website by launching it. A budget-friendly way to do this is by getting employees and friends to play around with it. Or, you could hire an experienced test team who will know exactly what to look for. You can also find useful online tools to look for 404 errors.
READ MORE: Principles for Effective Web Design in 2020
Start A Blog
Depending on the nature of your website, you might not need to update the main content all too often. However, stale content is an arch enemy of Google. When it comes to your users, why would they come back if they've seen everything you have to offer already? There's a solution here in the form of adding a blog section to your website, where you can store all your content in one place which is easily accessible to users.
Blogs not only allow you to connect to your audience on a more personal level but generate fresh content. Ideally, you should aim for 1-10 blog posts a month. Make the topics relevant to your audience, format them correctly and share posts across your social media pages. This will give people a new reason to visit your website, which is exactly what you want.
To Sum Up
If you want to attract repeat visitors to your website, you can't afford to ignore your user experience, content or marketing efforts. Each of these strands work in tandem to promote what it is that you do. By catering to demand and offering quality as a reward for those who do land on your site, you are more likely to retain and grow your audience.
---
Bark is a world-leading online services marketplace, supporting businesses in eight different countries. We connect customers with local service professionals in around one thousand industries, covering everything from social media marketing to roof repair. It's quick and simple for customers to find a professional on Bark – all they need to do is tell us what they're looking for and we'll do the rest.