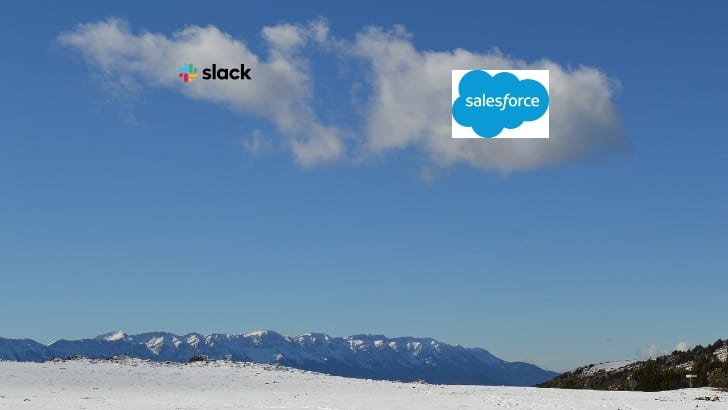 The Wall Street Journal has reported that Salesforce has made a bid to acquire Slack, the workplace messaging app. Reuters also covered the story citing sources "familiar with the matter". Shares in Slack jumped 37.59% to $40.70 at the close on Wednesday 27th. This is above the opening value of $38.50 in June 2019 during its IPO, and only slightly below the $42 they reached on that opening day. It puts the Slack market cap at $23.22 billion, which would make it a huge acquisition for Salesforce.
At its last results, it had cash and cash equivalents of $9.28 billion. If the deal happens, it would be Salesforce's largest. It will surpass the $15.7 million it spent on Tableau. Salesforce shares fell sharply to close at $246.82, down 5.37% on the day as the market reacted to the news. The deal may happen as early as December, after Salesforce Q3 announcement on December 1st, but before Slacks on December 9th.
With Marc Benioff about to give the first virtual Dreamforce keynote on December 2, it is unlikely that he will announce anything then.
Why is this important
Slack is the market leader but is in increasing competition with Microsoft Teams as the work messaging platform of choice for organisations. The idea of being paired with Salesforce does make sense. Salesforce Chatter, launched in 2009 has never become the ubiquitous collaboration tool that Salesforce wanted. In the same way that Quip, never managed to oust Microsoft Office from the hearts and desktops of enterprises. If Salesforce buys Slack, it should leave it independent but fully integrate it or replace Chatter on its platform. It will then have a very popular work tool that many see as the interface of choice for users in the future.
Enterprise Times: What does this mean
This would be a huge acquisition by Salesforce and one that could become a massive gamble. While it is a cool technology, the synergy between Slack and Salesforce is nowhere that of Tableau and Salesforce. While Slack has a huge user base, a lot of it is not in the enterprise space. Salesforce would need to be very careful how it assimilates the company, and it may be better in keeping it more technically independent than any other company it has acquired in the past. Having said that there is huge value in making it the messaging platform of choice for Salesforce users. It would cut years off the development roadmap of Chatter and could gain access to a wider range of customers.
What it also gives Salesforce is the next generation of user interface, beyond that of Salesforce Lightning which many of the Salesforce Ecosystem apps are still migrating to. The ability to interact with Salesforce data and Lightning widgets from within the Slack interface will appeal to many. Messaging platforms are becoming the user interface of choice for many, especially in the new distributed working practices. Will the deal happen? Unconfirmed by either party, it is by no means certain.
One interesting twist to this is whether Salesforce would change its ticker from NYSE: CRM to NYSE: WORK (The Slack ticker). Since the pandemic started Salesforce has pushed its Work.com platform. Over the last few years, it has wanted to be known for more than just CRM and known as a platform for work. It seems an expensive way of changing ticker, but it would align with how the company wants to be perceived. Much much more than a CRM vendor.