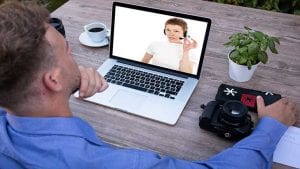 Salesforce has launched a new virtual selling suite. Sales reps are unable to travel or meet prospects at their offices or other locations because of the health and safety risk. This has meant that sales teams have needed to rely on technology more than ever before. This has meant more communication through email, phone and Zoom calls. Salesforce has now released an enhanced Virtual Selling suite which integrates video conferencing into its market-leading CRM platform, Sales Cloud 360.
Sales leaders everywhere are having to reconsider their playbook as many of the processes in B2B selling are rendered invalid. Pilar Schenk, Vice President of Global Sales Operations at McAfee commented: "The wise move is to take the time to pause, evaluate, and decide what few simple things — and I mean very few — are the priority. For McAfee, it was Salesforce. The platform could easily adapt to new processes and resulted in big wins for both the business and our new virtual culture.
"We really want to enable sales to have one place that they can go to ensure that they have the collaboration, the connectivity and the visibility, and Salesforce is that hub, all centered around the customer."
The new suite of products provides a set of tools to manage and analyse video meetings. It integrates with video conference solutions such as Zoom and Google Hangouts and consists of four components. Salesforce Meetings will launch as a pilot in October 2020, and general availability is expected in February 2021. Einstein Video Call Coaching, Salesforce Maps Field Safety Kit, and Enhanced High Velocity Sales are expected to be generally available in February 2021. Pricing was not announced.
Salesforce Meetings:
This new meeting management solution provides sales reps with the details of all attendees at the meeting in a single screen. This information includes notes from the previous meeting, customer history, open service cases and attendee bios. It allows the individual to have the best context prior to the meeting. It means they will have the knowledge to answer any questions arising, or at least not be surprised by them.
After the call completes, the sales rep can log notes using Salesforce Anywhere. This ensures that colleagues are up to date with the latest information captured during the call. Furthermore, they can create actions to help move the deal forward to a successful completion.
Einstein Video Call Coaching
The integration of Einstein Call Coaching enables the analysis of conversations held during a video call. This does not appear to capture visual clues from images for the audio stream. It analyses the call for mentions of products, competitors and other keywords for analysis.
Managers can coach sales teams more effectively as trends are extracted from each video call. It also means that managers no longer need to listen to every call to ensure that the main points of the Sales playbook are hit during the conversation
Salesforce Maps Field Safety Kit
The Salesforce Maps Field Safety kit can provide information to assess risk and ensure sales reps follow COVID health and safety practices. Leveraging Salesforce Maps enables reps to visually see where it is safe to travel. It does so from information held within the CRM.
Administrators can also set up checklists and approval workflows to ensure that organisational policies are adhered to. If sales reps wish to travel to a location, they now have a defined process to lower risk.
Enhanced High Velocity Sales
With this release, Salesforce is also enhancing Salesforce High Velocity Sales. It will now provide actions for salespeople to follow. Originally built for prospecting the functionality has been extended to include interactions on opportunities and accounts. The role of Field sales reps has changed drastically.
This tool will help them close deals faster, according to Salesforce. However, it also seems that it is overlapping with the sales enablement functionality offered by app exchange solutions such as Upland Altify or ringDNA.
Enterprise Times: What does this mean
These are logical enhancements to Salesforce CRM. It makes the solution in tune with the changes in sales organisations across the world due to COVID-19.
Doug Camplejohn, GM and EVP, Sales Cloud commented: "The world's best-performing sales teams use the #1 CRM, Salesforce. And with our new innovations in Sales Cloud 360, you're seeing us continue to set the bar. We're enabling sales reps to stand out in a sea of virtual meetings, and helping remote teams to work together more effectively during these unprecedented times."
What is interesting is that this extends the functionality of the CRM solution into sales enablement. It will be interesting to see if Salesforce acquires other companies in this space as it becomes more important. Organisations across the world have to redefine their sales processes. With the new virtual selling suite, has Salesforce gone far enough? Or, will it see an opportunity to enhance its product through an acquisition? It has done so before in both eCommerce and marketing.
As Gerry Murray, Research Director, Marketing and Sales Technology at IDC notes: "This is a transformational moment for sales, more so than any other role in the enterprise. Companies have to find new ways to optimize the day to day tasks of sales reps and support contactless relationships with customers. With Salesforce's new virtual selling suite, reps can better leverage a 360-degree view to sell more effectively and elevate their customers' experiences."
The big question is whether it goes far enough to meet the requirements of selling organisations?