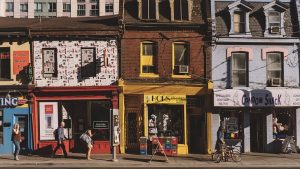 Salesforce has launched a new series of Quick Start Commerce Solutions to help businesses get set up online as quickly as possible. It has targetted the four solutions at direct to consumer (D2C) goods; grocery and foodservice; the B2B sector; and curbside pickup.
As a result of the global COVID-19 pandemic, these areas have all seen a significant increase in demand during Q1. The Salesforce Q1 Shopping Index reported BOPIS (whether picking up in-store or curbside) grew by 27% year over year. It compares with 13% for those not offering BOPIS. Meanwhile, digital traffic in April 2020 grew 45% year over year, with a 51% spike in mobile activity and a 50% increase in desktop traffic.
The New Reality for Commerce
The world has transitioned to a digital-first economy, and online has become the lifeline for many businesses. New research shows that, in the UK, 41% are online shopping more than before the pandemic.
Demand for direct to consumer, curbside pickup, delivery and subscription offerings are accelerating dramatically during the COVID-19 pandemic. These offerings will remain significant in the customer's experience throughout the current crisis, into the reopening phase and beyond. However, finding success in the digital-first economy takes more than just setting up an online storefront. That storefront needs to have the speed, intelligence, flexibility and scalability required to help companies quickly grow and evolve to stay relevant with customers across channels.
To help our customers address these challenges, Salesforce has created four new solutions, which include:
Quick Start features
Quick Start Commerce for D2C Consumer and Essential Goods: Accelerates the path to purchase for consumer and essential goods businesses with little or no existing eCommerce by getting their new sites up live, fast. The solution includes digital commerce and order management capabilities, as well as pre-built payments, tax and shipping services integrations.
Quick Start Commerce for Grocery and Food Service: This enables businesses like grocery, foodservice, and quick-serve restaurants to go from "clicks to curb." It achieves this by building new commerce sites fast and allowing customers to buy online and pick up curbside. Businesses can leverage digital commerce, payments and tax integrations, order management capabilities. A simple picking and packing app for store associates is available to fulfil orders using in-store inventory, like how an Instacart shopper with a customer's online order walks down aisles to pick items to pack in a box.
Quick Start Commerce for B2B: Helps businesses quickly launch B2B commerce storefronts that empower buyers to find and order items easily. The platform unlocks new revenue channels with simple reordering, which allows buyers to reorder items in just a few clicks. It streamlines buyers' journeys with AI-powered product recommendations, self-service options like FAQ pages and online communities, live chat and more.
Quick Start Commerce for Buy Online and Curbside Pickup: This is a complete curbside solution. The platform helps brands to move products from in-store inventories online and sell more to customers. It leverages unified order lifecycle management capabilities from the Order Management System. It also uses tailored customer experiences built on Commerce Portals, and payments integrations, businesses can enable convenient, safe online ordering, low- and no-contact pickup and notify customers with precise pickup times.
Salesforce says Quick Start Commerce Solutions provide the speed, intelligence, flexibility and scalability that digital businesses need to grow quickly. It is likely that the platform will evolve in the future as customer behaviours continue to change, and new shopping channels emerge.
Enterprise Times: What this means for business?
The COVID-19 pandemic has changed everything. The way that business is conducted is changing, maybe forever. That means that business has to change too — and fast. However, for businesses looking to embrace the digital landscape to ensure cashflow continues, Salesforce's announcement is a welcome relief.
Quick Start Commerce Solutions is a complete pre-configured platform built around the customer. Salesforce claims it makes it fast and easy for any business to create digital shopping experiences that they can scale globally and across every channel. It is powered by Salesforce Commerce Cloud, which means that businesses will have embedded AI capabilities. Additionally, businesses will have access to the Salesforce partner ecosystem. This should help meet and exceed customer expectations online, on mobile, at the curbside, and beyond.