Reputation.com has launched three new products to further strengthen its Reputation Experience Management (RXM) platform. The solutions help to cement the connection between reputation management and customer experience.
The three solutions are
Reputation Score X: which enhances the Reputation Score with better visualisations and enhanced analytics
Feedback Anywhere: an open platform integration layer that allows users to consolidate customer feedback from disparate data sources into one dashboard;
Conversational Surveys: an SMS-based survey tool that allows customers to provide in-the-moment feedback via personal mobile devices.
Reputation Score X
The Reputation score is a single metric that enables organisations to measure how they perform against peers in the market. This is the Reputation Score 2.0 that Joe Fuca spoke to Enterprise Times about last year. As promised, it combines the Insights products with the Reputation score. Reputation Score X delivers not just improved metrics but also prescriptive actions that enable customers to further improve their reputation if undertaken.
Users can Reputation Score X against the average industry score which enables organisations to identify how well they are performing. More importantly how urgent the need to improve their score is.
Reputation Score X is the innovative evolution of Reputation Score. The benchmark metric that consolidates all feedback data to provide individual company results set against an industry score. Reputation.com has integrated prescriptive data analytics to an already robust tool. Users can closely manage every touchpoint across the customer journey and act on prescriptive recommendations faster. This will help to drive customer retention and revenue growth.
The new Reputation Score X is already in use in the automotive market. Marc Cannon, Chief Customer Experience Officer, AutoNation commented: "Our customer experience team is thrilled to be using Reputation Score X; it provides our employees with actionable insights based on the conversations they are having with our customers. Reputation Score X is the only true benchmark of what the customer is really thinking, and helps our employees consistently provide a better brand experience."
Feedback Anywhere
Reputation Score X builds takes advantage of customer feedback. The second product is an open API layer that enables organisations to connect different feedback mechanisms to the RXM  platform. The RXM analytics platform can manage multiple streams of data, both structured and unstructured and can then visualize the feedback using its analytics engine. The customer is presented an easy to understand visual and consolidated representation of the customer journey and experience. Better enabling to understand the pain points that may need solving.
Conversational Surveys
This new tool provides a new channel to complete customer feedback surveys. Using a conversational style, users are sent questions over SMS. This simple to use feedback mechanism then creates a conversational survey. One which customers are more likely to respond to than emails or phone calls. The former are often lost in inboxes and the latter is not at the customers' convenience.
SMS open rates, according to a 2015 SHIFT Communications survey, are 82.1% of people. In addition, men open them (85.66%) more than women (78.67%). If the receiver recognises and knows who the sender is, that percentage climbs substantially to nearly 99%. Organisations can now make customer feedback an enjoyable and brief experience from a recognised vendor/brand. This is probably the best way to capture customer experience performance.
Enterprise Times: What does this mean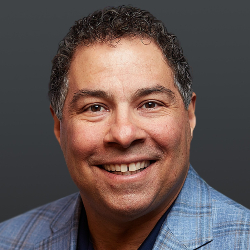 These three products further strengthen the Reputation.com platform. Notably, the next generation Reputation Score further improves Reputation.com. The new open API will enable the use of more and better data to feed into that score. This will further enhance its accuracy. accuracy. Finally Conversational Surveys Reputation.com customers a tool to feel the pulse of their customer sentiment in real-time.
Joe Fuca said Reputation.com CEO commented: "Some of the biggest brands in the world already use Reputation Score X and Feedback Anywhere to be where their customers are. From social media to reviews to surveys, we make it easy to understand and respond to customer feedback."