Aera Technology has launched its Cognitive Operating System. It will roll the platform out in a limited pilot to existing users. In around two months Aera will make it generally available. Aera is emerging from stealth mode with a fully formed platform that delivers more than many other AI and Automation platforms do. Not just start ups, but existing RPA and other AI vendors too.
Aera can now deliver cognitive automation at scale. It has proven its platform across several well known companies including Johnson & Johnson, Unilever , RB, Zoetis and Merck. Those companies invested in the underlying solution Aera offers and can now accelerate their deployment using the new platform. Enterprise Times spoke to Frederic Laluyaux, CEO of Aera Technology about this latest stage for the company and its product.
ET asked Laluyaux why launch now?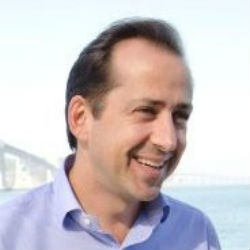 "We are now releasing the platform that allows us, more importantly our customers to scale. For the last three years with have been in co-innovation mode, to actually learn how to build the core technology. All the things we have learned we have encapsulated in the SaaS platform that allows customers to deploy Area as a configuration exercise as opposed to a development exercise.
"Until now, if you wanted to deploy an Aera, you had to develop the skills on top of the different engines that we built. Now with the release of the Aera Cognitive Operating system we are allowing our clients a much more effective way of doing things."
Aera has the three things it needs to grow
The product is ready
The new OS is the last component that Aera needs to scale. It already had a viable product that customers got ROI from. Laluyaux just needed the development team to provide the ability to deploy at scale. ET asked Laluyaux what it delivers now.
Laluyaux  answered: "Aera, understands, recommends, predicts, acts and learns. The acting part is absolutely critical. Pretty much every live customer writes back into the different transactional system. That's what allows the system to actually be self driving."
The self driving analogy is accurate. The more one digs into what Area is capable of and  what it has achieved, one is impressed. Laluyaux believes that it completes the business cycle. Aera draws in data from multiple sources using data crawlers that are similar in nature to Google search. It analyses that data and applies "skills" to extract insights and recommendations. It then has the capability of passing back actions into ERP solutions as recommendations, or even prescriptive actions.
When ET last looked at Aera last year the Robotic Decision Automation (RDA) still retained oversight by a human, though it could be argued that it may no longer be required. Aera can now integrate to any ERP solution and has live solutions on SAP, Oracle, JD Edwards and JDA (now Blue Yonder).
Money and people
Using funds raised last year Aera has doubled the size of the organisation to 200 , 400 employees in the last year and Laluyaux said: "We may not double in full again this year but we are growing fast!".
Laluyaux  noted: "We took care of the funding in anticipation of that growth It is already taken care of. We don't need any funding right now. "
Unlike other startups Aera is not burning through cash to survive, but to grow. Without the need to invest in further growth it would be cash positive according to Laluyaux. Aera has the technology, it has the funds, but what about the resources? ET asked Laluyaux about partnerships.
He replied: "We are starting on that journey. We've done some work with Deloitte with Accenture, and few other SI's as well. If you try to build all the partnerships across  the world but your technology is not ready or your maturity is not there, you end up wasting a lot of time. You'll see us scaling with both technology and with SI partnerships. We started that conversation, and we are going to start executing."
What is the Cognitive Operating System?
There are four components of the Aera platform:
Harmonizing Data
The Data Workbench enables companies to build the data model that the cognitive engine leverages. Companies configure the crawler engines to extract data from a mix of existing systems including: ERP, CRM, SCM, Finance, HRMS, TMS. They can also create and maintain new crawlers to interrogate other systems in use such as IoT platforms. The system then:
processes ingested data and refine and enrich large volumes of transactional and unstructured data in real-time
Builds enterprise wide data measures and dimensions
Applying Science
One of the newly developed feature of the platform is Cortex. Laluyaux describes this saying: "Cortex is, the name of the SaaS platform that allows a business analyst to actually leverage proper data science algorithms inside a skill without having her or him be an expert in data science. It also allows an expert in data science to leverage the power of the platform to get predictions and optimization, embedded in the skill. It's really an end to end data science platform inside Aera with a very nice, elegant user interface"
The platform also delivers an Analytics and a Modelling Workbench. The former enables users to create reports in milliseconds. The latter gives the user the ability to build new, self learning models for the platform.
Digitizing Processes
The process builder enables organisations to connect the data layer, to skills. It maps the process to surface the focused insights that companies need. The Automation rules engine then maps the data science to the business process, ensuring that the insights highlighted are surfaced to the right person or system. The final component is Write back which completes the prescriptive analytics cycle enabling recommendations to be written back into the transactional system
Operationalizing Change
While some changes are written back using the RDA process engine, Aera does far more. It enables companies to predict and display a real-time analysis of business performance.  The Cognitive Workbench automatically identifies and prioritizes future opportunities (and risks) and makes recommendations about the best course of action which can be taken right from within Aera.
The platform also supports scenario planning with the Cognitive Decision Board enabling business leaders to make better evidence based decisions. This allows business leader to track performance against decisions and understand their impact in a wider context.
These systems are delivered with a modern mobile enabled conversational UI. This further decreases time to value, increases adoption and ease of use.
Laluyaux commented: "Aera's Cognitive Operating System is the only solution that builds a permanent memory of every decision and outcome," said Frederic Laluyaux, CEO of Aera Technology. "Even though companies are digitally transforming, critical supply chain decision-making and processes are still driven by humans interacting with aging organizational ERP and CRM systems, processes, and data silos. The Aera Cognitive Operating System becomes the digital brain within the enterprise.  Aera learns how businesses work, makes real-time recommendations, predicts outcomes, and acts autonomously, allowing enterprises to become self-driving."
How fast can it be deployed?
Where as the initial deployment during Aera's start up phase took months, the platform has cut this far shorter. Laluyaux explained about how quickly the solution is deployed."It can be as fast as weeks to deploy Aera. Part of we've done again over the years is the number of data sources that connect to. Most organisations, including manufacturing supply chain, shipping we understand the landscape. Step one, connecting to their transactional system is done incredibly effectively now with the new tool called a data workbench and it can happen In a matter of days, we have evidence of that.
"The second step is to deploy the skill, which is the intelligence. If the skill has been pre-packaged by Aera, then it can be a couple of weeks. If the skill has to be built, then a couple of months. We build the entire set of tools that allow a customer to build a skill very easily."
On its time to value Laluyaux said: "In terms of value it doesn't depend on the use case. We even saw value coming out of the pilot. The pilots were able to actually provide some insight to the organisation that they didn't think we'd get. We've had customers improve forecast accuracy and we've had customers reduce waste immediately. There is a reason for that, its not a miracle!
"When you bring data from disparate transactional systems into a single data model like we do, you get immediate insights that you just couldn't get before. The rational beyond the value creation comes from the work that we do on the data. You then blend the quality data layer on top of the transactions and you usually identify some nuggets that allow you to improve the performance of your firm."
What can it be used for?
The first use case was in the supply chain. Aera has also delivered benefits in providing optimisation for sales promotions planning at FMCG clients. ET asked Laluyaux about other sectors. He answered: "Finance is leveraging the cognitive data layer and all the models and data science tools, not necessarily so much focused around cognitive automation. A lot of the financial modelling is not really fully automatable. It is leveraging all the capabilities of the platform to really deliver cognitive insight and allow the finance team to actually run their complex What Ifs and scenarios on top of the platform. "
What really excites Laluyaux is the difference Aera has made for waste reduction. He added: "One of our clients, the biggest contract that we signed last year, was essentially around the topic of waste reduction. It's interesting to see companies deploying Aera with that primary goal in mind. I think that that's a very exciting thing for us to work on. It is something I can tell my kids. There's a new kind of motivation that's growing around that topic. Beyond we're going to win and we're going to be successful. There is a sense of purpose with what we do right now that that is quite exciting."
What do people think about it?
The current list of customers is impressive the Lalulaux shared that the pipeline is full. Aera is now able to execute on that pipeline. Existing customer are enthusiastic and are evangelising the platform.
Saqib Mehmood, Global SVP Business Solutions & Insights, Hygiene Home, RB noted: "Aera's Cognitive Automation Operating System solves critical business imperatives for us,. The Aera Cognitive Automation Platform accelerates operations to internet speed and scale by introducing a cloud cognitive layer to augment and automate our enterprise analytics and decision-making. As Aera learns, decisions are made faster, they're more accurate and impactful. Organizationally, we're learning, adapting and becoming more agile too. New insights are continually discovered that improve and transform supply chains, operations, and organizational performance."
Gartner also noted in a recent article (Pay wall: New Dimensions in Collaboration: Scale Shared Value and Develop Supply Chain Ecosystem Partnerships): "Artificial intelligence (AI) can enable companies to support more complex systems, which in turn enable new business model opportunities. An example here is Unilever. Its business-led digital transformation focuses on understanding and elevating customer needs and the operational performance points required to support it. Unilever worked backward from the end requirements to determine that it needed to work with Aera Technologies to enable its vision."
Enterprise Times: What does this mean
Aera has a product that will turn many heads. Laluyaux has used his experience at Anaplan and built a team that is hitting the ground running. The company already has a presence in Europe, Asia and North America. If it delivers on its promised launch in two months, by the end of the year self driving enterprises will exist.
Laluyaux believes that he is at the helm of a winner he noted: "We are feeling pretty good about cognitive automation. It's absolutely clear to me that the next big wave of enterprise software is what we're working on right now. It's really moving from people that are in the work supported by tools, to machines doing the work guided by people. We're at the beginning of that giant, transformation.
"There is a race right now from all those large organisations to digitise the way they decide. They're trying with RPA, they're trying with process mining, they're trying with a bunch of things. Ultimately, these tools keep providing more data for people to analyse. Here we actually do the work. It's not just a technology that's going to replace the last technology. It is literally going to impact the way work is being done."
The important question is how long can Laluyaux stay independent. Will one of the larger vendors make a bid for the company, its potential is huge and it will carry a high price tag. Most other companies are working on point solutions. Aera seems to have the most complete solution, with a impressive proof points. How big can Aera be in a years time? Possibly very big. Arguably the biggest barrier may be the procurement processes of its target market.