Two years after it raised $50 million in funding, Aera Technology has announced a major investment of $80 million. It also announced the latest innovation for its solution. The funding round was led by leading technology venture capital firm DFJ.  DFJ has previously invested in high profile companies such as Tesla, Twitter, Yammer and Anaplan.
The round is also supported by existing investors NewView and Georgian Partners. John Fisher, Founder and Partner at DFJ will join the board at Aera. He has a string of successful investments behind him including Good Technology, Katerra and Pulsepoint. Fisher commented: "Aera has quickly demonstrated the powerful, transformative effect of its technology and we believe the company has enormous potential. We are pleased to work with Fred and the team at Aera as we unlock new opportunities for growth."
About the investment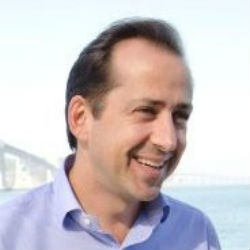 Enterprise Times spoke to Fred Laluyaux about the investment and the newly announced Cognitive Decision Board. This follows on from the conversation a few weeks ago with Laluyaux and the article in which we shared Aera's progress to date with some key customers including Unilever, Johnson and Johnson, Merck KgaA and RB. ET asked Laluyaux how DFJ was chosen.
Laluyaux said: "DFJ was the lead for the equivalent round for Anaplan.  I have stayed in touch since leaving Anaplan and I wanted to work with John. I reached out and that was it. We had many other discussions as a lot of funds had reached out. We talked to a few selected firms. Some are much more late stage and the idea was to establish the relationship and tell them about the story. When it came to this round, I was very pleased to work with DFJ and John in particular. We did not do a selection process as such."
What do you now spend it on?
Whenever a company obtains funding it is always interesting to see what it will spend the money on. Laluyaux called out two main areas.
"On the product and engineering there is one bucket which is to continue to develop the platform to make it smarter and more open. Then there are the skills. We are going to be investing to build and package in the skills themselves that sit on top of the platform. Data science and data modelling is a never ending topic. We will continue to invest in that core technology and that will be an investment over several years."
The product is now deployed at several customers and is already working at scale. However, the next iteration will allow customers to completely implement and manage the software themselves. Already in beta with some customers, and available in the "summer" according to Laluyaux, Aera will enable customers to build their own skills.
Laluyaux said: "Then essentially it is the go to market. The go to market is critically important for us and we need to scale."
ET asked Laluyaux whether that meant international investment.
"Yes, it does. We are going to continue the process we have started. We are already present in Australia, Singapore, three different countries in Europe and in the US. Therefore, we need to strengthen those offices and hire more people to build more muscle.
"On the go to market side we did very little in terms of sales and marketing for the last couple of years. We really focused on building the core technology and proving that cognitive automation could work at scale in large organizations. I wanted to see if people want it. We see very clearly that people want it. Now we have to scale."
Transforming decisions in major enterprises
Aera has also announced its "Cognitive Decision Board". It provides a visual representation in real time of an organisations decisions and potential impact of them. Laluyaux described the CDB as the tool that allows an organisation to understand how people make decisions and for what impact. It is also the tool that allows an organisation to understand how people interact with the intelligent agent that Aera has created. Importantly, it also allows organizations to understand and improve the decisions that are made.
Those assessments can be made over time using multiple levers including cash, risk or inventory levels. Laluyaux concluded by saying: "Executives understand the urgency for organizations to become digital at their core. Aera's Cognitive Decision Board not only allows them to do so but also transform the very nature of how they operate."
From the start Aera has had major customers.
Aera started with only a few, but significant customers. It is testament to the solution that its latest press release includes a statements from Unilever, these are rare.
Marc Engel, Chief Supply Chain Officer, Unilever commented: "Our partnership with Aera has been instrumental in our journey to transform our supply chain into a digital eco-system."
As highlighted in the previous interview with other customers, the feedback is similar. This is not just a single customer gaining benefits but several major corporations.
What does a customer engagement look like?
ET asked Laluyaux what an engagement looks like. He answered: "There are two phases. Number one is to plug in the platform and deploy the crawlers. That is a matter of days or weeks depending on whether we are crawling systems we already know such as SAP or Oracle or whether we have to crawl bespoke systems, in which case we have to build them and do some of the mapping from their system into our system. That can be a matter of days or weeks, but not more than 6 -8 weeks."
This is one of the areas that by the end of the year Laluyaux hopes to have made tools available to customers to build their own crawlers. This will enable them to expand the reach of the system themselves.
Laluyaux continued: "Once the data is in our platform then we need to process it. Meaning that from all this data we can derive the business metrics that a customer needs to understand their business. That is done automatically. We have got about 3,500 business formula created already. Again this is days to weeks for fine tuning those formulae and making them specific to the business context. For example the way you calculate a given metric is different in the UK from France."
The final phase, delivering the benefits with RDA
"Then comes the work of skills which is when we have to create the intelligent skills. Then it is a matter of days or a few months. Depending upon whether we have build those skills in before and we are just plugging them in. Creating from scratch can take up to about 4 months"
Those skills are the culmination of the Aera solution and deliver RDA (Robotic Decision Automation). They enable customers to leverage the Aera platform to make decisions automatically in context, with explainability and with governance.
Laluyaux says that all of these phases from scratch to finish can take 2-5 months. He believes this is for some of the most complex use cases in some of the largest companies in the world. That those customers want to extend the use of the platform is just one of the indications that Aera has found a niche that can grow exponentially.
Enterprise Times: What does this mean
Aera is emerging from its two years of pilot with a product that is ready to go with a market that appears eager for it. With strong backing from DFJ and the addition of one of its founding partners to the board, the company is well set for rapid expansion. This not a company that has a long tail of customers but one where the few deals it has are making multi-million dollar differences. If Aera completes the commoditization of its product and companies buy into the solution, it will not be long before people start whispering its future potential to IPO. There is a long road ahead and probably at least one more funding round for Laluyaux to negotiate before that happens though.
For Laluyaux there is also a wider benefit than just for the organisations themselves. He commented: "C-Suite in the world's largest companies understand the urgency to change the way organizations operate. Aera Cognitive Skills are not only transforming supply chain operations but also the very nature of the work as we allow machines to take on capabilities they're better at performing. The greater efficiencies we'll achieve will also have a lasting impact on our society – lessening our dependency on resources." 
His passion and belief that Aera can make such a difference is a clear. It was a point he made when Enterprise Times interviewed him about his "Why", answering Simon Syneks iconic question.