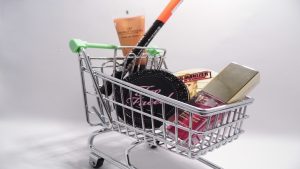 PadSquad, in partnership with Shoppable, announces the launch of Shop by PadSquad. The new platform is a solution with the first universal checkout technology for eCommerce advertising on the mobile web. Shop by PadSquad offers an end-to-end shopping experience that streamlines the path to purchase.
Analyst research suggests 91% of smartphone users made (or planned to make) a purchase after seeing relevant ads. Ecommerce advertising now enables consumers to buy it directly from the ad. Shop by PadSquad is an ad universal checkout solution for mobile web. The platform also provides brands with valuable insights into consumer buying behaviours.
A seamless eCommerce advertising experience
Shop by PadSquad provides consumers with a seamless in-ad shopping experience that showcase multiple products with interactive hotspots. The hotspots offer product details and pricing. Consumers click the Buy Now call-to-action and are taken to a branded checkout page that offers each of the products. The consumer selects the products for purchase and in one tap the transaction is complete.
"With the introduction of Shop, we're able to bring the familiar shopping experience found in social to consumers. This could take place while they're reading their favourite mobile content," states Andrew Augustine, SVP of Revenue for PadSquad.
"Shop by PadSquad offers advertisers an opportunity to provide consumers with an improved way to buy products. While gaining full visibility into the path to purchase and the ability to measure the return on ad spend (ROAS)."
Completing the purchase cycle
By combining high impact rich media creative with Shoppable's patented 'Universal Checkout technology,' Shop by PadSquad, allows the entire transaction to take place within the branded experience. This provides a closed-loop measurement for advertising partners. The reporting and metrics from this solution provide advertisers an understanding of full-funnel shopper behaviours. It gathers data on engagement, CTR, time spent on pages, product views, add to cart, basket size, and SKU conversions.
"We're making it easier for consumers to shop and quickly complete a purchase once they discover it. We're trying to make the decision to buy easier," says Heather Marie Udo, CEO of Shoppable.
"With the new Shop product, we're able to leverage PadSquad's expertise in developing engaging creative. This is paired with Shoppable's checkout page to make mobile shopping seamless and remove hurdles to transactions."
Any of the PadSquad ad formats can be made shoppable through the Shop solution. Founded in 2012 and based in New York, PadSquad is the preferred creative and innovation partner to many leading companies. The company offers partners innovative tools and a flexible framework to quickly deploy memorable digital creative at scale.
Enterprise Times: What this means for business?
The MarTech industry is really good at trends. Marketeers are often looking towards future trends and searching for new applications that will keep them ahead of the competition. But the allure of what's to come sometimes takes our attention away from what's ready now?
PadSquad's partnership with Shoppable is potentially really innovative. It enables consumers the ability to buy at the moment of inspiration with turnkey universal checkout that makes ads shoppable. The idea is so simple, it's surprising nobody had already brought the idea to market – eCommerce advertising.
For brands, it reduces the friction and steps to buying product. Consumers should find that shoppable media makes it easier to discover and act on new products. For publishers, shoppability is a new source of revenue and reduces the increasing cost of acquisition on platforms like Facebook. It will be interesting to see the usability of clicking from online advert to checkout with this platform. Unfortunately neither PadSquad or Shoppable have produced any customer pilots case studies supporting this platform. Hopefully, either companies will contact Enterprise Times to redress this matter.