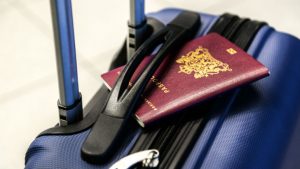 At Salesforce World Tour, Enterprise Times sat down with Manoj Ganapathy, the Founder & CEO of SalesTrip. Prior to SalesTrip he was the Founder & CTO of Invoice IT, which was acquired by SteelBrick, and subsequently by Salesforce in 2015.
Invoice IT went on to become Salesforce Billing and is being used by customers worldwide. SalesTrip is an intelligent travel search, booking and automated expenses management solution. It is native to the Salesforce platform and is already listed in the AppExchange. It is early days though, the company is looking for seed funding.

The company was only founded in 2017 and launched its first product on the appexchange in February 2019. It's a very early stage startup but with someone as experienced a Ganapathy at the helm it has every chance of success. There are a lot of travel booking companies, G2 lists 83, but there are probably a lot more.
What is different about SalesTrip?
"SalesTrip is a Travel expense solution built on the Salesforce platform. The way we operate everybody spends money on travel to win sales. We tie it back to the actual revenue you are generating so you know which customer you are going to meet, whom you are going to meet and how many times you need to travel. We also do analysis that says 'this customer you will have to travel to three times and it will cost you 15k.' It lets the CFO measure the ROI."
Not just an expenses booking system
SalesTrip offers something different from most expenses booking systems. It is tightly integrated into the Salesforce platform. Customers can purchase it as an add-on to Sales Cloud, Service Cloud or just with a platform license. The integration with Salesforce means that it understands far more then the normal booking system.
In addition to delivering the standard functionality of a travel and expenses system, it can also make predictions about the likely cost of an engagement. Ganapathy explained further by saying that SalesTrip could look into the industry type and assess how may expenses would be filed against the opportunity at this stage. Does SalesTrip make recommendations on whether to qualify leads though? Ganapathy says no. "As a company you are simply going to qualify leads but we will help you to forecast the total spend on that account"
The solution does more than just predict potential spend for lead analysis. Ganapathy sees SalesTrip as offering a frictionless experience for employees. He said: "If you a sales person you should not be spending time making travel arrangement meeting a customer you should spend time selling."
To that end, Ganapathy explained the functionality targeted at the end user that leverages Salesforce.
"We are also giving the price prediction on the calendar. We integrate with the calendar and customer data on Salesforce. I know what time you need to get there and we tie them all together and give a package to you. For example, I am talking to a customer about when I should meet them. When I open up the calendar, it will show, based on the customer location, my schedule plus the price. "
This is not only for a single leg of the journey but for every element. It will give the pricing for a trip for several days in the future. How much flexibility users see is configurable by company and by the individual.
What about cancellations and changes?
However, many trips are cancelled last minute due to a change of plans or the customer cancelling the meeting. That can often mean employees spending time cancelling all the bookings or worse, the money being spent on a journey that was not undertaken. What does SalesTrip do?
"On our platform we have cancellations. You have a button to cancel a ticket, you don't have to pick up a phone. For changes you have to pick up the phone to change it. We have agency partners to fulfil these changes for customers."
2019 – a year for growth
As yet SalesTrip has not sought funding. ET asked Ganapathy if that is about to change?
"We are always looking at expanding and right now we are doing a friends and family round. I have lots of entrepreneurs who are interested in the idea. It is an Angel seed round we are working on right now."
What will that seed round finance in 2019?
"We are setting up and establishing a sales team in UK Europe and US. Then gaining a finite number of customers. We have some revenue targets which we are talking about internally but we are also looking at gaining a good number of customers in Year one."
Is SalesTrip just focusing on internal sales, what about channel?
"We are already talking to the app exchange channel and working with the Salesforce partner team. We are working with lots of SI and consulting companies in the Salesforce ecosystem and also partnering with travel consultants. We work with travel agencies that work with large enterprise companies assisting them in choosing the right travel operations system. Also, we are also working with some travel consulting companies, advisory services."
According to Ganapathy SalesTrip is already working with tier 2 SI's with Salesforce practices to deliver an integrated expenses solution. The target at the moment is for organisations which he defined as mid enterprise, between one to two thousand employees.
Product enhancements
ET asked Ganapathy about how it is looking to enhance the product in the near future.
"A bunch actually. We already have the flights hotels and the booking on the system. Our intention is to add train integration for the UK with Trainline. We already support Eurostar.
"We are integrating with some of the bot technology from Salesforce. Customers are using Einstein Bots and Voice so you could talk through the systems. You get a meeting invite and then the system will pop in  your phone to ask if you are travelling. Then, based on your preference, the customer you are going to meet and the number of days we would build a travel package. It could be fastest, cheapest and a personalised one and we would pop it on the screen. So you don't have to go through 200 hundred screens of hotels and flights. We would do all of that for you."
SalesTrip already integrates to both Service Cloud and Sales Cloud but what about other CRM solutions?
"Right now, no, but in the future, yes. The way we look at it is that this should be a product on every CRM probably because the benefits we are offering apply to every CRM. It also applies to Field service, as well as marketing and Sales."
It is not just sales people that can benefit though. Ganapathy continued:
"When we normally address this market everybody in the commercial team, the marketing team, C-level suite, salespeople, account management and service people. All of them who travel or frequently file expenses would benefit a lot. Also 80% of your remaining people from the company who travel once a year can benefit using  a lite version of the product which we offer."
One group of companies that SalesTrip has integrated to is PSA solutions as Ganaparthy explained:
"We already integrated with FinancialForce. We have done a couple of webinars for both Kimble and FinancialForce and we have a common customer with FinancialForce. We also have one on Kimble."
Enterprise Times: What does this mean
Where SalesTrip is different is the analysis it does and the integration between that analysis on data held within the Salesforce platform and the booking solution. Potentially this work is repeatable. Certainly it is an area that Concur will look to replicate.
However, that is more likely to be on the S/4HANA platform rather than Salesforce. That means that if SalesTrip can so sufficient cost benefits for companies switching to or implementing its solution it could realise some substantial growth in 2019. Key to that will be those relationships with the SI's.