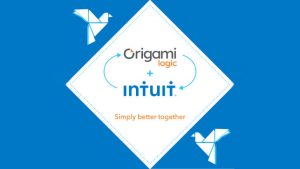 Intuit has announced the acquisition of Origami Logic for an undisclosed sum. The deal is not significant enough to impact Intuits forecasted earnings. Origami Logic was founded in 2012 and delivers data driven marketing analytics solutions for marketing organisations, both in house and media agencies. During its history it has raised nearly $65 million. The latest, a Series D funding round in January 2018 led by Viola Ventures and Saban Ventures that raised $15.2 million.
Not about marketing analytics
The Origami Logic site talks marketing analytics and during its last funding round P&G, AB InBev, Diageo and Kellogg's were all cited as customers. This is not about the marketing analytics solution. Instead it appears that Intuit want the underlying technology stack that the company developed.
That technology is able to collate data from a variety of sources. It then generates insights quickly and efficiently for its customers. Intuit already has a huge amount of data and access through its connected applications to an even greater volume. The acquisition should, once integrated, fast track its ability to ingest, analyse and produce insights for customers across its own set of solutions. This will probably include TurboTax, QuickBooks, Mint and Turbo, all mentioned in the release.
Marianna Tessel, Intuit's Chief Technology Officer commented: "We are impressed with the way the Origami team tackled their problem through the development of an elegant platform. We are looking forward to integrating Origami Logic's platform and expertise into our infrastructure to accelerate our journey toward delivering end-to-end experiences that delight customers."
Intuit has apparently bought the company purely for the analytics engine. What isn't entirely clear is what will happen to its existing customers. In a blog Opher Kaphane, founder and CEO says: "Once the deal closes, we'll begin to combine key parts of our technology into Intuit's platforms and at the same time, we'll work to ensure our customers have a smooth transition at the appropriate time."
What have they bought?
With the deal set to close during the fourth quarter of fiscal 2019, in August 2019. It should waste no time in embedding the Origami Logic technology. The current platform consists of three component parts:
Firstly, it collects and refines data from a wide set of sources. This includes all types of data from traditional business applications such as Eloqua, Salesforce, Adobe analytics. It also includes consumer platforms such as Facebook, Instagram as well as video data from Youtube and other channels.
The platform then organizes and integrates the data from multiple channels drawing it together in a single Unified Data Engine.
Finally, Marketing professionals are presented with insights and dashboards. They also have the ability to transform the raw data using scripting languages, add new metrics or add new data sets.
Enterprise Times: What does this mean
While this may signal change for Origami Logic's customers base, it is good news for Intuit customers. Intuit has found a technology that it believes it can integrate into its solutions easily. However, there is no timescale set for this yet. Ultimately, this will enable it to deliver a range of new insights to customers.
Sasan Goodarzi, Chief Executive Officer, Intuit commented: "As we enter our next chapter of transformation, having a strong data architecture lies at the heart of Intuit's strategy to deliver valuable insights to our customers. This acquisition will accelerate Intuit's ability to organize, understand, and use data to deliver personalized insights that help customers quickly achieve success and build confidence whenever they use Intuit products."
This is probably not the exit the founders had originally planned for. It seems likely that it will transition its customers away from the platform to another application. However, having built such a solid technology platform the engineers at Origami Logic should find some interesting challenges ahead with Intuit. In turn this gives Intuit, once fully leveraged, a significant step ahead of its rivals.