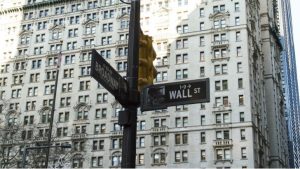 At Salesforce World Tour in New York, Salesforce has launched Einstein Analytics for Financial Services. This Einstein product, is now available at $150 per user/month as an add-on to Financial Services Cloud. This product was pre announced back in September just before Dreamforce as Einstein Analytics for Financial Services Cloud. It has since been renamed slightly. Originally scheduled for launch in February it has been available for a little while Salesforce chose to launch it in New York, one of the leading financial centres of the world.
Enterprise Times spoke to Rohit Mahna, SVP & General Manager, Financial Services at Salesforce about the new product. It is targeted initially at three persona: wealth advisors, managers and retail bankers. Mahna confirmed that support for more persona would follow.
Since launching Salesforce Financial Services Cloud the solution has grown steadily in customer numbers. Initially US centric, it now has 400 customers across the globe. Mahna believes that the new solution will be attractive in all regions commenting: "The problems in financial services that we are solving for are universal".
Early adopters also like what they see according to Mahna. Elements Financial and Royal Bank of Canada are already seeing benefits.
Mahna explained the problem that has faced financial institutions for decades saying: "Data is truly the modern day oil, specifically in Financial Services. This industry has been sitting on so much data for so many decades. Our mission is how do we democratise all the intelligent data that financial advisors and bankers need to have access to."
Has Salesforce achieved this?
To an extent it has. They have created dashboards relevant to specific roles which provide data visualisation of metrics in an interactive way. On top of that, Einstein analyses the data and where it may fall outside a normal range can make suggestions for rectification. For example, a wealth manager concerned about churn can rapidly identify those customers most likely to leave.
Drilling down into an individual client reveals factors that make a client churn and suggestions on how to change the engagement, such as more frequent contact. Mahna highlighted several insights that Einstein will provide across the different use cases:
For wealth advisors

Which leads and referrals should I focus on?
How can I better engage my existing clients?

For retail bankers

Which customers are at risk of churning?
How are my customers' deposits and loans tracking?

For managers

How is my team's book of business performing?
Which activities, events and seminars result in ROI?
Currently the solution is able to interrogate only the data held within Salesforce Financial Services Cloud. However, Mahna noted that customers can extend this data set using Salesforce Collaboration Cloud (Mulesoft) but that: "We have not prebuilt a connector to an FIS."
This is disappointing but also an opportunity for someone to add one. If financial services firms can demonstrate significant benefits from the new solution then accessing even more data could have further rewards.
Lisa Schlehuber, CEO of Elements Financial commented: "Our work with Salesforce has allowed our credit union to build a data culture where stronger and more accurate knowledge leads to serving our membership with customization. We are proud of the high-tech and high-touch level of service that makes Elements unique and leads to lifelong relationships with members."
What is in it?
The new service consists of three main elements
Built-in industry dashboards: The dashboards are pre-built for the different roles and include interactive charts and lists. Out of the box the system has pop ups that reveal further information, though that information is currently limited. Administrators are able to customise the pop ups delivering to the end user more information in context. There are already 100+ metrics and over 40 dashboards already available according to Mahna.
Actionable insights powered by AI: As mentioned above the system not only highlights issues for users, such as those customers most likely to churn. It also provides potential actions they can undertake to lessen the risk of that occurring.
Customizable platform to analyze external data: The solution is fully configurable so that customers can modify the displays, widgets and popups to display information that is relevant to their business and clients. It is fully lightning experience enabled and therefore administrators can use the Salesforce low code environment to make these changes quickly.
The solution is also fully compliant, as with Financial Services Cloud. The press release pulled this out as a fourth element however Mahna confirmed that the new product did not add anything industry specific to the strong compliance functionality that already exists for Salesforce Financial Services Cloud.
Enterprise Times: What does this mean
Salesforce has brought the strength of Einstein into its Financial Services Cloud environment. Existing customers who work with high net worth individuals or businesses are clearly the target audience for a price point that is not insignificant. What could turn this from a useful product into a massive competitive advantage, is the financial organisation that manages to integrate its financial information system and other data to increase the number and depth of insights it can make available to its advisors.
The solution should also attract new business to Salesforce for its Financial Services Cloud. It will be interesting how fast that 400 grows in the coming year.