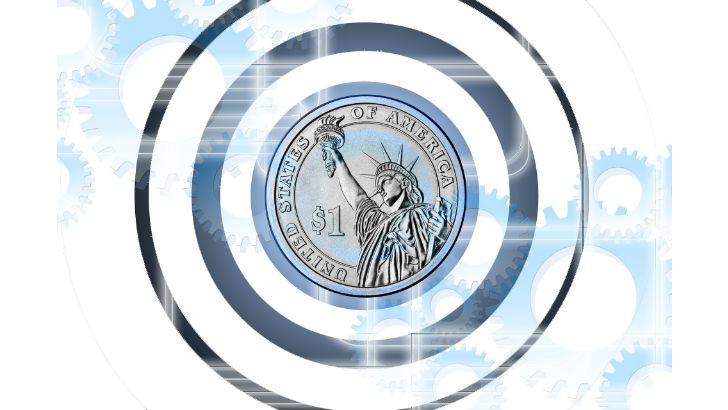 Ahead of Dreamforce the Salesforce news keeps on coming. This time it has announced enhancements to Salesforce Financial Service Cloud. The update leverages Salesforce Einstein, and Salesforce Lightning. The aim of the changes is to address the disconnection between the personal and business lives of clients, for financial services organisations. It also highlighted several integrations with the platform by third party apps, some of which leverage the Mulesoft Anypoint platform.
Its intent is to enable organisations such as wealth management firms and banks to link the data between those personal and business lives. Thus making it possible for a company to identify that an individual requesting a business loan is also a wealthy client of another division.
Rohit Mahna, SVP and GM of Financial Services at Salesforce explained further: "The financial services industry is going through a massive convergence as disruptive new entrants are forcing financial institutions to reimagine the entire customer experience across every line of business," he said "With the new innovation in Financial Services Cloud, financial institutions can now deliver the smart and connected experience that customers demand."
Improving usability with Lightning
Salesforce unveiled four new features that leverage Salesforce Lightning to enable users to see and engage with their customers:
Commercial Banking App: This delivers complete visibility across both personal and commercial accounts for contacts. It also highlights relevant services in the context of the customers profile. It also delivers what Salesforce describe as "intelligent business referrals". These highlight where a customer has expressed an interest in a service. This enables the user to pass the opportunity to the relevant individual in the organisation to follow up. This is regardless of whether that opportunity is commercial, retail or other.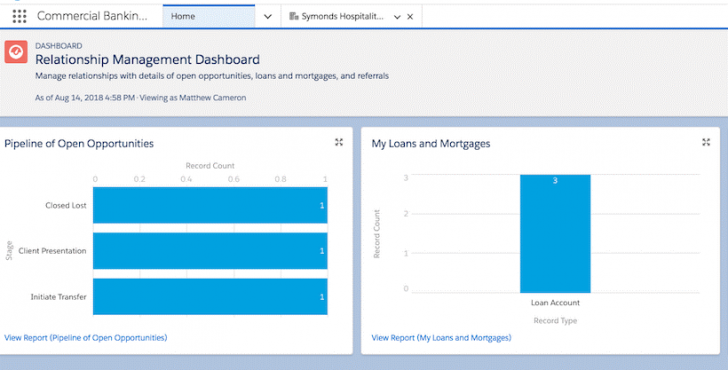 Action Plans: Once opportunities are identified, Action Plans provide a way to standardise and guide financial services professionals through a predefined automated process. This includes onboarding onto new services especially where multiple departments are involved. It tracks the process through and improves collaboration between teams.
Lightning Scheduler: As an action plan highlights the necessity for a customer contact, the Scheduler can facilitate this. This is regardless of whether the user, or someone else, needs to represent the bank. The method of contact can also be changed. It could be face to face, by phone call or mobile app. The Scheduler books the meeting with the customer. It then adds the appropriate diary entries at a time convenient for all parties. Though this will need those diaries used properly.
Salesforce Surveys for Financial Services Cloud: A new survey function is now included, enabling the user to build and send surveys at key points in the customer journey. Results are highlighted with the customer profile or can be aggregated and analysed internally. They can be set up to send automatically as part of an action plan.
The Commercial Banking App, Action Plans and Surveys are available from October 2018. These are all included with the Financial Services Cloud license. The Lightning Scheduler will be available at an additional price in February 2019. Pricing information will be made available then.
Embedded Einstein for Financial Services
Einstein is now a maturing product and Salesforce continue to embed more AI capability within its products. Financial Services now benefits from three new features.
Einstein Bots for Financial Services Cloud: Chatbots are becoming increasingly common. These latest bots are trained to respond to users for processes such as lost credit cards or travel notifications, online or through a mobile app. Salesforce will no doubt add more use cases. At present, it has not stated whether a verbal interaction is available. This is generaly available from October 2018 and included for customers with Financial Services Cloud Unlimited Edition and customers with Live Agent licenses.
Einstein Analytics for Financial Services Cloud: This includes pre-built, industry-specific analytics for wealth, retail and business banking. The range of functionality includes:
out-of-the-box data integrations.
enriched datasets, curated dashboards.
re-built models.
quick start deployment wizards.
This will be available from February 2019, no pricing is available yet.
Einstein Next Best Action: This is augmented intelligence functionality. The Financial Services professional is prompted for the next best action when dealing with a user. It may highlight an action that the user may not have thought necessary or even been aware of a need. It enables the organisation to become proactive to its customers, rather than reactive. Often leading to an increase in customer satisfaction. No pricing is available and Salesforce are committing to release this during 2019
Extending the partner ecosystem
Salesforce also called out several solutions that are already integrated or looking to integrate soon to Salesforce Financial Services Cloud. The solutions include:
What does this mean?
Tanner Shamrock, Partner, PwC summed up the announcement by saying: "Historically, CRM technology in the banking industry was used by independent lines of business, with little to no collaboration. Differing customer engagement platforms, conflicting budgets and an extremely complex spiderweb of technology led to further separation. Today, the industry is changing and is leveraging solutions like Financial Services Cloud to break down the silos among business lines, so that institutions can operate as one bank. Now, armed with standardized processes and capabilities at the enterprise-level, including reusable components, out of the box feature sets, and a focus on reducing technical debt, financial institutions of all types can coexist in a way they never could have before."
With Dreamforce starting next week, several of the above companies will be present. The new enhancements will be on show there. Financial Services Organisations can see how Salesforce is making a concerted effort to change the thinking from transaction based banking to a customer centric one.