Amazon Web Services (AWS) has made generally available its Amazon Managed Blockchain (AMB). This is a fully managed service which simplifies the creation and then management of scalable blockchain networks. The appeal for customers is they can enable multiple parties to execute transactions and maintain a cryptographically verifiable record without the need for a trusted, central authority. To do this they setup a blockchain network, which can span multiple AWS accounts, via the AWS Management Console.
"Transparency in supply chains is increasingly important to consumers, who want to know what is in their food and where it comes from. While Nestlé has begun to release information on its supply chains for its 15 key commodities, using blockchain technology enables a more precise tracking," said Armin Nehzat, Digital Technology Manager, Nestlé Oceania.
"With Amazon Managed Blockchain, we are able to set up our Hyperledger Fabric network and easily invite our partners to collaborate in our supply chain transparency efforts. Amazon Managed Blockchain will enable our customers to track their products on the blockchain from the farm all the way through to consumption."
Amazon Managed Blockchain – more detail
AWS asserts that AMB scales to support thousands of applications and millions of transactions using popular open source frameworks. This is significant because Amazon reports that customers want to use blockchain frameworks – like Hyperledger Fabric and Ethereum – to create blockchain networks in order to:
conduct business quickly
possess an immutable record of transactions
avoid the need for a centralised authority
minimise the technology challenges of blockchain implementation (most existing blockchain frameworks are difficult to install, configure, and manage).
The relevance applies to industries as varied as finance, logistics, retail and energy. All need to execute transactions quickly across multiple entities. Blockchain provides an ability to execute contracts and share data:
with the associated immutable record of those transactions
without the need for a trusted, central authority.
Each member of any blockchain network has to provision hardware, install software, create and manage certificates for access control and configure network settings. As usage of a blockchain application grows, there is much work involved in scaling the network, including monitoring resources across all nodes, adding or removing hardware and ensuring the availability of the entire network. This complexity is the reason many customers typically seek expensive consultants to make blockchain work.
In contrast, AWS believes AMB represents a fully managed blockchain service that is easy and cost effective for customers to create and manage secure blockchain networks that can scale to support thousands of applications running millions of transactions where they:
choose a preferred framework (Hyperledger Fabric is supported at launch with Ethereum support coming later this year)
add network members
configure the member nodes to process transaction requests.
have Amazon Managed Blockchain take care of the rest.
In essence this means customers can:
create their blockchain network
span multiple AWS accounts
configuring what they need need in terms of software, security, and network settings.
"Blockchains will increasingly impact the provisioning of mobility services since they enable business networks to reduce the cost of coordinating their activities," said Chris Ballinger, Founder and CEO, MOBI.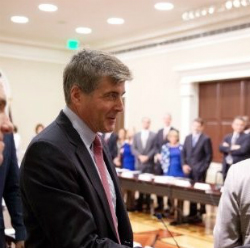 "MOBI hopes to build a worldwide network of cities, infrastructure providers, consumers, and producers of mobility services in order to realize the many potential benefits of blockchain technology. Since Amazon Managed Blockchain is a fully managed service, users are able to setup a Hyperledger Fabric network in minutes and easily invite other partners to join.
"Also, since Amazon Managed Blockchain's ordering service ensures reliable sharing of data across the network, our participants don't need to worry about managing infrastructure and building a blockchain solution from the ground up. Instead, they can now focus on building applications for connected car payments, autonomous and electric vehicles, and peer to peer ride-sharing services."
Amazon Managed Blockchain APIs and Amazon Quantum Ledger Database
In addition to simplifying the set up and management, AMB provides APIs which enable customers to:
vote on memberships within their networks
scale up or down.
To do this, AMB offers a range of combinations of compute and memory capacity. This provides the ability to choose the relevant mix of resources for each given blockchain application.
For example, AMB secures certificates for access control (using AWS Key Management Service technology). Customers no longer have to set up their own secure certificate storage. Or, unlike most existing blockchain technologies which require custom development to extract blockchain network activity data, Amazon Managed Blockchain simplifies transaction replication to Amazon Quantum Ledger Database (QLDB). In so doing, when it becomes available later in 2019, AMB users will gain the ability to obtain insights into key trends, such as who is transacting and what is the rate of their transactions.
AWS has made AMB available immediately in US East (N. Virginia). It will expand coverage to additional regions as 2019 progresses.
"Customers want to use blockchain frameworks like Hyperledger Fabric and Ethereum to create blockchain networks so they can conduct business quickly, with an immutable record of transactions, but without the need for a centralized authority. However, they find these frameworks difficult to install, configure, and manage," said Rahul Pathak, General Manager, Amazon Managed Blockchain at AWS.
"Amazon Managed Blockchain takes care of provisioning nodes, setting up the network, managing certificates and security, and scaling the network. Customers can now get a functioning blockchain network set up quickly and easily, so they can focus on application development instead of keeping a blockchain network up and running."
Enterprise Times: what does this mean
While the adoption of Amazon Managed Blockchain by enterprises like Accenture, AT&T, MOBI, TrackX, Nestle and Singapore Exchange impresses, an alternative view is 'what took AWS so long and why is the roll out so limited? Irrespective, AWS now offers BaaS (blockchain-as-a-Service) to compete with others.
Significantly its implementation of Amazon Managed Blockchain spans existing AWS accounts. Possibly this is the most significant aspect of the availability of AMB. All those with AWS accounts can do as they did with cloud, 'go out and fiddle' with blockchain at a (relatively) low cost – until they find an application where blockchain is applicable. Of course, by that stage, with so much handled behind the scenes by AWS, that application will be wedded to AMB. Any subsequent divorce will be expensive.