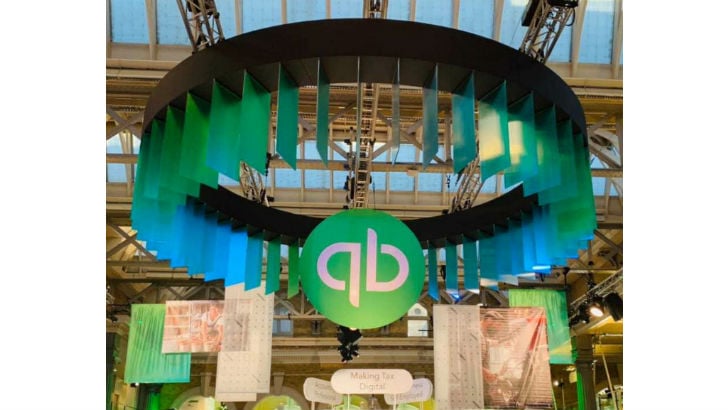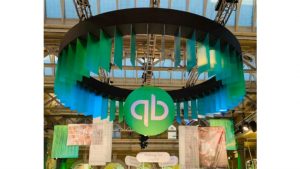 On stage at QuickBooks Connect London, Intuit announced several new features for its cloud accounting products. The conference was well attended and had more ISV's than in previous years. In fact, the event sold out, both for exhibitors and attendees and Intuit are looking for a larger venue already for next year. It is a measure of its success in the UK, propelled by its TV advertising campaign, that its conference is growing year on year.
Focus on Making Tax Digital
Some of the new features announced support the HRMC Making Tax Digital (MTD) initiative. They included the general availability of the product that will support MTD. QuickBooks has worked with HMRC and several customers in pilot to develop the digital filing capability that HMRC require from April. On the first day of QuickBooks Connect, Paul Lodder of Sagars Accountants Ltd revealed that "the system now works smoothly", which will be welcome news to many.
The MTD portfolio includes a bridging software module that allows companies to prepare non standard VAT elements in a spreadsheet. As long as the spreadsheet has a tab with the nine Vat submission entries in it QuickBooks software can upload it and then submit the data to HMRC.
This is very useful for those companies that need to submit VAT returns but do not yet have accounting software. It will allow their accountants to use the combination of QuickBooks and spreadsheets to automate much of the process. It also helps those companies that have complex VAT requirements. QuickBooks also revealed that its standard MTD solution would meet requirements for those companies using flat rate VAT.
The MTD for VAT module and the bridging module is included free of charge with those QuickBooks solutions that support VAT. The bridging module was built as a result of early customer feedback and QuickBooks continues to develop new functionality for MTD. On stage Alex Chriss, EVP and General Manager, Small Business and Self-Employed Group at Intuit gave a commitment to the audience. He said QuickBooks were the: "First to announce filing with MTD… I guarantee we will be on top of it and have your back"
QuickBooks gets smarter
QuickBooks also announced several features with the word Smart embedded in the name. This is the Intuit approach to AI. They do not belabour what they are doing with the technology. Rather they announce functionality that accountants can easily see the benefit of.
The first module is SmartCheck. It checks for common errors in VAT submissions and highlights them to users for correction before they do the final submission. SmartCheck is now available in pilot, which is through invitation only. On stage, Intuit gave three examples to demonstrate the errors that the new solution will highlight:
Duplicate transactions (four transactions have similar information). The accountant is then able to remove duplicates
Unusual transactions for spending by the business. Over time this will improve, it will both learn from decisions made by the user and also adjust to seasonal purchases as a better picture of the data is built up.
It will check the breakdown of VAT codes used. For example highlight those transactions where No VAT code was used.
QuickBooks is also working on Smart Notifications. This will alert accounting professionals, both inside a business and at their accountants, that the VAT is due for submission. It will add tasks in the practice management areas of QBOA for accountants to plan their day and week against.
The third "Smart" product is SmartLook. This was a service first launched in the US to support TurboTax. It is the first time it has been released outside the US and the first time in the QuickBooks solution. Both accounting professionals within customers and accountants are able to access help direct to their desktop.
Once authorised, the user is connected to a video feed from QuickBooks customer support. The Customer Support Agent is then able to talk to the customer, identify any issue and, with a shared screen, show the customer how to perform a specific task that they need help with. The support option is currently available from 8am-8pm UK time.
This combination of human interaction and technology is something that Intuit is proud of. It could have gone down the route of introduction a chatbot to provide support. Instead it is preferring to retain the human connection with its customers.
Strengthening QuickBooks Online Accountant
The updates that it demonstrated on stage also highlighted a few that were enhanced in the last few months. This included Client Overview. QuickBooks has 305,000 users in the UK for QuickBooks online. Of these, around 60% are linked to Accountants. This tool is provided to simplify the onboarding process of the remaining SME's to Accountants.
In the past the cost of sale for Accountants has been high. It means trawling through accounts to understand the current situation. Client Overview allows accountant to quickly see the state of the business for those already using QuickBooks. They can quickly view the transaction volume such as banking transactions, sales invoices or purchase invoices. It will also highlight some common issues seen across business such as undeposited funds, uncategorised income and expenses. An accountant can then drill down to the detail. This allows them to quickly price not only for the standard service but also to give advice from the first meeting and demonstrate added value.
QuickBooks users have had the ability to review project finances for some time. Another new feature enables their accountants to review them as well. Accountants is able to see which projects ran profitably and where any issues lie. It is another added value service that accountants can offer. Often clients will be too busy running projects to analyse where there are opportunities to maximise profitability in future projects.
QuickBooks also showed off a new benchmarking tool that will enable accountants to compare clients to the wider industry. Available "soon" users will be able to compare metrics such profitability and actual payment timings. Segmentation will also be available but this is still being developed with early adopters.
Banking integrations improving
Open Banking is getting closer. It could be a catalyst that sees more small businesses adopt digital technology. It will bring a second wave of adoption following MTD in April. QuickBooks is preparing for it and is already piloting integrations with several banks. This includes Lloyds, HSBC, Barclays, Santander and RBS / NatWest. The integration with Santander was demonstrated at the event. Initially this will see transactions flow from the bank into QuickBooks securely. Users will receive the transactions once a day as standard, but they are also able to do it on demand.
While the Open Banking initiative may yet extend to other data sets QuickBooks continues to work with the banks on other integrations. It announced Statement Auto-Import. Available in beta, QuickBooks is now able to import bank statements for review from a small number of banks that includes: NatWest Business, NatWest Personal, RBS Business and Metro Bank
…and for small businesses
QuickBooks also announced some upcoming features for QBO. It will shortly launch receipt capture across its portfolio. This allows users to capture receipts using their mobile device. QuickBooks then uses OCR technology to capture the data on the receipt and match it against a transaction. It will remove much of the time that task takes for small business owners and employees.
First demonstrated in one of its futuristic videos a few years ago, it will also roll out its automated mileage tracker to QBO. It was launched within its QuickBooks Self Employed application a few months ago with great success. To date, it has tracked more than 1.4 billion miles of business travel around the world. That equates to £560 million in deduction savings. The solution understands when users are driving using the mobile app and tracks the journey, including mileage, using GPS. It is another time saving piece of functionality that saves time for small businesses and their employees. Potentially it will also allow them to better track profitability across projects.
Chris Evans also revealed that QuickBooks will also launch QuickBooks Online Advanced Payroll soon. Targeted at business up to 100 employees it was developed specifically for the UK market. It compliments rather than replaces QuickBooks Payroll and will meet the complex needs of accountants and payroll bureaus, according to the press release. Currently in beta in the QB Labs, few further details are yet available.
Enterprise Times: What does this mean
QuickBooks continues to roll out additional functionality. Impressively this is not just elements that have been brought from the US market into the UK. Some of them are specific to the UK market, though one would argue that MTD is a compliance requirement.  Its other regions are also seeing growth and QuickBooks now has a fully compliant accounting engine in France. Its receipt solution also meet the more onerous French regulations around the retention of paper receipts.
As the market leader in the US it is leveraging its technological might in the UK market. With QuickBooks Online growing its user base at 84% over the last year, it is a significant player in the UK market. It was interesting that many of the ISV's at the exhibition were finance focused. Not all though. simPRO provides a Job Management add on to QuickBooks. Next year expect more of those vertical solutions. Accountants will want to extend the functionality of their client accounting suites to specialist applications for industries such as retail and professional services.
When Enterprise Times spoke to Evans at the event he seemed quietly confident about the coming year. He certainly believed that the strategy that they have in place will see them succeed. At the expense of whom? Probably Sage, though it will be interesting to see what difference Sabby Gill and Steve Hare now make in the UK market for the UK software company.
The only disappointing element of the QuickBooks announcements is the "coming soon" label that was put against many of the announcements. While it is understandable that a specific date is unlikely it would be helpful if they could set a timeframe when their customers are likely to receive access. To date, to be fair, Intuit has delivered the updates but by putting some kind of timeframe against the releases it means that businesses are more likely to check when they can use a new feature.